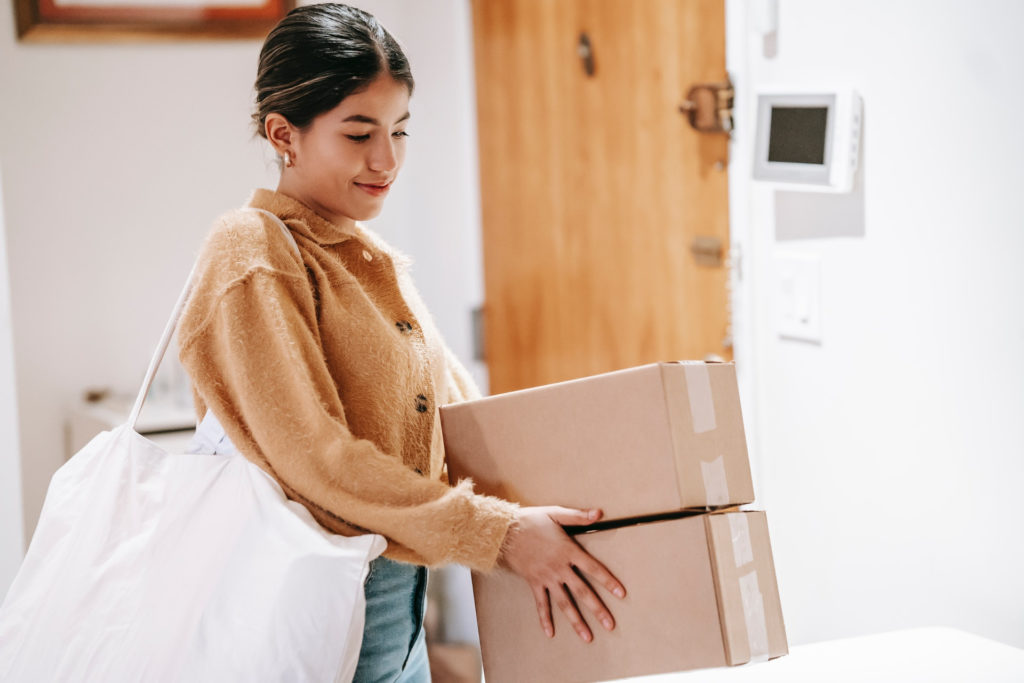 Below is a Q&A with information on our shop policies and some commonly asked questions.
If you do have additional questions though, please reach out to support@hertrack.com. We are here to help, and want to make sure you have the best shopping experience possible.
---
Do you offer returns? If so, what are the terms? Can I be refunded?
Yes! We do offer returns, but there are terms.
We work with a fulfillment and production partner called Printify, and according to their terms, for any product that arrives damaged, we can send a free replacement or issue a full refund.
This includes issues like manufacturing errors, items arriving with holes, or the order arriving with clear, demonstrable damage.
This does not include general dissatisfaction with a product, like not loving the color or sizing.
For more information on the distinction- read Printify's policy here
---
I received a damaged item and I want a replacement or refund. What do I do now?
First of all, OH NO! We are so sorry about that and will work to get this issue resolved as soon as possible. We coordinate with dozens of different production partners, so accidents and errors can happen.
You have 30 days after receiving the product to request a refund. And 45 days for international purchases. Be sure to reach out as soon as possible if something is wrong with your order.
Steps to reporting a damaged item:
Send an email to support@hertrack.com within 30 days of your delivery date.
Include a clear image of the damaged product.
Let us know if you would like to be issued a refund or receive a replacement, and we'll take it from there.
---
Do I need to send the product back for a return?
Nope. Just include a photo of the problematic product in the email to support your claim, and that will suffice.
---
How long will it take for me to receive a refund or a replacement?
Good question.
For a refund, we can process that on our end ASAP, and it may take a few days for the funds to appear in your bank account depending upon your banking provider.
For a replacement, that would depend on where the item is being shipped from. Typically we can have the product replaced within a week's time, but it can vary. Our support team will provide you with a more accurate update once we place the replacement order and process your request.
---
Do you accept cancellations?
You're free to cancel an order anytime before items have been created. This usually means within 24 hours of the initial request, but the sooner the better.
If a cancelation is requested after an item has been made, money and time have already been invested. At this point, it's unlikely that a cancelation is possible.
---
What if I made an error in my address or order details and hit submit too soon? Can I make an adjustment?
Yes, but it has to be shortly after you submit the order, so time is of the essence!
Shoot us an email at support@hertrack.com letting us know what details need to be updated on our end and we can make those changes ASAP.
---
I haven't received my order yet, what do I do?
Firstly, we are sorry your order is taking longer than expected!
We are happy to provide an update on our end if you reach out to support@hertrack.com with your name and order number. Your order number can be found in the confirmation email you received after purchase.
See an example below: Order #21626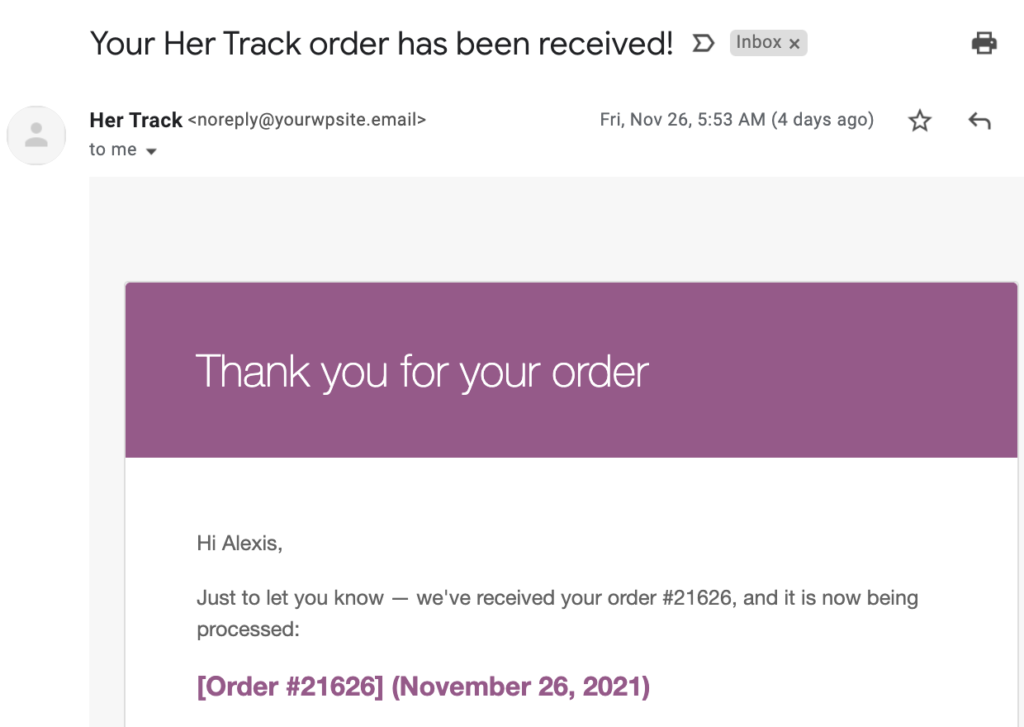 ---
My order has shipped, but it still hasn't arrived. Where is it?
Ah, shipping.
After an item is shipped, things have moved a bit beyond our control. Shipping (particularly for international orders) is affected by many outside influences, especially and most recently COVID-19. Some of our products are also shipped by different providers, so there can be variance there as well.
First and foremost, if there is a tracking code included at the bottom of your confirmation emails for shipping updates, reference that:
If you can't find this information, let us know via support@hertrack.com and we can look up that number on our end and see if there's any further insight into shipping.
While there are some circumstances outside of our control when it comes to shipping, we'll work with you the best that we can!