The living room is like the central nervous center of your home.
It's at the center of your family game nights, movie marathons, long conversations and lazy Sundays.
It's the place where you cozy up and settle in.
But lately, we have spent a lot of time settled in.
Arguably too much time settled in.
Because of this, you may find certain parts of your home, particularly the living room, starting to feel a little stale and outdated.
You may be feeling the urge to spice up your space, but fearing any significant hit to your wallet.
We've got you covered.
Here are a few easy and inexpensive ways you can liven up your most lived-in room.
---
1. Declutter your space.
Mess causes stress.
I know that first-hand.
It's not difficult for our entire home to feel like one big bedroom after only a few weeks of neglect, especially when it comes to the living room.
To work toward a more beautiful and usable space, begin by decluttering. Remove anything that doesn't contribute to the room, whether you donate it, toss it or just move it to a different room.
Throw out the old decorations. Pack up the extra blankets you never use. Recycle that stack of magazines from 2019 that's still on the coffee table.
Give yourself the space to breathe.
---
2. Rearrange your existing furniture and free up some room.
Once you've done that, you can determine which pieces of furniture and decor contribute effectively to your living room. Reinvent the room with items you already own.
Move the shelf. Push the coffee table against the wall. Put the entertainment center in the corner.
Try moving big pieces from other rooms like the family room into the living room and vice-versa. It also may be time to take away some furniture and move it into storage to free up some space and energy.
---
3. Get a new couch, or couch cover.
The couch can be a major center point for any living room. When it starts to get worn, it brings the whole energy and comfortablity of the room to that level.
If you have the budget to spring for a new couch, spring for it.
If you don't and still want to freshen it up, try a couch cover.
---
4. Order new pillow covers for your throw pillows.
Pillow covers are the JACKPOT when it comes to refreshing your space without buying all new furniture and decor.
You can make all of your pillows look brand new and match any color palette you choose with just a few zip-up covers.
---
5. Brighten up the accent decor.
You can lighten up the colors of your living room in many ways.
A nice bright chair. A patterned rug. A pretty vase.
Poorly chosen color schemes or misplaced mirrors can offer little in the way of enhancement. Consider updating your palette to light and airy colors that are still somewhat neutral. Then, tie in bolder or darker colors with pillows, furniture, blankets or a nice area rug.
After updating your color scheme, evaluate your current lighting solutions.
---
6. Add some light to the room.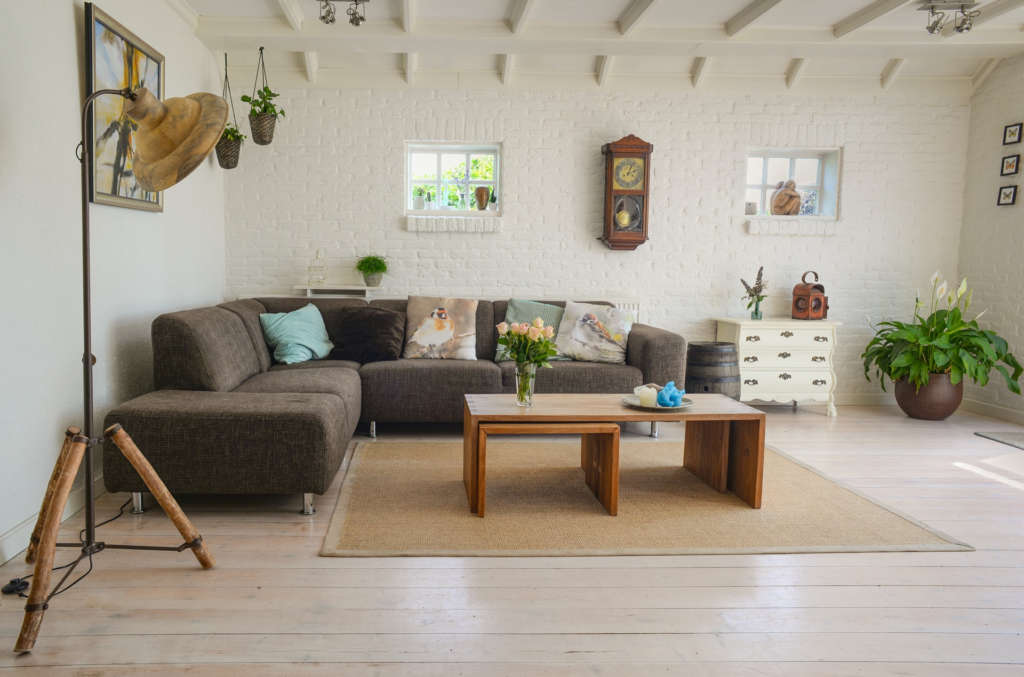 The addition of a floor lamp or new overhead fixture can make the room feel more elegant.
If you can, dimmer switches or even a three-way lightbulb can give you more options for lighting that will fit with your mood or the time of day.
Throw a tall mirror in a corner, and let it open up the space using light and reflections.
---
7. Introduce house plants to your living room.
Nothing brings life to a room like…well…life.
House plants brighten the space, clean up the air and make the room feel so much more fresh.
---
8. Establish an accent wall.
You can create a focal point in your room in many ways. Establishing an accent wall is a popular option.
This can often involve painting one wall of a room a different or darker color than the others. It offers some depth to the space and draws the eye to a central place. Some people add texture to these walls as well, tile or even patterned wallpaper.
---
9. Try something fun and new, like a faux firepace.
Don't be afraid to be experimental. One big change can still be inexpensive, and make all the difference.
I've found that a faux fireplace, decorated in creative ways, has lent itself to the enhancement of my living room. With very little work and money, we could construct a fake (but super realistic) fireplace on a bare wall.
Whether you choose to set candles, sticks or logs (slightly burnt or fresh) in what would ordinarily be the firebox, this feature adds comfort and aesthetic to your room.
AND it brings the room to a new level of ~fancy~ with one fun addition.
---
There you have it. A little light, rearranging and refreshments can do a long way.
Give that house-brain living room the care it needs to keep the love, laughter and memories flowing.