While I love visiting the hair salon, I can't rely on one for everyday styling. Fortunately, I can bring the expertise of the salon to my own vanity mirror, and so can you.
Try some of my tips for styling your hair like a pro. Trust me, no one will guess it's been a while since your last appointment!
---
1. Match your brush to your hair.
When shopping for brushes, I don't simply pick what's cheapest or what's in my favorite color. Consider the qualities of your hair and look for a brush that best complements them. Ball-tipped plastic bristles work well for straight hair, since they pass through with ease, without knotting or tearing.
Finer hair could benefit from boar bristles, which are even gentler. For thick and curly hair, you may need the added strength of nylon bristles.
---
2. Touch up color as you go.
Lots of us prefer to color our hair in one fell swoop.
Every month or so, we'll book another full-fledged coloring appointment. While your stylist appreciates your business, touching up your roots along the way will allow you to style with confidence in the meantime and undergo monthly appointments that are far less taxing on your hair. And it costs a lot less, with less maintenance.
If you are brave enough to try at-home color, Madison Reed is one of the most popular options and has by far the best reviews. We also have a few coupons below, and highly recommend the Roots Reboot for a subtle and simple refresher on your color.
COUPONS:
—Take 30% off Root Touch Up Powder at Madison Reed
—Free Shipping on Your First Order!
---
3. Don't shampoo before an updo.
When I'm putting together an elaborate updo before going out, my first impulse is to shampoo and condition before styling. Counterintuitive as it may seem, you don't want your hair washed clean.
I have a much easier time getting my hair to cooperate when I don't strip it of its oils before styling. I get my hair wet, but save the lather for later.
Dry shampoo is another option for adding texture and volume to your hair without washing it clean. We love this dry shampoo from Sol De Janeiro. It's quick, convenient and smells INCREDIBLE.
---
4. Go low on the blow-drying, and try a blow-dryer brush.
The last time I got a haircut, I paid close attention to how my stylist used the blow dryer. I noticed that it's less about heat and more about airflow. While it can feel good to step out of the shower and give yourself and your hair that little burst of warmth, putting a blow dryer on blast harms your hair, drying it out and dealing damage.
Look for a blow dryer with settings effective enough to speed up your drying process without going too far.
A blow-dryer brush is also a GAMECHANGER. It feels like getting a blow-out in your own home, and the end result is fabulous.
---
5. Stick with salon products.
Shampoos, conditioners, hair sprays, and gels exclusive to hair salons will have your hair looking better than drugstore counterparts.
High-end hair products that are paraben-free and sulfate-free take better care of your hair, preserving hair color and preventing dehydration.
---
6. Try different curling techniques.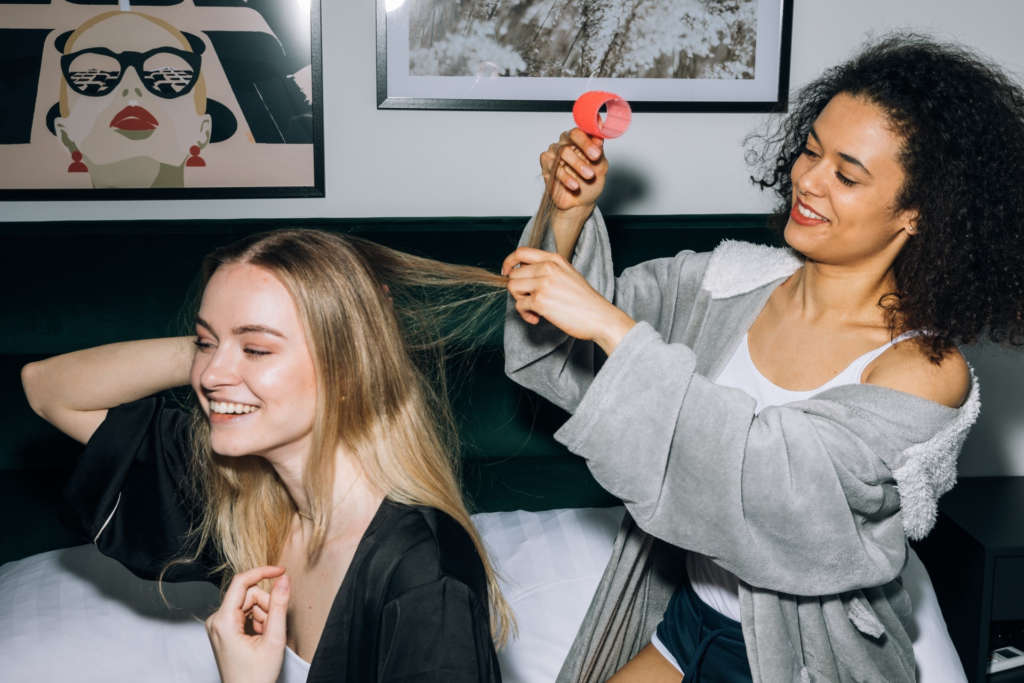 Don't underestimate the value of a good curl.
Switching from a wide barrel for loose, wavy curls, to a thin barrel for tighter, springy curls really will change up the look of your entire haircut. A 3-Barrel is another quick alternative for waves throughout.
You can also try no-heat curling alternatives to be gentler on your hair, like sleeping curlers and spiral curling rods.
---
Even when you can't defer to your trusted stylist, you can still style your hair like a pro by using what the professionals use, touching up color, and avoiding heat damage.
These little hacks have already made a difference for me, and they can for you too.