Do you and your partner regularly get itchy feet? Do you eschew boring romantic movies for inspiring travel documentaries? Are you forever planning the dream trip but never get round to doing it? Then this article is for you.
I've listed five of the most amazingly picturesque destinations from around the world that are perfect for wanderlust-obsessed couples like yourselves. Read on for some travel inspo that will have you packing your bags today.
---
1. Rainbow Mountains, China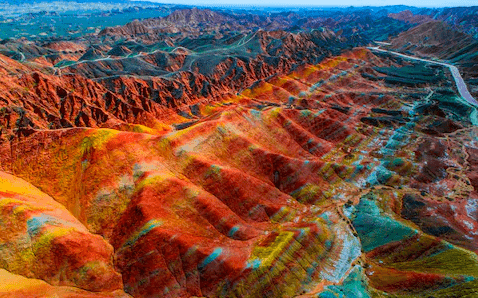 China is a vast country, with terrain ranging from long flat plains to steep, perilous mountain ranges. It's a country rich in culture and history, worth visiting for its exquisite and unique cuisine alone.
But this article is about picturesque destinations, and perhaps the most breathtakingly gorgeous vista in all of China has to be the Rainbow Mountains of Zhangye National Park. Don't be put off by the thought of all those mountains though — Zhangye National Park is remarkably easy to trek, and it's surprisingly affordable too.
The Rainbow Mountains are a completely natural formation that, thanks to a special geological process, results in rocks of beautiful red, yellow, green, and blue hues. Looking at a photo of these mountains, you'd be forgiven for thinking that the effect is a result of photo editing.
But what you see is what you get, making the Rainbow Mountains of China a stunning cinematic backdrop to the perfect couples' holiday.
---
2. Kyoto, Japan.
If you're less a party-all-night couple and more a quiet-night-in couple, then Kyoto is the destination for you.
Renowned the world over for its serene Buddhist temples and immaculate gardens, Kyoto truly embodies inner peace and serenity. Situated on the island of Honshu, the city is rich in history and culture, and offers plenty of delights for the enamored couple to discover together.
But the gem of Kyoto has to be the otherworldly Arashiyama Bamboo Grove. The tall, slender bamboo trees seem to reach into the sky for miles, creating an eerie yet peaceful oasis of calm — perfect for practicing some yoga and meditation while you're at it. My advice? Bring more than one SD card — you'll be taking snaps every five minutes.
Kyoto doesn't usually feature on typical lists of couples' destinations. Take advantage of that and escape from the world with your partner for a trip you won't forget.
---
3. Arenal, Costa Rica.
Costa Rica is one of the most diverse and picturesque countries in the world. Its vistas offer everything from eerie misty forests and breathtaking valleys to awesome volcanoes and, of course, countless beaches that stretch as far as the eye can see.
As a picturesque destination for couples, Costa Rica has plenty to offer. But the gem of Costa Rica? It has to be Arenal.
Located in the north of the region, Arenal is a region of fantastic diversity. Indeed, according to Anywhere, Costa Rica is one of the most biologically diverse countries on the planet. Its native animals include the tapir, the coati, and the cute white-faced capuchin — perfect for animal-loving eco-warrior couples.
As well as acres and acres of stunning rainforests rich with unique flora and fauna, the region also has plenty of extreme activities for thrillseeker couples to enjoy, including some intrepid white water rafting.
But the most unforgettable sight that couples have to see is the Arenal volcano. Situated in the region's lowlands, the volcano is perfectly symmetrical. And although we wouldn't recommend hiking up it, there are plenty of other trails to take that offer amazing views of the surrounding rainforest.
---
4. Havana, Cuba.
Since the relaxation of travel laws under the Obama administration, the wonders of Cuba have been opened up to wanderlust-obsessed Americans — and it holds some wonderful gems to see.
But every couple's journey to Cuba should start with its capital city, Havana. As well as cheap beer, great music, and food to die for, Havana is also a spectacularly beautiful city. The first thing you'll notice when you arrive is that Cuba's capital city is as colorful as the people that reside there.
From the elegant pastel hues of downtown to the nostalgic and utterly Instagrammable vintage cars that roam the streets, a trip to Havana is like taking a step into another world. It's the perfect destination for a sleepy, romantic trip with your beau — hasta luego!
---
5. Edinburgh, Scotland.
Finding a picturesque destination is like looking for a needle in a whole stack of other needles — Scotland is one of the most beautiful regions in the world, with exquisite architecture, fantastic countryside and, of course, a beautiful accent to match.
But if I had to pick one place in Scotland to visit, it has to be Edinburgh. Placed directly on top of an extinct volcano, it's a quirky blend of centuries-old architecture in the Old Town and elegant Georgian townhouses in the New Town.
Edinburgh can be seen in all its glory from atop Calton Hill, with 360° panoramic views of the city. My personal tip: visit in winter. There's nothing quite as beautiful (or romantic) as the snow falling all around you as you gaze upon the city of Edinburgh with your partner.
---
Feeling inspired? You should be — the destinations listed above are some of the most beautiful places on the planet.
So pack your bags, buy a ticket, and quench your wanderlust with your partner today.
Have any travel suggestions of your own? Let us know in the comments below!
For more, check out our travel bucket list for couples: