For me, spirituality has always been a breath of fresh air—a clutch for hopefulness and motivation to do and see good in the world and in others.
However, through the many life lessons along the way, there is one IMPACTFUL one I myself have had to learn… and that is just how connected physical, mental and spiritual health are. 
---
Blocked emotions and negative beliefs toll on the body and spirit.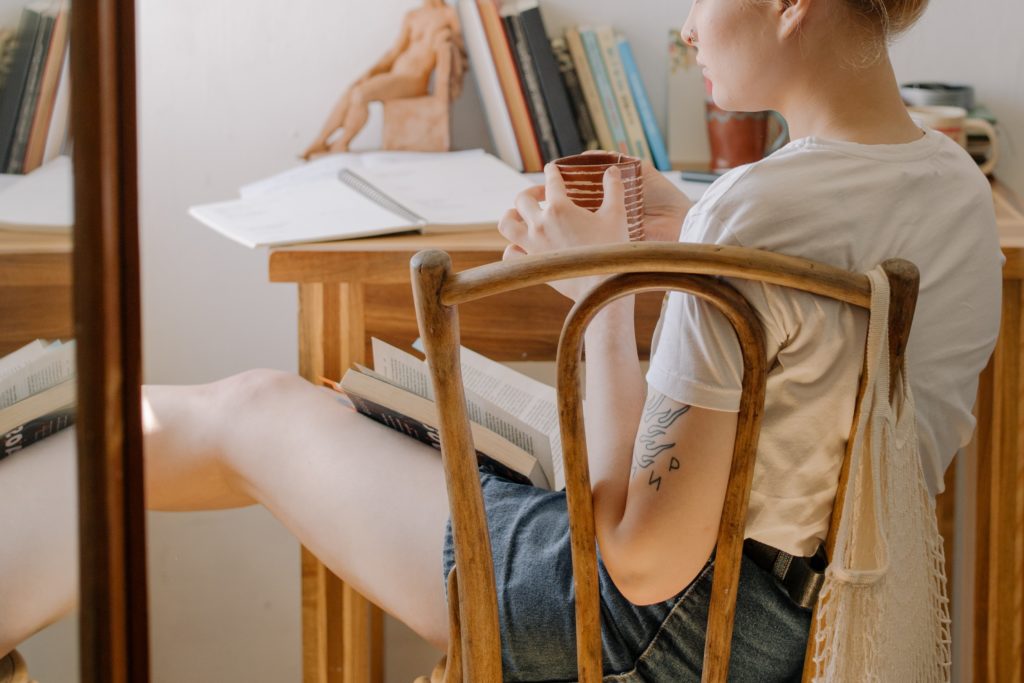 To cut to the chase–there is no such thing as a negative emotion.
Sometimes when we're angry or upset, we can gaslight ourselves into feeling guilty for experiencing that emotion.
"How can I still feel sad if I just got a new car?"
"How can I still be upset if this situation happened a year ago?"
Sound familiar? OR, how about, "I don't see what others see in myself."
"I can't say no to my friend because what if they hate me?"
These emotions and negative beliefs have much more weight on our lives than we think. And not only that, they can absolutely manifest in the physical body too. As I learned more about this, I became eager to learn more about this philosophy and what practices people can take to heal and regulate their emotions and internal beliefs.
Which is why I got the honor of interviewing Frank Elaridi, an Emmy Award-winning journalist and professional healer. He is one of the three main founders of Modern Nirvana, a wonderful team seeking to inspire people to take control of their physical and spiritual well-being. 
"Changing someone's breath even in just ten minutes, their entire state you can see it just changes," says Elaridi, "… it tells your parasympathetic nervous system you're safe."
Taking actions in your daily life like breathing promotes a less scattered mind. And when your mind is less scattered, it flows into your life being less scattered. The harmony of your mind and life being at peace will eventually manifest into your body too.
Think about it… when you're anxious, your breath gets shallow, your heart rate picks up and your body feels unsafe. Often triggering a fight or flight response. Regulating your breath during those experiences puts the body into a more present and comfortable state.
"What we do with Modern Nirvana is we're teaching really ancient techniques with breathwork and meditation," says Elaridi, "but also super innovative, state-of-the-art biohacks like red light therapy and oxygen chambers."
According to him, actions like meditating alone are powerful, but meditating under a red light can also amplify the benefits. As an avid meditator myself, he got me curious to give it a try!
He also documents all of his experiences in trying these modern practices on his YouTube channel. Which my wonderful HerTrack leader, Lexi Herrick, so cleverly pointed out that being the point behind the name "Modern" Nirvana.
---
Identifying to heal.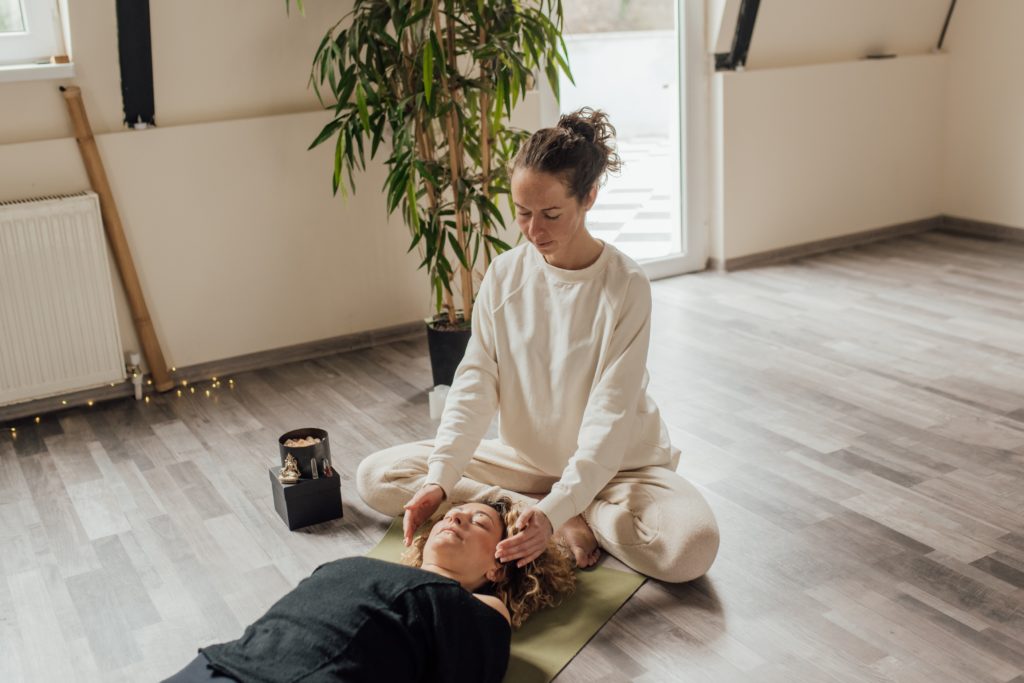 This OUTSTANDING part of the interview is one that I cannot even write about… you truly have to watch this to believe what the heck happened.
Watch as Frank uses The Emotion Code & Muscle Testing while he's talking with Lexi Herrick, CEO of HerTrack.
To sum it up, he directly pin-pointed an experience in Lexi's life that had been hurting her a lot, and had been causing her to question whether or not that heartache was preventing her from making new friends or connecting deeply with others.
And since this conversation, she reports actually feeling a lot better about it, and finds she has more peace in the loss that was still haunting her.
"I had just talked to my partner about this friendship heartache the day before. I went into the interview open-minded but skeptical, and left it feeling as though human emotions and experience may be far more tangible than I'd ever thought possible."
This is just one of the MANY techniques Frank and his friends at Modern Nirvana use to help people identify trapped emotions and heal.
CRAZY RIGHT?!?
My jaw was on the floor as I watched him do this out of the blue. Just by using his body, he was able to connect with blockages in another person he'd never met…on zoom.
---
Making guidance acccessible.
Many people seek Modern Nirvana for help from Frank and his friends. Which is why they're doing something to make messages and guidance more accessible to their friends.
THEY'VE RELEASED AN ORACLE DECK!!
These beautiful cards were created by Frank, Kat Graham, Jennifer Sodini, Bryant Wood and illustrated by Natalee Miller. Each card contains a message with advice and even… you guessed it, breathwork techniques!
"We wanted to create an Oracle Deck that contains all of our favorite practices so that if someone wants guidance from us, you have this deck in your hands!" says Elaridi.
It's a lot more simple than you think, and anyone can use them. You ask a question, pull a card and it gives you guidance to that question.
"The way you use them and the way you get there is by trusting that you have the answers," says Elaridi, "it's not telling you what to do. It's giving you guidance for you to find the right answer within yourself."
One of the main purposes of this Oracle Deck coming out is to encourage trust in yourself. You have the answers, you've always had them. Sometimes asking a question and pulling the 'Intention' card is the map to finding the answers within yourself.
I say that because Frank was so nice to give Lexi and me a reading. Check it out below!
---
The bigger purpose of healing.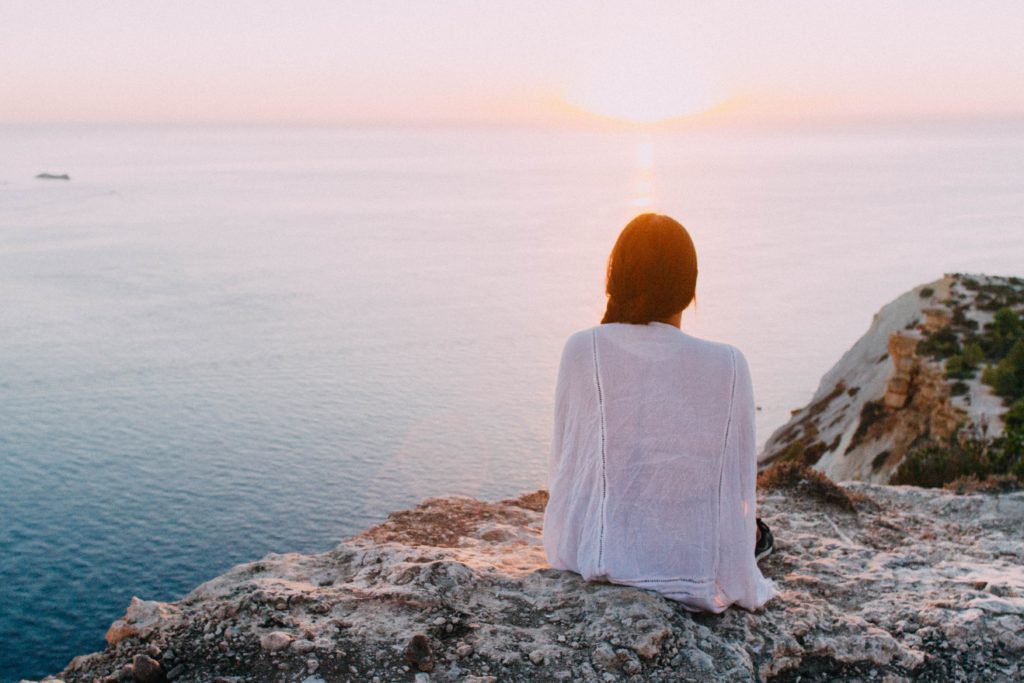 Frank gave me many takeaways throughout the interview, but the biggest one was finding the purpose behind healing. I noticed this specifically when he was reading Lexi, and it truly gave an "ah-ha" moment.
Frank's spent years on perfecting his technique, and I'm never one to assume, but I bet a big part of that was doing healing work on himself. He's had to, and still continues to, do these practices every single day to achieve what he has.
But that's not what I'm getting at, what I'm getting at is how all that work helped him be able to connect with, guide and aid Lexi in hearing what she needed to hear. That, to me, was one of the most beautiful parts of my time with Frank.
Maybe that's the whole point. Maybe healing and connecting with ourselves doesn't just serve a singular purpose.
Maybe it helps us become more whole beings that are able to connect with and help others in deeper ways than we might not have before.
Intuition might just be seeing or feeling grief or pain in another person without even saying a word.
When we give ourselves space to heal, connect and grow, it opens up the door for us to do so much good in the world. To see things in a totally different perspective and make positive, dynamic changes in the lives of others.
Thank you for blessing me with that, Frank.
Even if it was in the time span of 2 minutes, it really put in perspective why spirituality is so beautiful, selfless and empowering.
You can watch the full interview here– https://youtu.be/0BRLxtb640M