Today's generation can be savvier than ever.
In many ways, because we've had to be. Blame it on the financial crisis or the student debt crisis or the pandemic or any other list of challenges, but we've encountered a lot of economic adversity early in our careers and lives.
Setting distinct priorities has had to be a big part of our financial journeys, so it's no wonder that we're more open to bucking the system of traditional expenses.
A giant, break-the-bank, blowout-style wedding could be one of those expenses you're looking to cut down on, and that's ok!
More and more couples want to focus on savings, investments and experiences together like travel. They also want to retire early and actually be able to enjoy the fruits of their labor while they can.
Of course, as the bride-to-be, your wedding day marks an important milestone in your life, and you should feel justified in wanting it to be a special and meaningful day. You can have that day AND still, keep on track with your financial goals.
Have it both ways with these tips to achieve a financially savvy yet still fabulous wedding.
---
1. Set a wedding budget (and stick to it).
The biggest to-do that you have to tick off your wedding checklist is your budget.
Sort your finances out before the wedding. What amount can you afford to spend on your wedding without digging too deep into your other savings? Your insurance, debt and mortgage payments should not be compromised either. What ranges are you willing to spend on the various major costs?
If you want to start on the right foot, it's best to forego the idea of wedding loans. Instead, plan ahead, if you can, so you can save up for the expenses.
The average cost of a wedding in the United States is around $33k USD, while the average salary would be twice that amount at about $71k USD. Determine the amount that you can set aside from your variable expenses, and you'll be able to figure how long you'll need to save up. Make the waiting game shorter by pinning down the must-haves at your wedding.
More: Wedding Budget Tool
---
2. Be creative about the venue.
Your choice of wedding venue can put a large dent in your finances. However, your event venue need not be relegated to sad and dingy spaces to make your budget work. Why not consider destination weddings on a budget? Not only is it fashionable, but you can also stay longer for your honeymoon and save up on additional trips. Have you always dreamt of a wedding in the Caribbean? Why not have a Caribbean-themed wedding at the more affordable Florida Keys instead? Or instead of going out of the country, why not try the aloha charm of Hawaii instead? Your imagination is the limit!
Another alternative you can check out is having a garden wedding. Do your parents, or perhaps any of your relatives, have some backyard space that you can spruce up at a fraction of the cost it would take to decorate more expensive venues? If they're willing to have your outdoor wedding at their place, that's more savings added up to your fund.
---
3. Explore out-of-the-box wedding dress options.
Wedding dresses can also be one ticket item that can burn a hole in your pocket. Consider end-of-season wedding collections. Wedding dresses are generally classic pieces that can withstand fashion trends, and purchases made off-season tailenders can be as timeless as the newer collections.
Another alternative to traditional wedding dresses is shorter ones that can be adorable without the price tag of long gowns. Or how about giving a thought to two-piece ensembles which are both budget-friendly and easy to wear? You'll be surprised at the many options available.
---
4. Go for "something old, something borrowed" as much as you can.
Don't throw tradition and sentimentality out the window just yet as they can be budget saviors too! Would you like to put on a wistful look on your mom's face by asking if you could have a vintage piece from her collection to wear on your engagement day?
Of course, don't forget to ask permission to resize or add embellishments here and there to make the ring fit you just perfectly. In all likelihood, your mom will be more than pleased to hand her treasure to you, knowing that it will play a big part in your wedding.
---
5. Go familiar or local for your wedding services.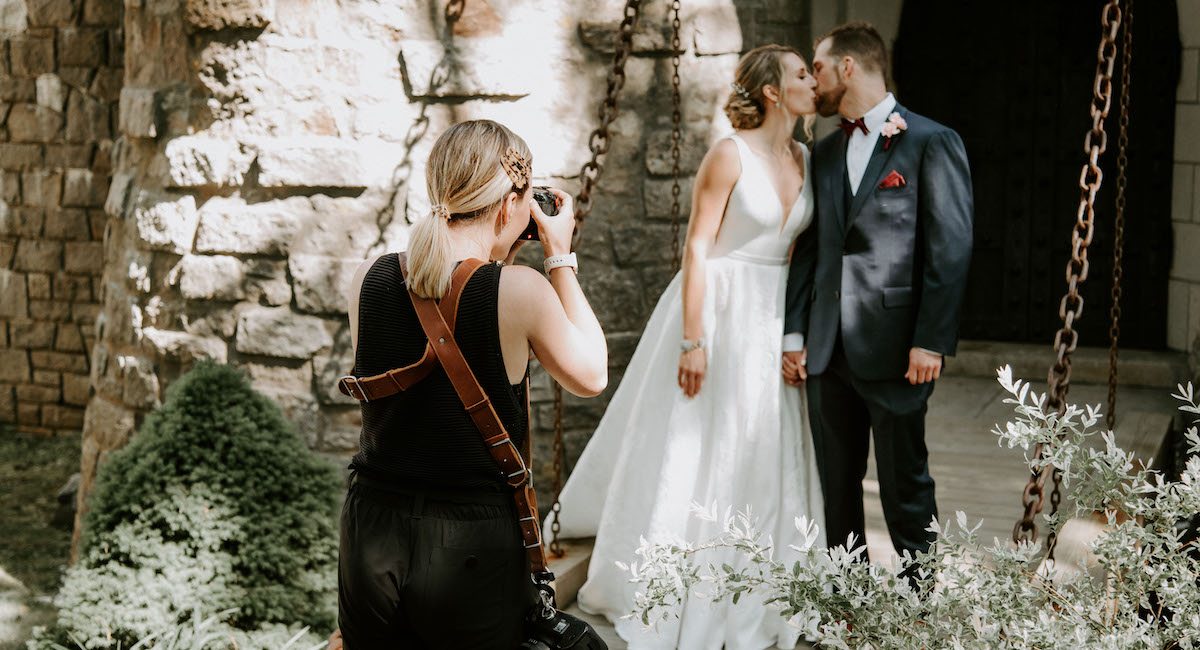 Photography and videography services can rack up a large sum. Now would be the best time to accept generous help from capable family and friends who would like to pitch in. Let them know from the get-go that their services can be in place of wedding presents, so they are not unnecessarily burdened.
OR accept their recommendations for local accommodations or acquaintances that can potentially offer a family and friends discount. I've seen a lot of people hire from the "friend of a friend" circle so their immediate circle can relax on the big day. It's totally up to you, but remember to ask around and use your resources for recommendations.
Another option is to hire a local yet tried-and-tested wedding service agency. Choosing to contract the services of professionals in your community may enable you to get "local-friendly" discounts. This way, you'll be able to stay well within your budget and still enjoy the expertise of professionals.
---
Incorporate these budget-savvy tips to ensure that nothing, not even financial considerations, can rain on your fabulous wedding day!
And as always, congratulations, good luck and enjoy not only your big day but all of the days to follow.