Every holiday season, I look forward to dressing up to attend holiday parties. It's one thing that makes it the most magical time of the year for me.
This year, I had the opportunity to host my own little party- I gained a new appreciation for the work that it takes. I gained a whole new perspective, plus a few tips and tricks that I wanted to share with you!
---
1. Holiday decor that feels immersive and fun!
To begin, decorations are a crucial part of any holiday party. It's important to make it your own, so get creative! It sets the tone for the guests and makes for aesthetic backgrounds for all your instagram pictures. It's also really fun to decorate your party space!
As a background, I put up fairy lights and felt garlands around our windows, doors, and entryways.This really elevated the room while still staying in a small college student budget! To save some cash, we also hung homemade snowflakes from the ceiling and on our windows.
For the main table, we used a simple red tablecloth with snowflake confetti pieces scattered around. For plates and utensils, we used clear and gold plastic plates (these made cleaning up a breeze without taking away from the aesthetic of the table with traditional paper plates).
Instead of buying a really expensive centerpiece for our table, I ordered glass vases and filled them with ornaments and confetti. This really brought our table setting together, without breaking the bank!
Lastly, since we didn't have room for a large Christmas tree, we tied our party together with a small three-foot tree on our windowsill.This is perfect for college dorms, small apartments and tablesettings. Decorated with simple silver ornaments and lights, this tree was perfect for our small space.
---
2. Festive food.
The heartbeat of any holiday party is the food! Personally, it is alway the biggest stressor because it is what brings the festivities to life. For my holiday party this year, we focused on appetizers and desserts.
To avoid spending hundred of dollars on pre made cheeseboards and appetizers spreads, we made our own? Using plastic trays, we layered different cheeses, meats and vetegatbles in the shapes of Christmas trees, snow flakes and hearts! These were adorable ways to add some life to our table, without spending too much!
One of our favorite desserts included homemade mini cheesecakes. This simple recipe is perfect for all occasions.
The Crust
1 cup of graham crackers crumbs
¼ cups of sugar
4 tablespoons of butter
The Cake
2 Eggs, beaten
1 pound of cream cheese
¾ cups of sugar
1 teaspoon of Vanilla
We finished them off with cherries and holiday-inspired decorative toppers.
---
3. Themed and creative drinks.
For our festive drinks, we made an array of alcoholic and non-alcoholic beverages for our guests to enjoy!
First, we made a non-alcoholic Christmas punch
orange juice
ginger ale
cranberry juice
pineapple juice
mint leaves
oranges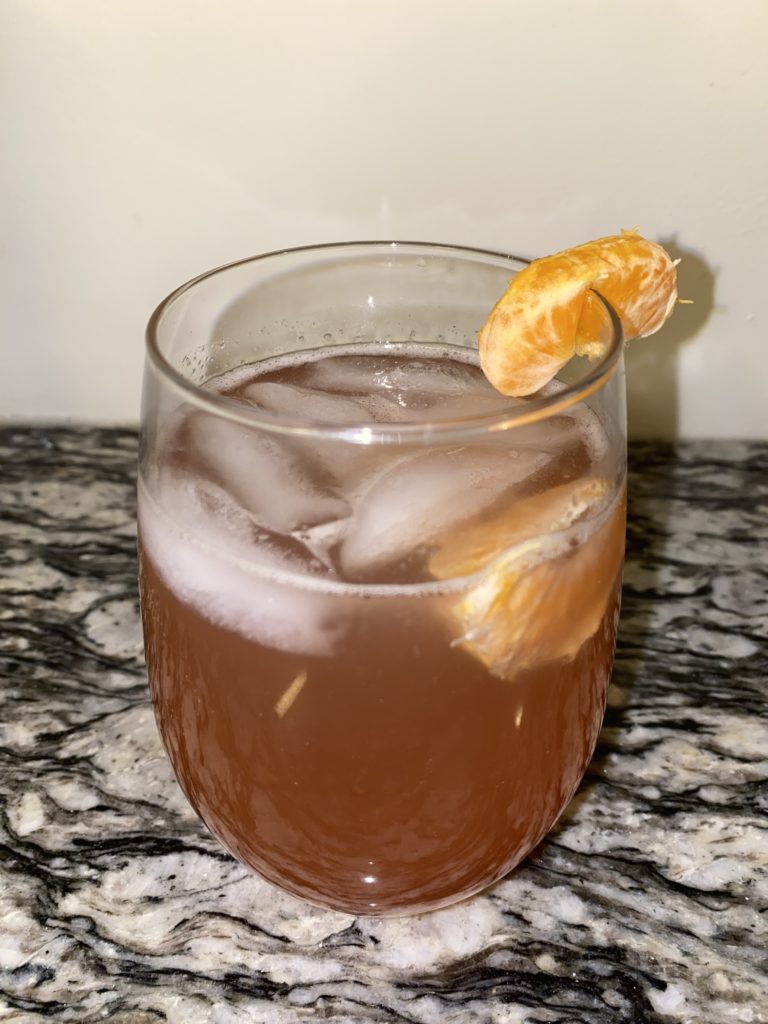 ---
One of our guest's favorites was our Sugar Cookie Martini.
1 oz Vanilla Vodka
1 oz Amaretto
1 oz Baileys
1 oz half and half cream
The rim was covered with buttercream icing and sprinkles! It was the perfect festive drink to ring in the holiday season!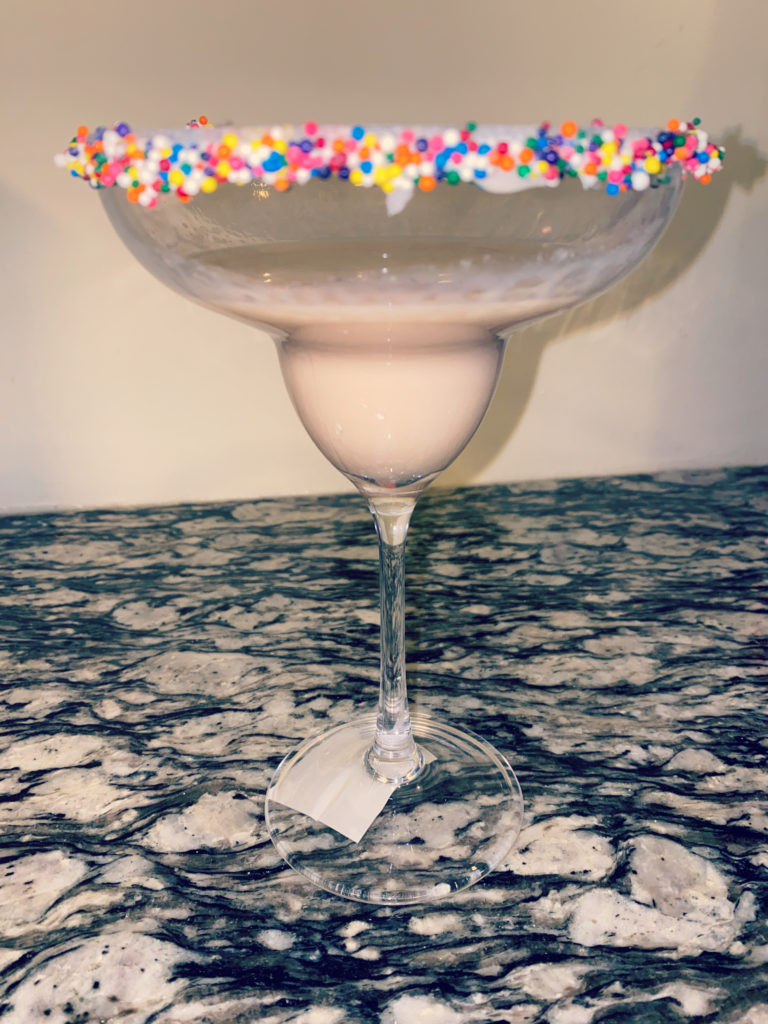 You can't forget about the iconic holiday drinks! Having some eggnog and hot cocoa is crucial for holiday parties and was a favorite amongst our guests.
---
4. A dress-code or theme that everyone loves.
My favorite part of preparing for our Holiday party was selecting my outfit. I wore a black glittery jumpsuit with black platform heels and simple gold jewelry.
Some of my personal favorites from the party were my roommate's red long-sleeve v-neck dress and another guests square neck long sleeve dress. They truly emulated our excitement for a holiday and made for some amazing pictures!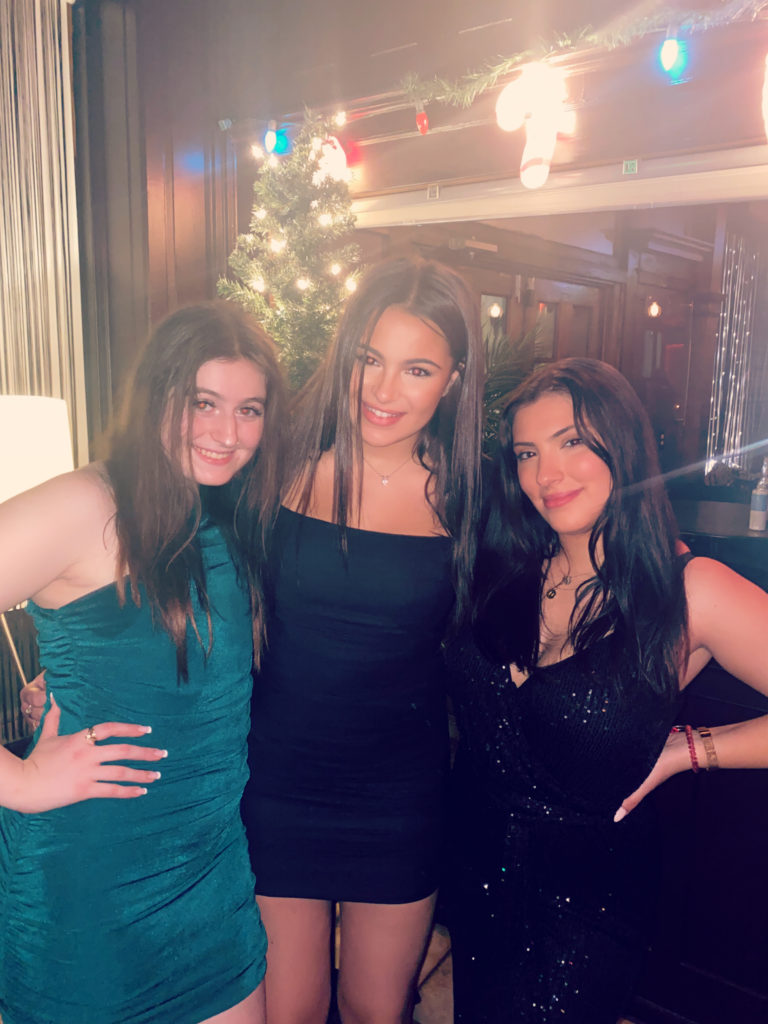 If you are struggling with your outfit, a glittery red or green dress is the perfect fit for the festivities! I also recommend black chunky heeled booties if heels aren't your style. Make your outfit resemble who you are!
---
5. Games and activities that bring everyone together.
%
One of my favorite things to do at any party is to participate in fun games and activities! Some of my favorites are Gingerbread House building, Christmas Trivia, Christmas Karaoke, and White Elephant.
The rules for White Elephant are simple but require some planning. Make sure to let your guests know ahead of time to bring a wrapped gift in a certain price range, normally $10-$25. Once all the gifts are placed in the center, everyone draws a number. This indicates the order guests will be selecting presents.
Number 1 will pick a present, open it and show it to everyone. Each following person can either steal a present previously selected or choose an unopened gift. Gifts can be stolen unlimitedly, and if the first player ends up with the same gift, they have a free trade.
Encourage your guests to be unique with their gifts! Don't just use gift cards, and avoid specific items like clothing. You can even spark a conversation with gag gifts!
Holiday parties are such an important part of the holiday season! They can really bring people together and remind us all why this time of year is so special.
Your friends and family will appreciate everything you have done for your own holiday party.
So don't stress, and enjoy the celebration.