Holidays are supposed to be a time of joy.
Where everything is blissful and no one is "allowed" to be sad or have everyday things impact them.
But the holidays can also be a time of extreme mental distress, high pressure and utterly overwhelming. The holidays, for many, can be an incredibly dark time for people emotionally.
It's important to protect your mental health, and prioritize your feelings and sense of self during a time where they may at times feel lost or challenged.
For many different reasons… Our HerTrack team has collaborated to write about the common inner battles that you and your loved ones may be facing at this time and provide tips for navigating them!
---
Managing social anxiety & loneliness.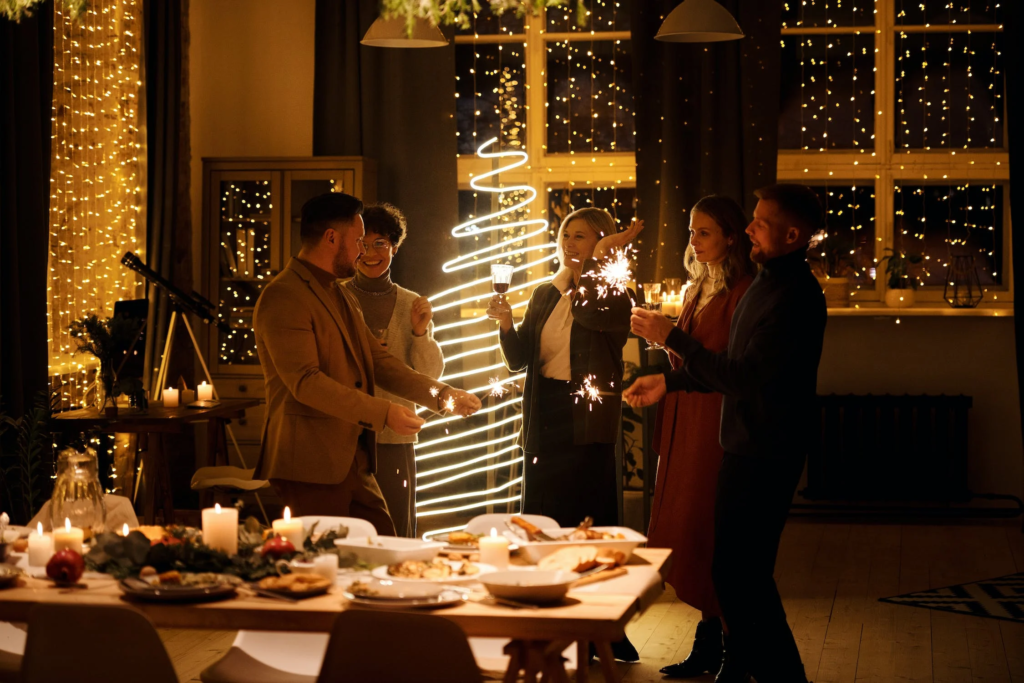 The daunting fear of people and social settings can be one of the biggest uphill battles in general, but especially during the holiday season. It's one party after the other. And when dealing with social events, it's easy to get in your head about everything.
What are other people going to wear? Who do I talk to? Am I talking to someone for too long? Am I going to look weird if I sit in the living room by myself and watch TV? Is someone going to ask me invasive questions about my dating life? Am I weird because other people brought a significant other and I'm by myself?
What can feel worse is when you get there and you see everyone mingling and having fun, and you just feel emotionally left out. Like it's too weird or rude to randomly walk up and join a conversation with others. Everyone seems to have a comfortable bond with others, and you just feel like some black sheep stranded on an island.
All communication abilities seem to go out the window, you fall silent and THEN, on top of that, feel like you're being rude and offending people by being quiet.
Dealing with this is normal. Getting worked up about the holiday season and all of the mingling is normal too.
So many other people in that room feel the same way you do at that moment.
Take a deep breath and don't put too much pressure on yourself.
You're not under the microscope that you think you are. Give yourself space to find what can make you comfortable in that moment. It's important to ask yourself, what do you need?
Maybe you need to go outside for a quick breather.
Maybe you sit in a room where there are fewer people.
Maybe you tell the closest friend you have there about your anxieties so that you have a buddy & support system.
Do what you can to make yourself feel safe and at ease in that environment.
AND if you find that there is a party that is giving you so much anxiety in the lead-up that it's impacting your daily life, it's also ok to not go.
The holidays add an extra pressure to social events, and make them feel mandatory. But nothing is mandatory. It's a voluntary and personal decision to attend, and if you don't want to go somewhere, remember that you don't have to.
---
Navigating complex family dynamics.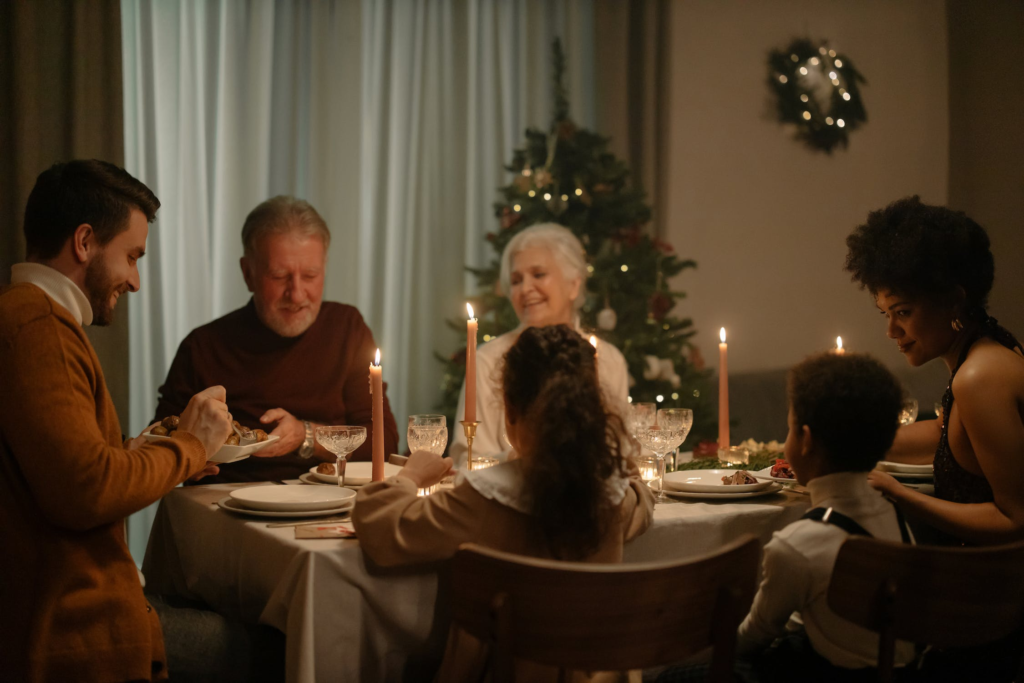 The holidays can bring out a lot of uncomfortable family dynamics as well.
Maybe your family used to be really close and recent events have created a lot of family distrust and disagreement. Or maybe your family has never been the warm, fuzzy type and gathers more out of obligation than affection.
As we get older, family dynamics can also change.
If you're in a committed relationship, at some point, you will have to have a conversation about how to handle the holidays. How do you merge your traditions with theirs? This can be made even worse if visiting family requires significant travel. Do you try to fit both families in, creating an extra chaotic holiday weekend? Do you alternate holidays or years you spend with each family?
Setting boundaries is key in these situations, especially when it comes to blending families with different holiday traditions.
If you and a significant other are just starting to spend holidays with each other's families, sit down in advance and talk about those traditions and which ones are most important to you. If a certain day is really special to your family, maybe you can give up a different day that has less meaning to spend with theirs. It can be hard to let go of traditions but try to remember that you're building new traditions with someone you're planning to share many holidays with for years to come.
Most of all, try to focus on what the spirit of the holidays truly means.
Be intentional about why you're visiting family and how you want the environment to feel.
If your uncle goes on a political rant that makes you uncomfortable, you should feel empowered to exit the conversation, or gently guide him to a new topic by asking about something less controversial. You never have to be in a circumstance that makes you feel uneasy or unheard, and always have the option to take your company elsewhere.
If someone tries to bait you into an argument, or into talking badly about someone you love, it's ok to say, "I don't want to talk about that."
The holidays are not an excuse to be disrespectful or unkind, and you have a right to shut down any unwanted dialogue.
Make the most of the time you have, with the people you actually want to see.
Choose a family member you don't get to spend much time with and prioritize reconnecting with them. Buddy up with your favorite cousin to save each other from uncomfortable situations – bonus points if you have a secret code word or hand signal!
---
Dealing with uncomfortable pressure around food and meals.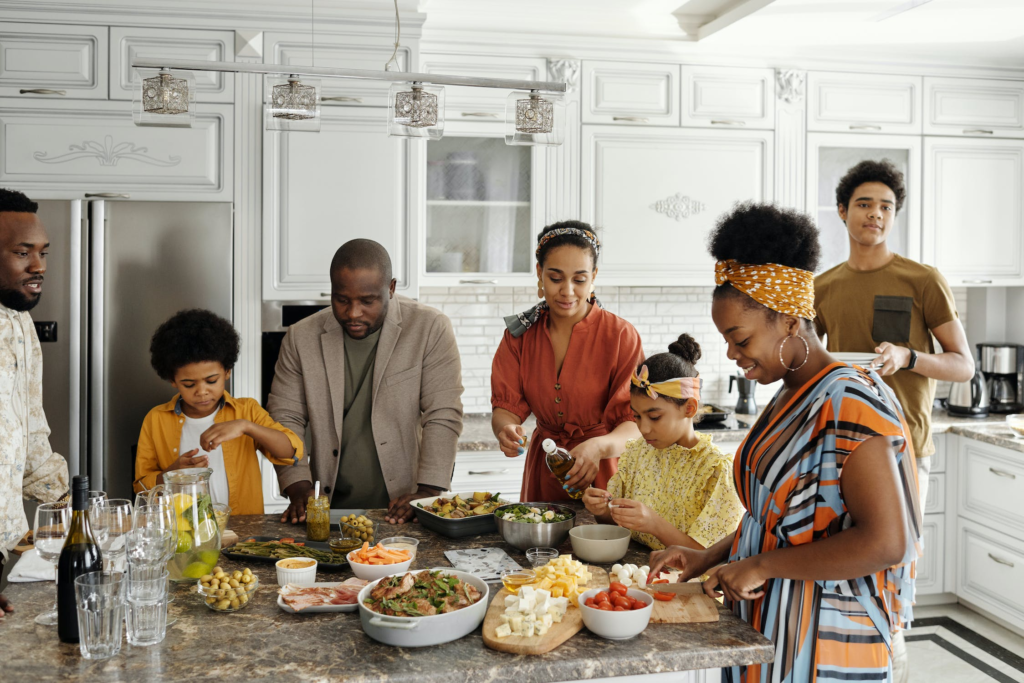 One of the first things people think of when you mention holiday gatherings is food. For those who have a healthy relationship with food and their body, they aren't aware of the emotional stress this can cause people they care about. That lack of awareness can lead to damaging comments and actions that create more harm.
We all know that person at the family dinner table who tells you to take more food or practically forces a second (or third) helping on you. For those with a history of disordered eating, comments like these are incredibly triggering. They might come from a place of good intentions but they can cause stress, anxiety and even setbacks.
These same emotions can be heightened by well-meaning comments about someone's weight or size, talk of dieting or needing to burn off calories consumed. It's these types of societal values that have led to unrealistic standards of beauty and an epidemic of unhealthy relationships with food and dieting.
Planning ahead can save you from a lot of additional stress at holiday gatherings. Check in with yourself to see what factors are causing you the most anxiety. Maybe you can cut back on the number of events you attend that center around food. If you have a special meal plan through your dietitian or physician, communicate that to your family and offer to bring a dish that falls within your plan. Schedule an extra session with your therapist or dietitian to talk through your concerns and help you develop some coping strategies in advance.
Identifying a support person within your family can help when it comes to unwelcome advice from well-meaning family members. Discuss with them what some of your potential triggers are and how best they can help you when those situations arise.
They can also help steer the conversation away from any diet-related topics that arise.
Whether we have a family member who has struggled with disordered eating or stress around food and body image, it's important to remember that what someone eats (or doesn't), their dietary preferences and their weight are not our place to comment on. In a society that places a lot of emphasis on beauty ideals, we can help to combat that by making our families and our homes a safe space.
Joy is the most important nutrient during the holidays.
---
Coping with grief and loss at the holidays.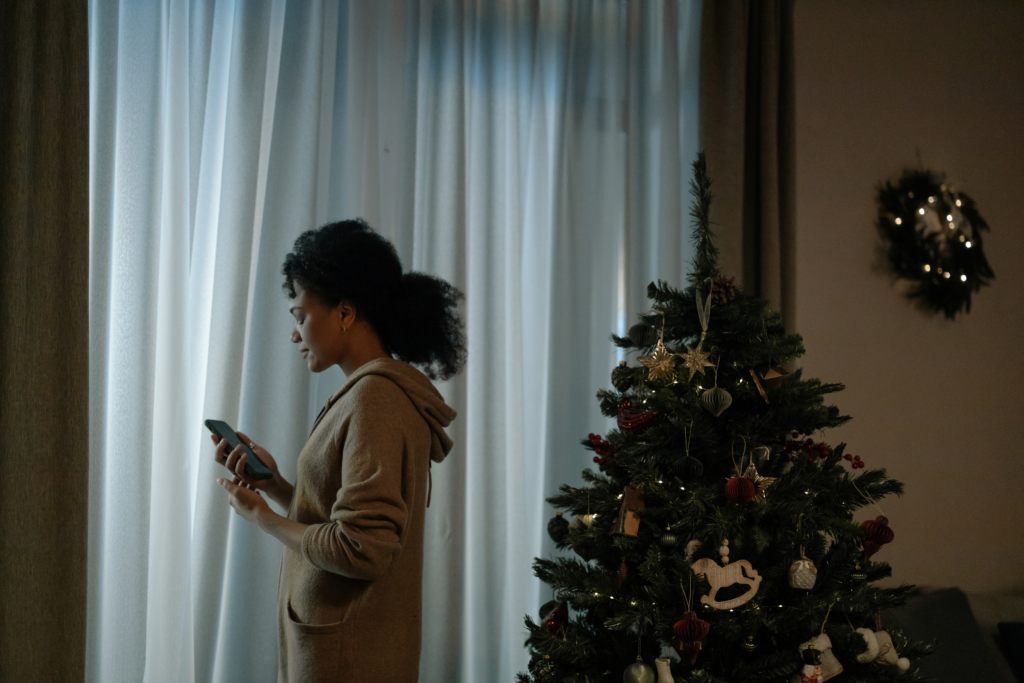 Dealing with the loss of loved ones during this time of year can be particularly challenging, especially if it is the first year without them. This is typically a season of joy and celebration, and it's perfectly normal not to feel merry and bright amidst your grief. A few tips for navigating these difficult emotions are:
1. Acknowledge your feelings.
It's okay to feel a diverse range of emotions including anger, sadness and loneliness. Allow yourself to feel and express your emotions in a healthy way.
2. Create new traditions.
Sometimes mixing it up and doing something new can breathe fresh air into your holiday season. The new tradition could also include honoring your loved one who passed away. If your grandma made really amazing pies, you could get the family together and recreate her recipes. You could set a place at the table for your lost loved one for holiday dinner so they have a physicial place at your table to mirror the one they hold in your heart.
3. Spend time with your people.
Surround yourself with love and your support system to lean on during difficult times. These people can offer you comfort and understanding.
4. Take care of yourself.
If you are not feeling up to the big New Year's Eve party it is okay to say no. Caring for yourself during this difficult time is incredibly important. Make sure to get enough rest, eat well, and do things that make your heart happy and provide relaxation.
A piece of grief and loss that is rarely addressed is if you had a miscarriage recently and thought this would be your little one-to-be first Christmas. There are support groups for those who have lost their potential person, and I hope you do something to honor your little love who could not join us on this earth.
---
Handling the holiday workload and added anxiety.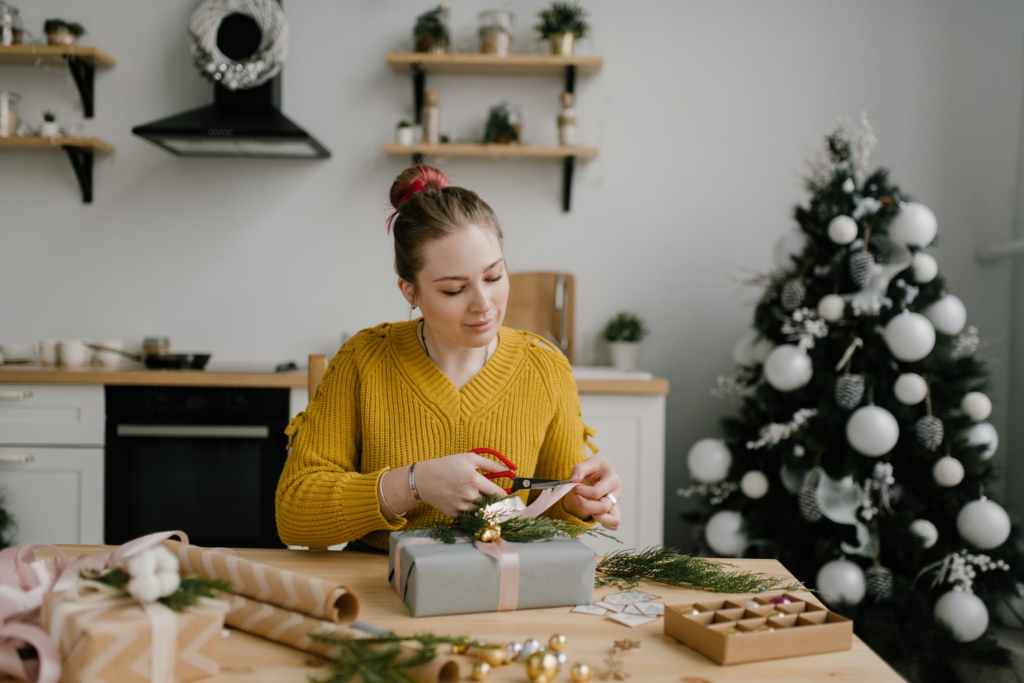 The holidays definitely add a lot of stress onto our already stressful plates in life. Planning ahead and budgeting time and resources for what you know you can do and accomplish and events you can attend can help you from feeling overwhelmed. Don't put too much pressure on yourself to create the "perfect" holiday.
There is no such thing as perfect, and trying to hold yourself to an unrealistic standard is setting you up for stress, failure and a grinch-style holiday meltdown. Make sure you have breaks and me-time carved out for yourself during the holidays. Don't skip your morning yoga class just because your in-laws are taking up space in your home.
Something I've always struggled with that is a huge stress reliever is simply ASKING FOR HELP. You do not have to cook, clean, buy and wrap presents all on your own. It takes a Christmas village sometimes to pull off the season, and there are tons of people in your life who would love to lend you a helping hand.
Also, do not try to do all the things. You do not have to accept every invitation, volunteer for every caroling session, or offer to bake cookies for 10 different people. Keep it simple, focus on what will bring you and your loved ones the most joy and peace, and remember love and quality time are what this season is about.
---
Combatting financial stress.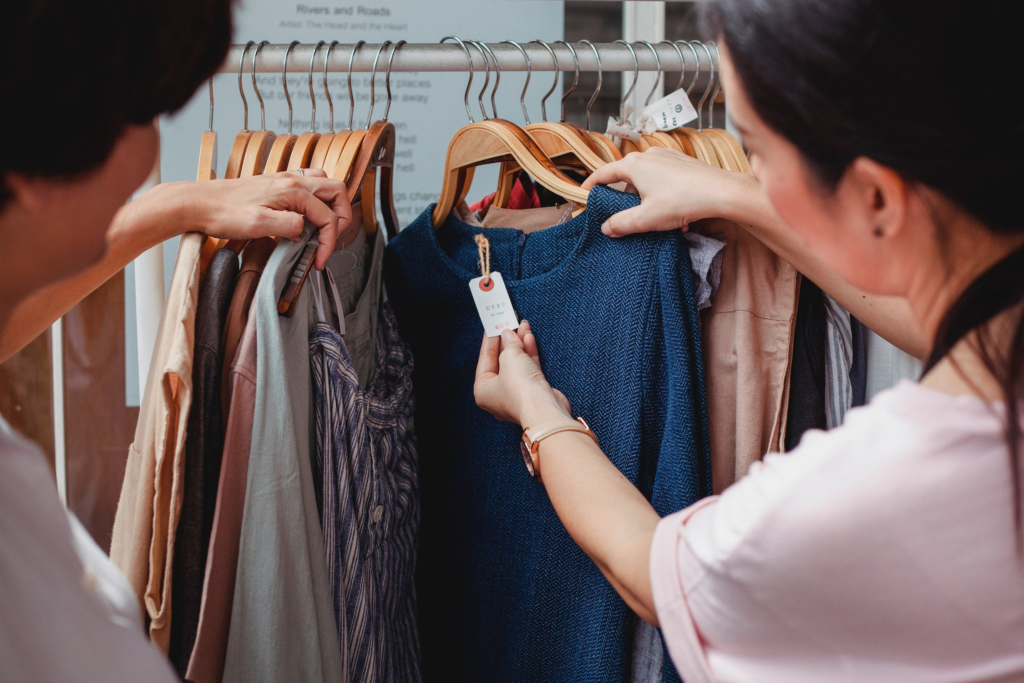 The holiday season can be a time of financial stress for many people. Here are a few tips to help you manage your financial stress during the holiday season:
1. Set a budget:
Determine how much money you have available to spend on gifts, decorations, and other holiday expenses. Stick to your budget as much as possible to avoid overspending.
2. Shop wisely:
Look for sales and discounts, and compare prices at different stores to get the best deals. Consider buying generic or store-brand items instead of more expensive name-brand products.
3. Make a list:
Make a list of the people you need to buy gifts for and set a budget for each person. This can help you stay organized and avoid overspending.
4. Avoid using credit:
Try to pay for your holiday expenses with cash or a debit card rather than using credit. This can help you avoid accumulating debt.
5. Consider alternative gift ideas:
Instead of buying gifts, consider giving your time or talents as a gift. You could also consider giving a gift of experience, such as tickets to a concert or a gift certificate for a massage.
Remember that it is okay to say no to expensive gifts or events if they do not fit into your budget. The holidays are about spending time with loved ones, not about overspending.
---
Coping and moving forward.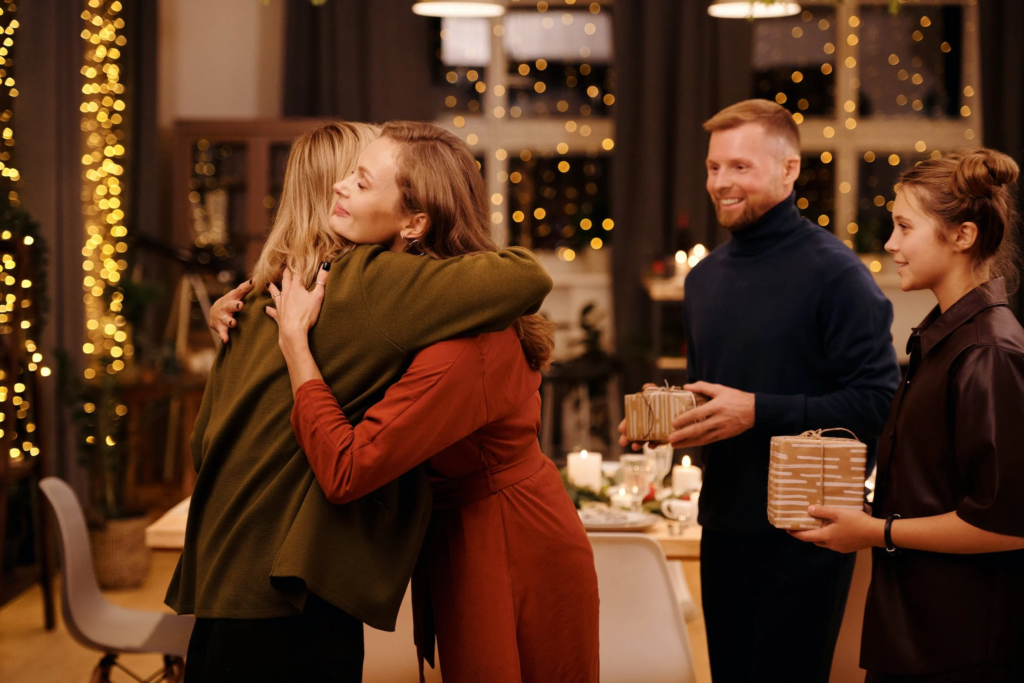 If you are suffering from burdens involving any of these topics, you're not alone. Take a deep breath. Lean on your loved ones. Grant yourself space to figure out what it is you may need to feel better.
Regardless, whatever you feel and need is OK.
Remember that your boundaries, coping mechanisms and needs still exist during the holidays, and they deserve to be preserved and protected.