When it comes to home organization, the most important part of the process is figuring out how to organize and display your household items. A well-organized work-space helps you be more productive, and it's just more inspiring to work in. While shelves are a good place to start, most homes really need cost-effective and easy storage solutions. A pegboard is inexpensive and easy to build, and the finished product makes your home look pulled together and stylish. For only around $100.00 and a day or two of labor, you'll have the perfect tool ready for organized storage.
---
What you'll need:
---
A pegboard panel

1x2s for furring strips

Frame molding, if desired

Saw, screwdriver, and level

Screws

Paint or varnish, if desired

Hang-ware, most likely just classic J-shaped hooks
---
Step-by-Step Instructions:
---
Cut your pegboard panel to your desired size.

Cut the 1 x 2s to make furring strips to attach to the back of the pegboard. Attach the furring strips (framed around the back of the pegboard) with screws and/or adhesive.

If you want your pegboard to look polished, attach some picture frame molding to make a nice frame around the front of the pegboard

If desired, apply a coat of paint or varnish to the pegboard. This helps protect the pegboard from nicks and dings and helps make sure the holes don't get stretched out over time. Paint it a classic brown or white, or use your favorite school or pro sports team colors.

Find studs in your walls and mark them.

Using a level, screw the pegboard into the wall.

Insert your hangers where desired, depending on the number and sizes of the tools you want to hang.
---
Once you have built your pegboard, check out the ways you can use them in all areas of your home!
---
1. Kitchen.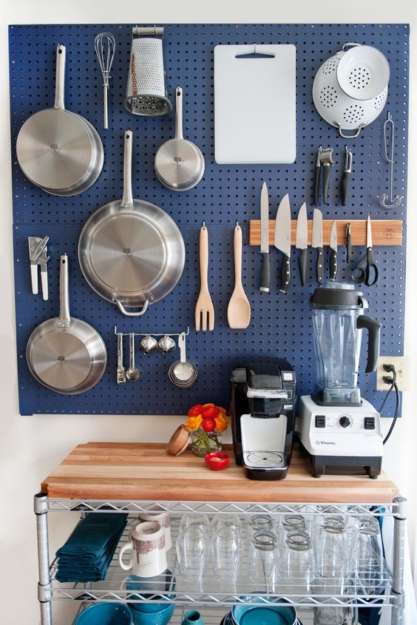 A pegboard can be a useful place to sort holding utensils, pots, pans and aprons. Plus, you can add a little shelf, and you'll find you have space for bigger items that won't fit on a standard spice rack.
---
2. Bathroom.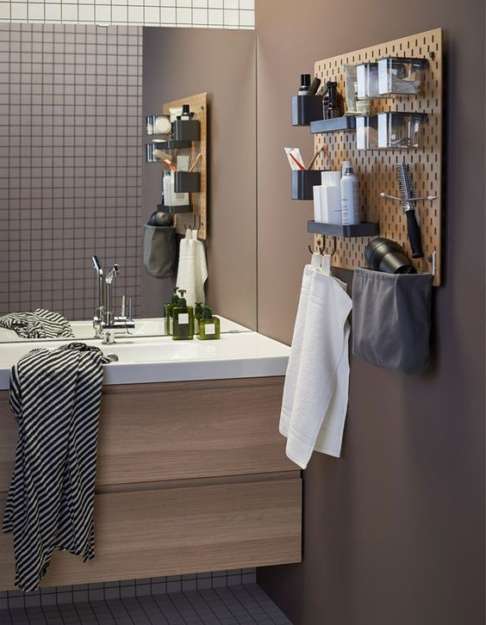 Putting a pegboard inside a cabinet can give you a clutter-free way to hang hairdryers, curling irons and brushes. You can hang toothbrushes, toothpaste and dental floss on the pegboard as well. Attaching cups on hooks allows you to gather makeup brushes and other beauty supplies and hair accessories all in one place.
---
3. Bedroom.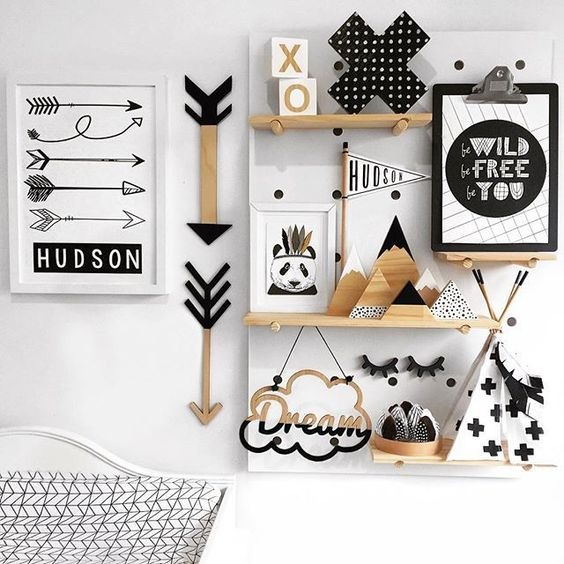 A pegboard is a great tool for easily hanging your frames and displaying shelf decorations, like the example above. It's also a great jewelry organizer and an attractive way to showcase your necklaces, earrings, bracelets, and other jewelry– while adding pops of color to your decor. Also, it can hold accessories like sunglasses, belts and light weight scarves. Larger pegboards in closets can even hold purses and heavier clothing.
---
4. Office.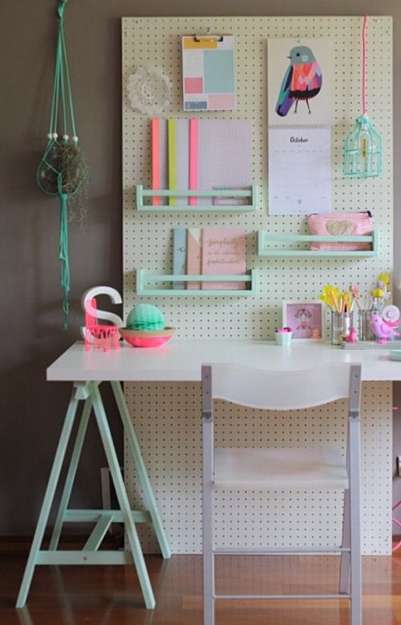 A pegboard allows you to effectively arrange your office to maximize space. You can hang clocks, framed photographs and cups for loose items like pens and pencils on a pegboard. Then you can clear your desk for work. You can also use a pegboard for hanging scissors, ribbon spools and baskets for craft supplies like paint bottles or cups for paint brushes.
---
5. Laundry Room.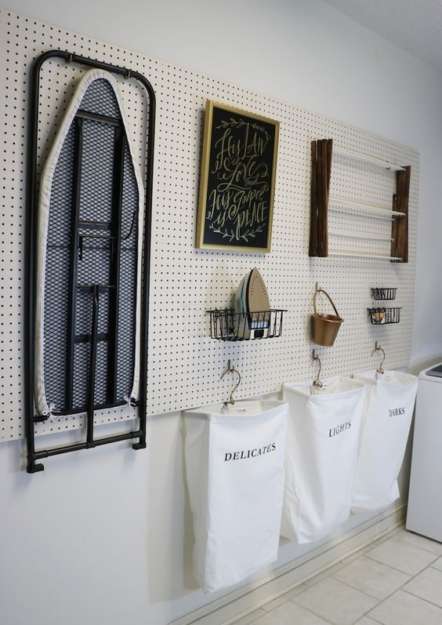 Pegboards are perfect for holding ironing boards, drying racks, and baskets for laundry soap and irons. Not only that, laundry room pegboards can be sturdy enough to hang clothing sorters. They can also hold cleaning supplies like mops, brooms and dustpans, and dusters. Your laundry and housecleaning days will run efficiently and quickly as a result.
---
6. Garage.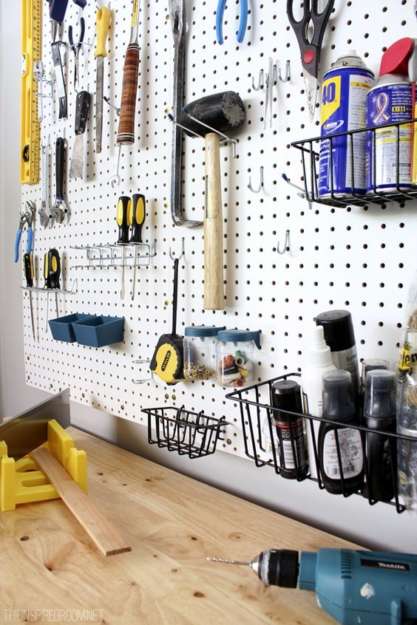 Pegboards have been a staple of garages and sheds for organizing tools. When it comes to sheds and garages, the most important part of the organization process is figuring out how to organize your tools. These organization ideas work equally as well in gardening sheds as they do in garages. After you have the basics, you can start adding on a few new DIY storage tools, like a wooden corral for sporting equipment or a bracket to hold long-handled tools like rakes.
---
There you have it, pegboard ideas for everywhere in your home. Happy Organizing!
---
For more on DIY & Home Decor, check out the articles below: