Decorating and furnishing a small apartment is a challenge. 
Between IKEA trips and a constant battle of using measurements at the store to decide if you can squeeze a futon into that one corner, you're likely to get a little frustrated. It also doesn't help that a lot of home-magazine and decor-inspiration boards on Pinterest are targeted towards people with spacious living rooms and master bedrooms. Where are the home-decor Instagram accounts for little, city apartments?!
What's even more difficult is trying to find original ways to make your little space actually feel like home.
Over the years, my apartments have gotten smaller, more expensive and in more densely populated cities…hence less space somehow becoming more pricey. This means that a need for creatively using a small budget to furnish an apartment has only gotten stronger. Making it feel special and personal has also always been at the top of my list. So I've compiled a list of fun and easy ways I've tried to fill my small apartments with big personality. I hope you can find some inspiration from these ideas as well!
As always, you check us out on Pinterest for more home decor ideas, and feel free to comment your own ideas below.
---
1. Create a personal photo display with string lights, close pins and graphic prints.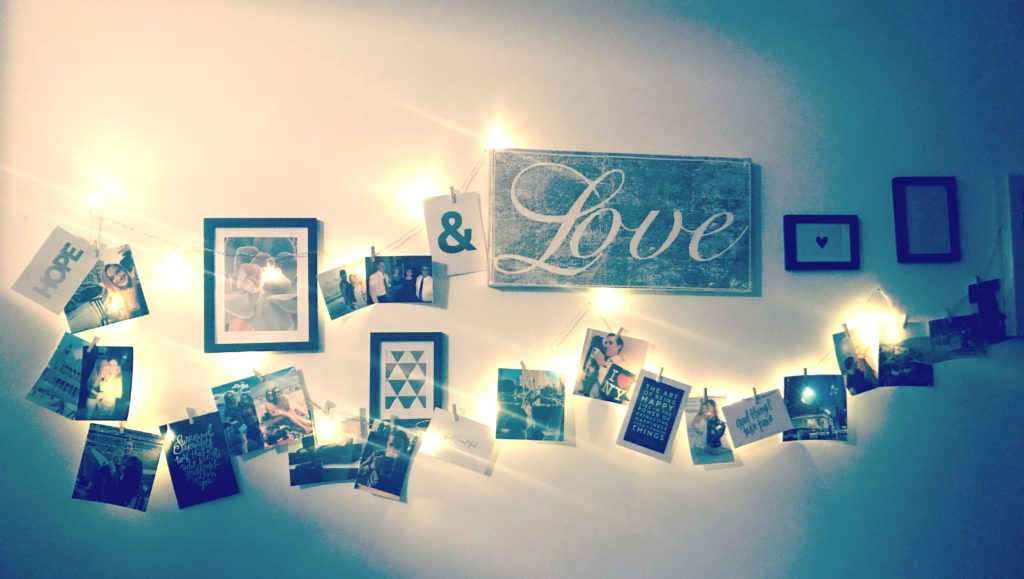 This is so easy to create and a lot of fun too. I used these gallery art prints to put some of the quotes/graphics in frames, and others on the string lights. Try to get battery-operated string lights as well, because the smaller the apartment, the harder it is to find convenient outlets.
---
2. Use patterned rugs and throw pillows for a creative touch.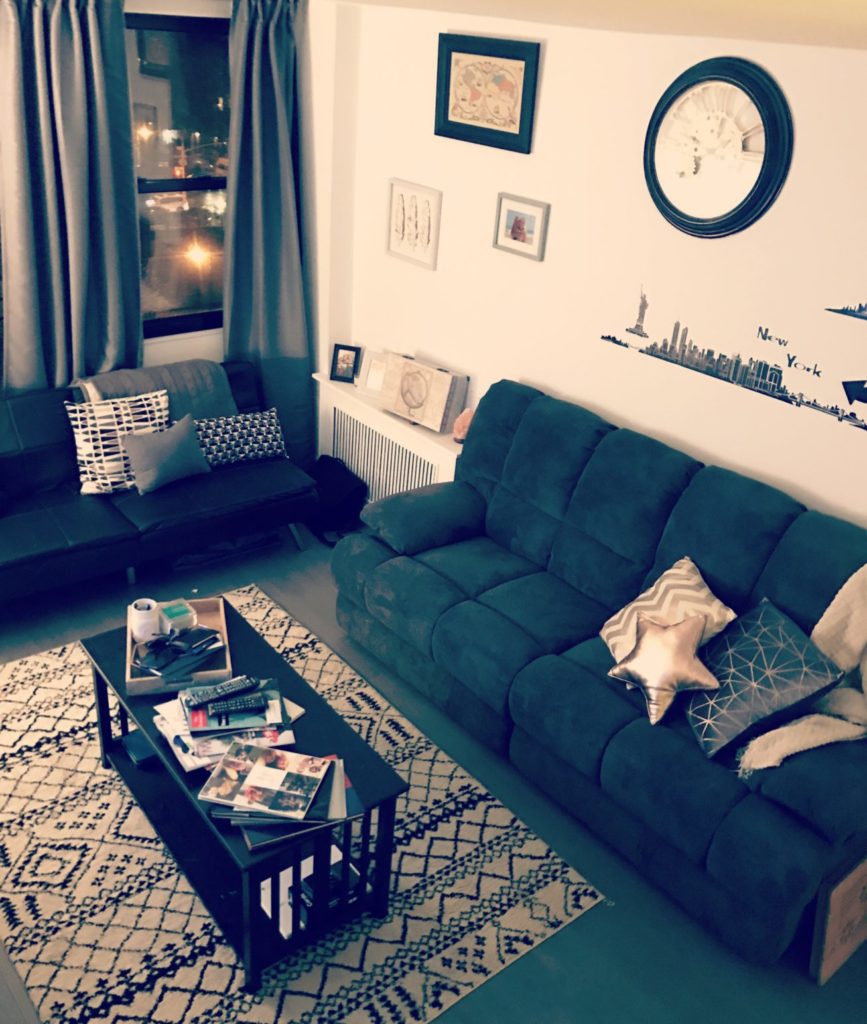 Pillows and rugs are so fun, and they spice up any little area. You can easily swap out the pillow covers as well onto old throw pillows, instead of buying new ones every time.
---
3. Use the outdated parts of your apartment (like this old heater cover) as shelves.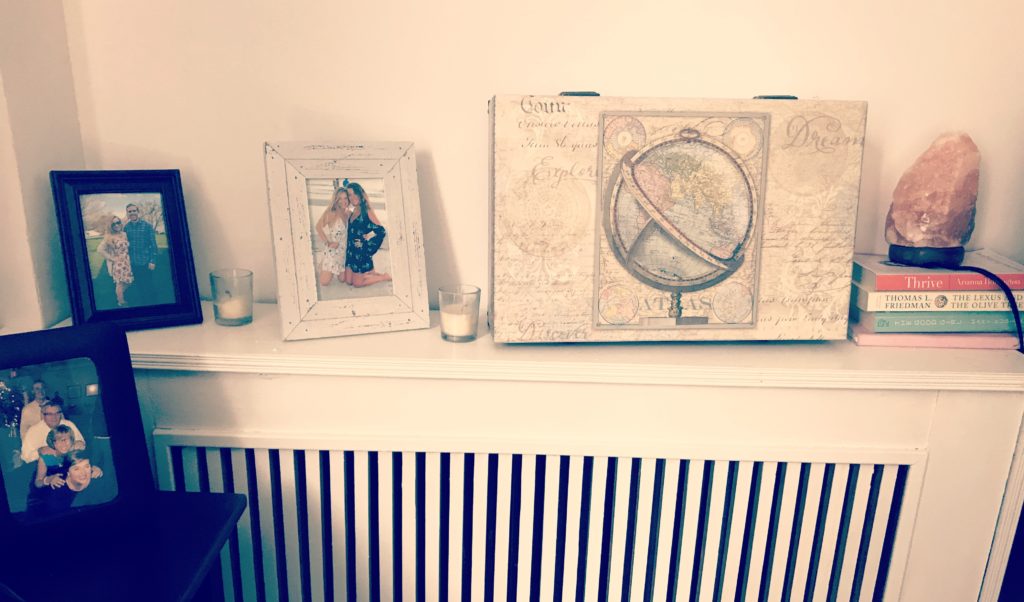 These awkward ledges and contraptions pop up a lot in older apartments. Who says they have to go un-styled?
---
4. Use a World Map wall sticker and pins for your adventures.
This is always a great conversation starter when you have guests over, and it's so much fun to do. I used color-coded pins to mark where each of us has been and where we have traveled together. I also added a red pin for our next stop!
---
5. Create special themes for unique spaces in your apartment.
I loved the subway tile in our bathroom and the crisp look it had with the white and the black colors. So, I went with the subway theme entirely. I also brought in an above-the-toilet shelving unit for more space in a cabinet-less bathroom– this makes so much of a different in small bathrooms.
---
6. Create a coffee mug rack.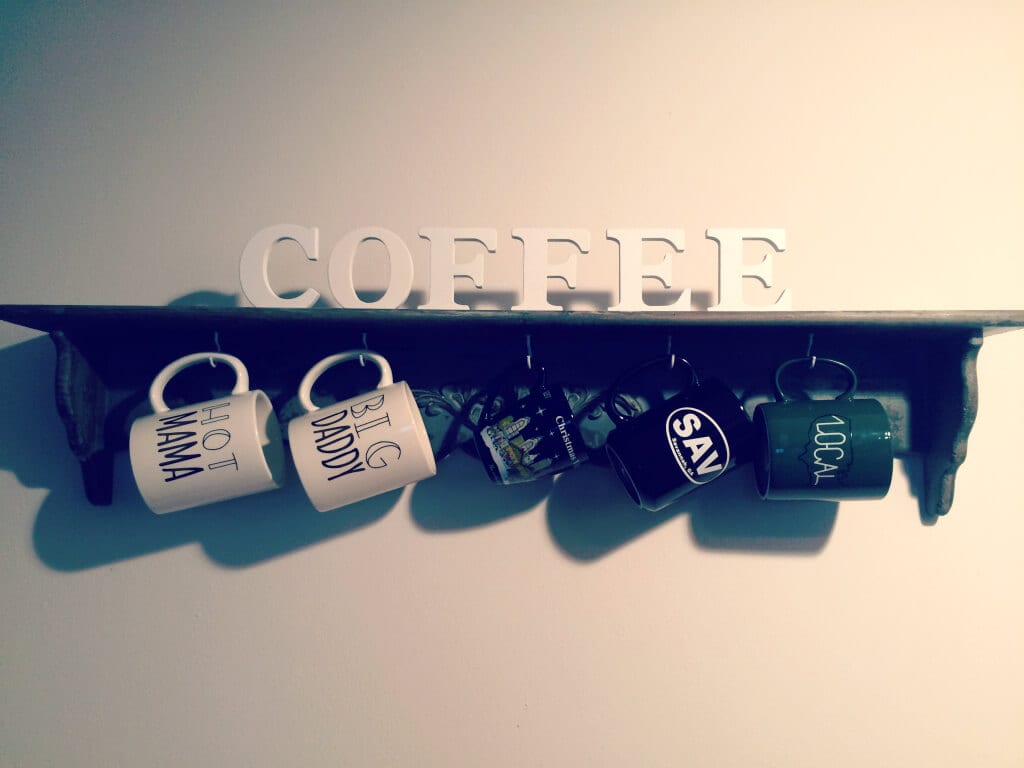 Coffee mug racks are so fun. My college roommates made this gem for me, and I still love it so much. I like to put the mugs on display that have memories and stories associated with them. (It also is another place to store all of your coffee mugs)
---
7. Use prints as wall decor for styling your white walls.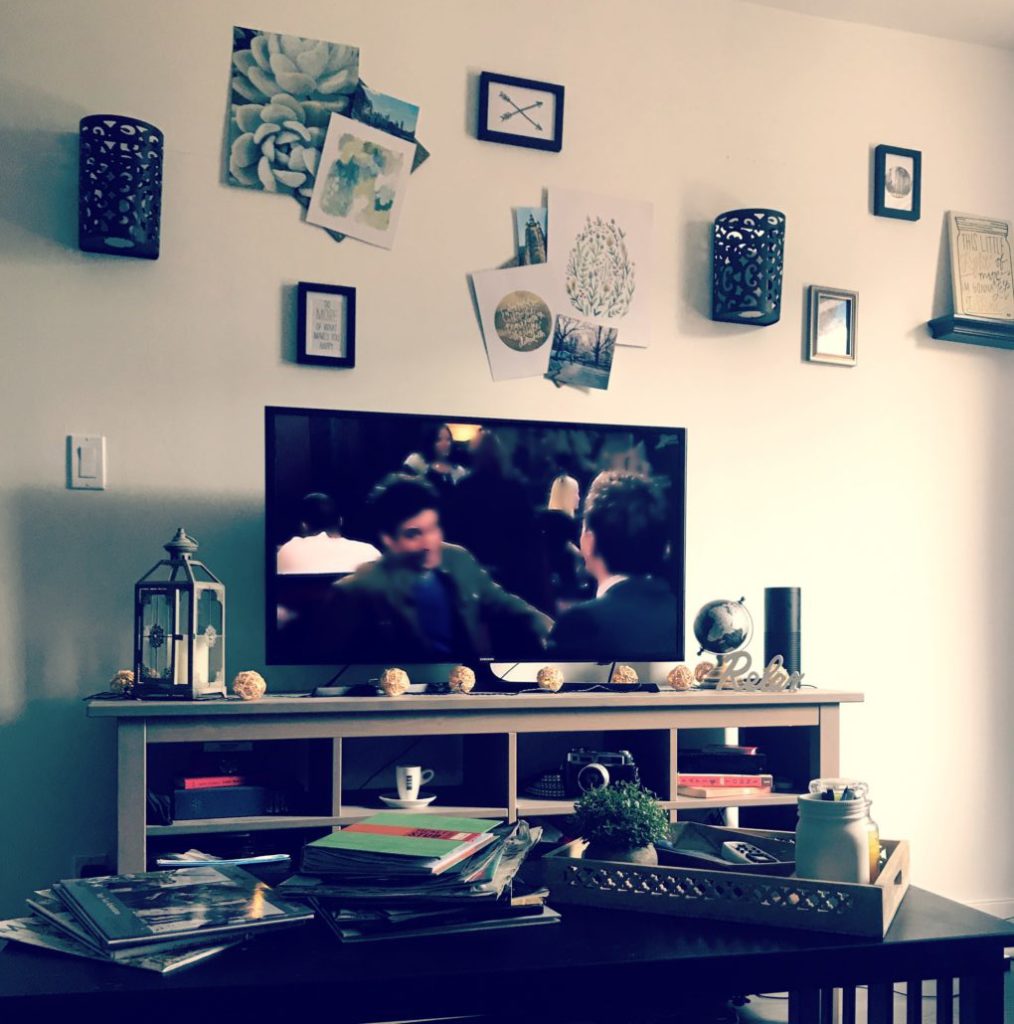 These are a fun and easy way to put a little bit of you into the apartment. I layered colorful prints with photos I had taken around the city, on top of a cork-screw backdrop.
---
8. Build a counter-top coffee station.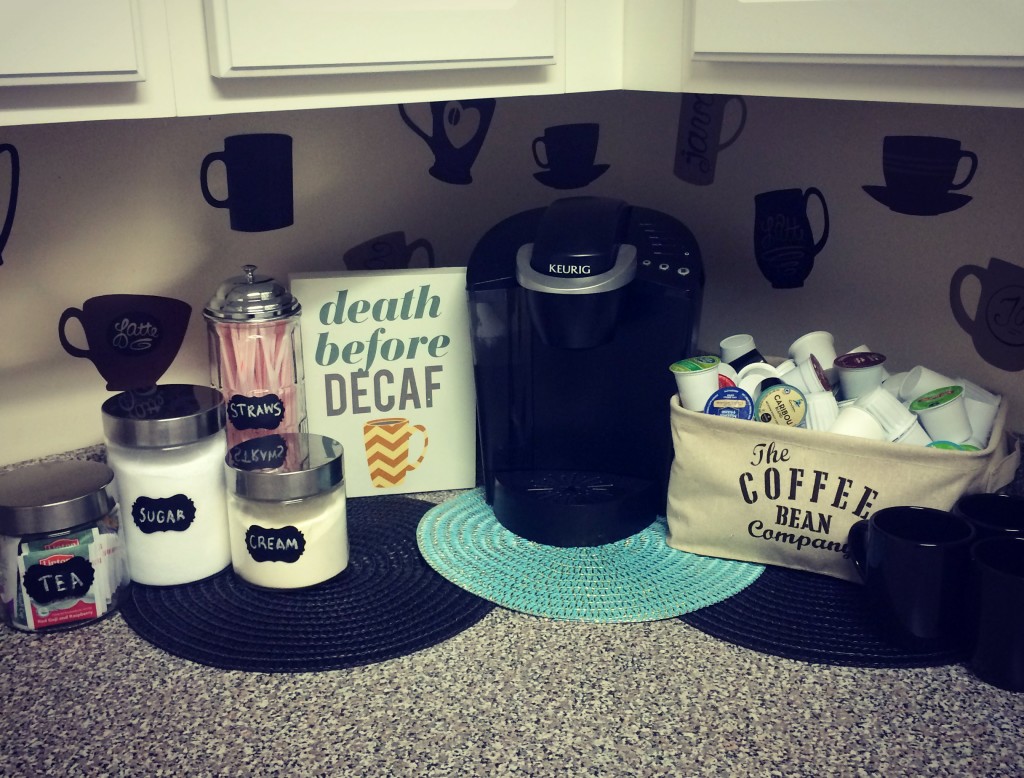 It's crazy how a display of K-cups and coffee fixings can make your little kitchen just as original as the gal drinking coffee in it.
---
9. Fill your IKEA shelves with personal sentiments and decorations.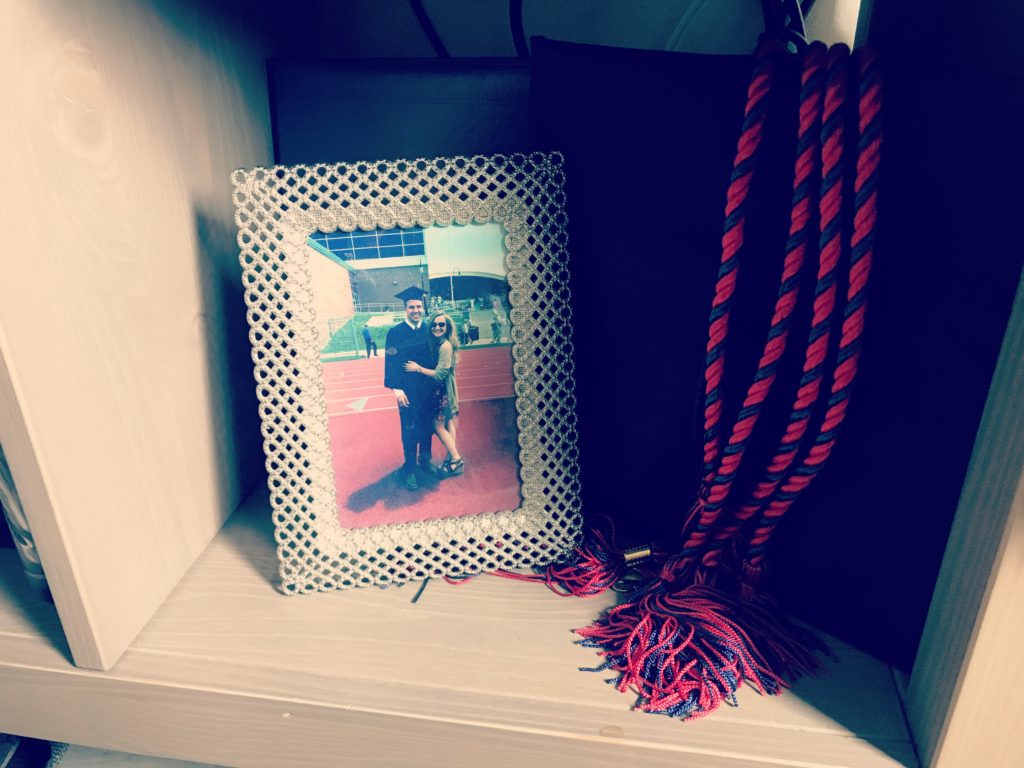 I'm a big fan of decorating with your life. If you're like me and bought most of your tiny apartment furniture from IKEA, you probably have these little box shelves all over the place. I love filling them with pieces of our lives– like this display with our grad caps, diplomas and graduation cords. I also have fun antique shop finds, trinkets from our travels and books we have both read in these shelves.
---
10. Don't be afraid to fit your furniture into unconventional spaces.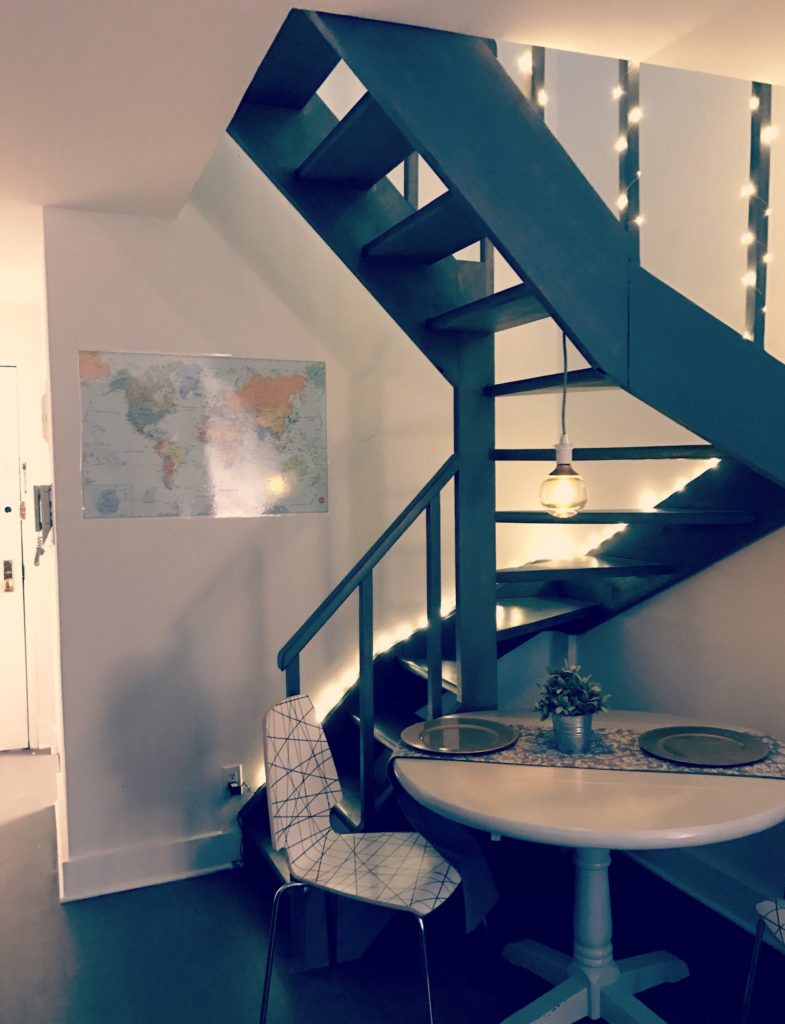 Our kitchen table is literally under the stairs. You have to make the most of your space in a small apartment, and kind of ditch your pre-conceived notions of normal layout. Get creative, move things around and dress them up with fun accents like the table decor here.
11. Art. Art. Art.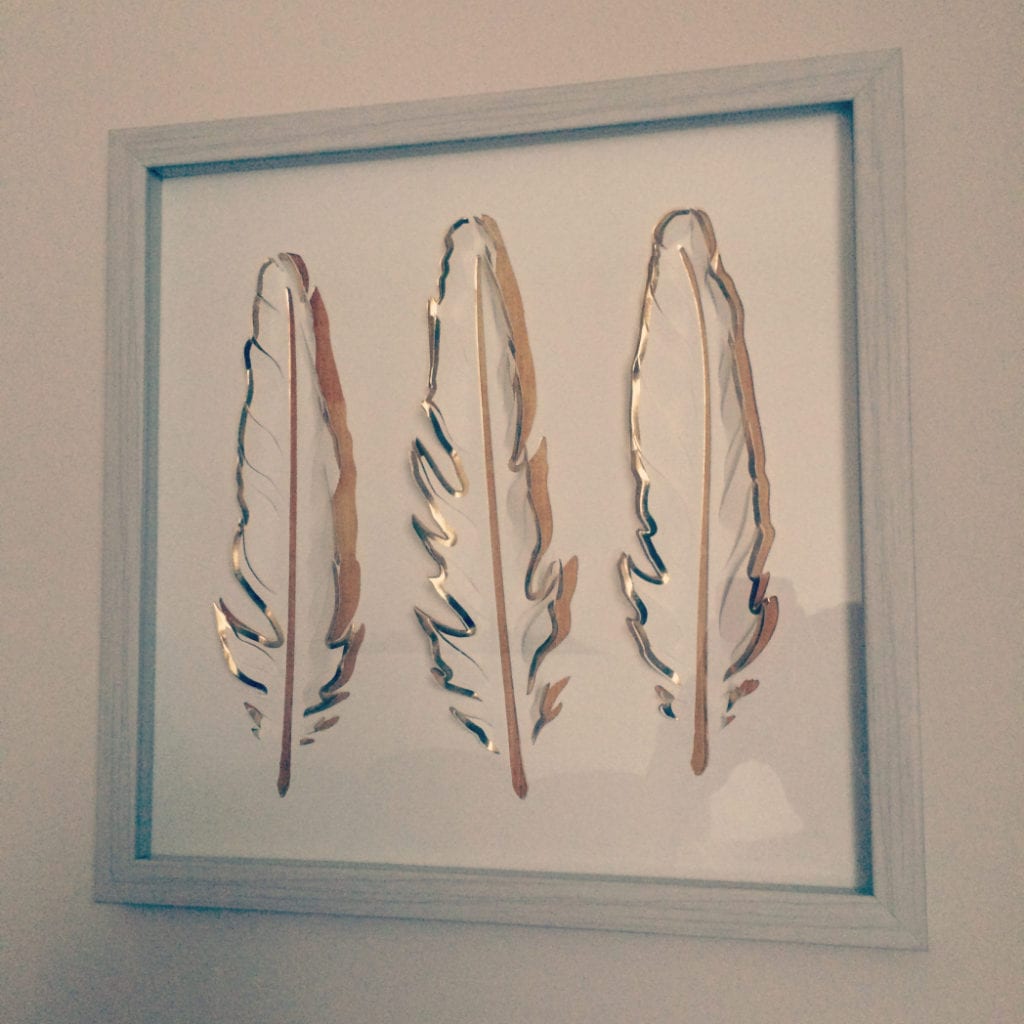 Art and photos make your little apartment yours. This sweet piece was a gift from my boyfriend's sister, and I have loved putting it on display in our apartments.
12. Try out unique lighting fixtures.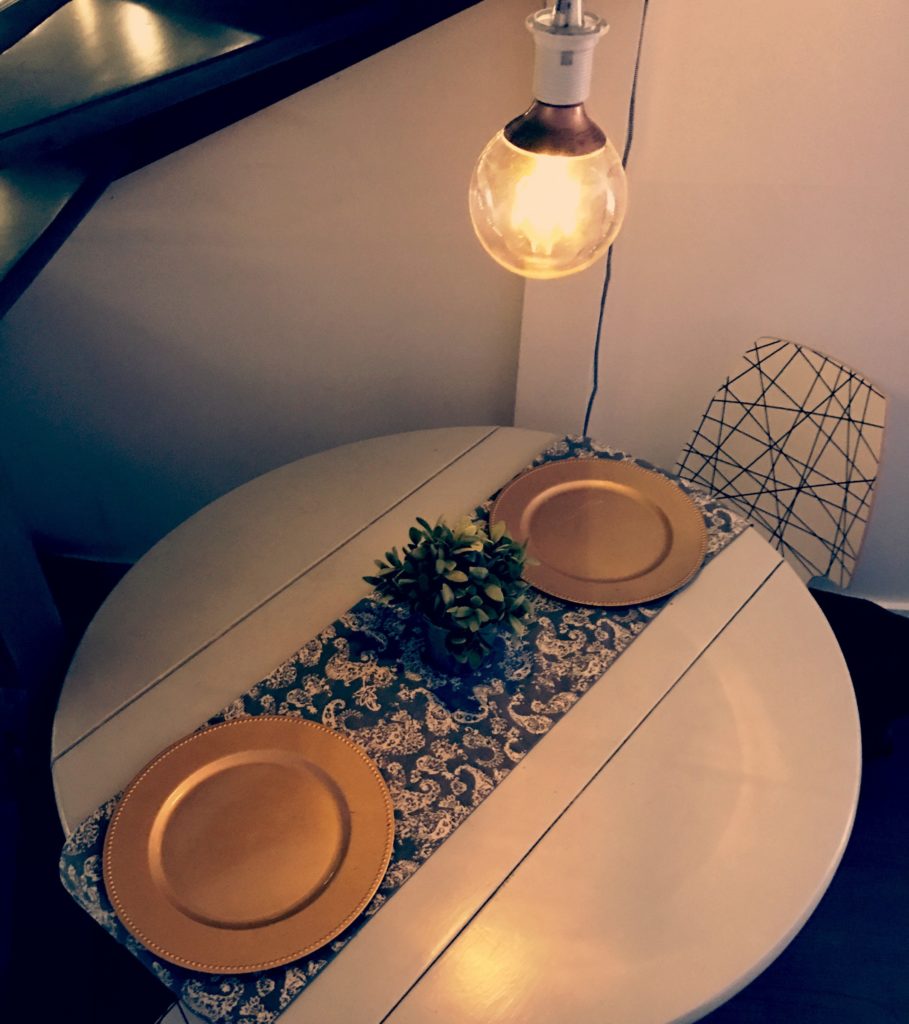 Lighting sets the entire mood of your apartment, especially when it's not very big. In my experience, I've found the overhead lighting to be pretty poor in apartment units. So, finding inventive ways to incorporate the right lighting into different rooms is critical. We hung this Einstein bulb from the steps above our table, and I also lined the stairs with dimmed string lights for an added touch.
13. Use your travel sentiments as decorations.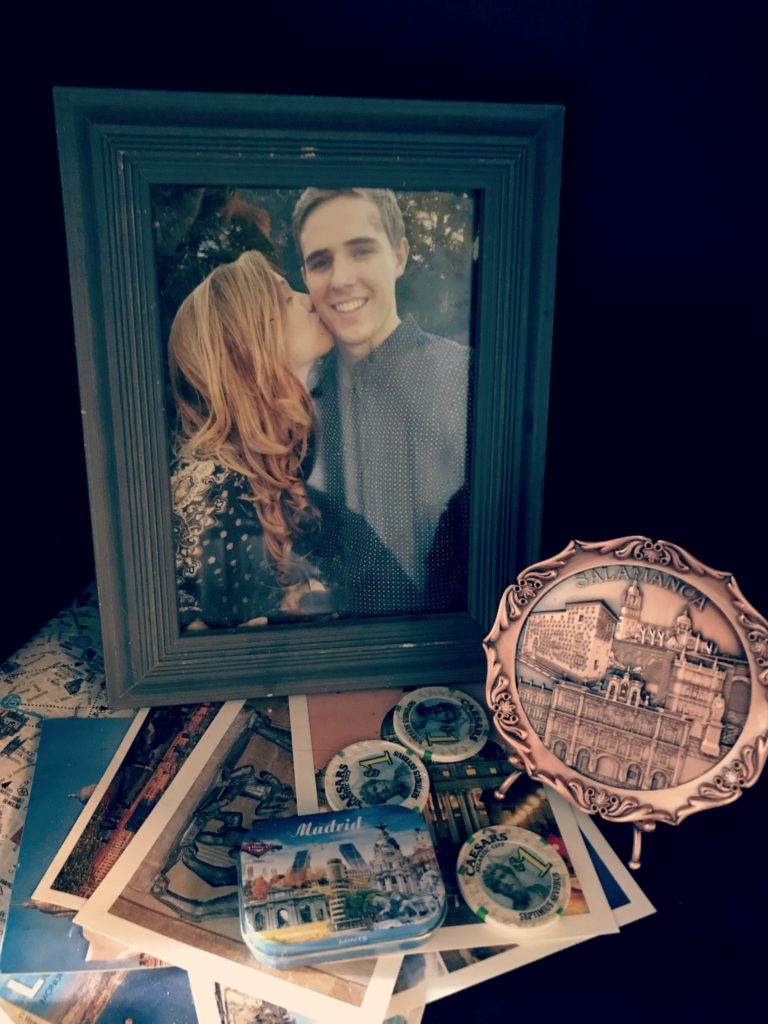 I save everything from our travels, and again think they're a great way to decorate around shelves and frames. Everything from postcards to ticket stubs to city maps look really great, AND they tell a story.
14. Use trays and containers to build coffee-table displays.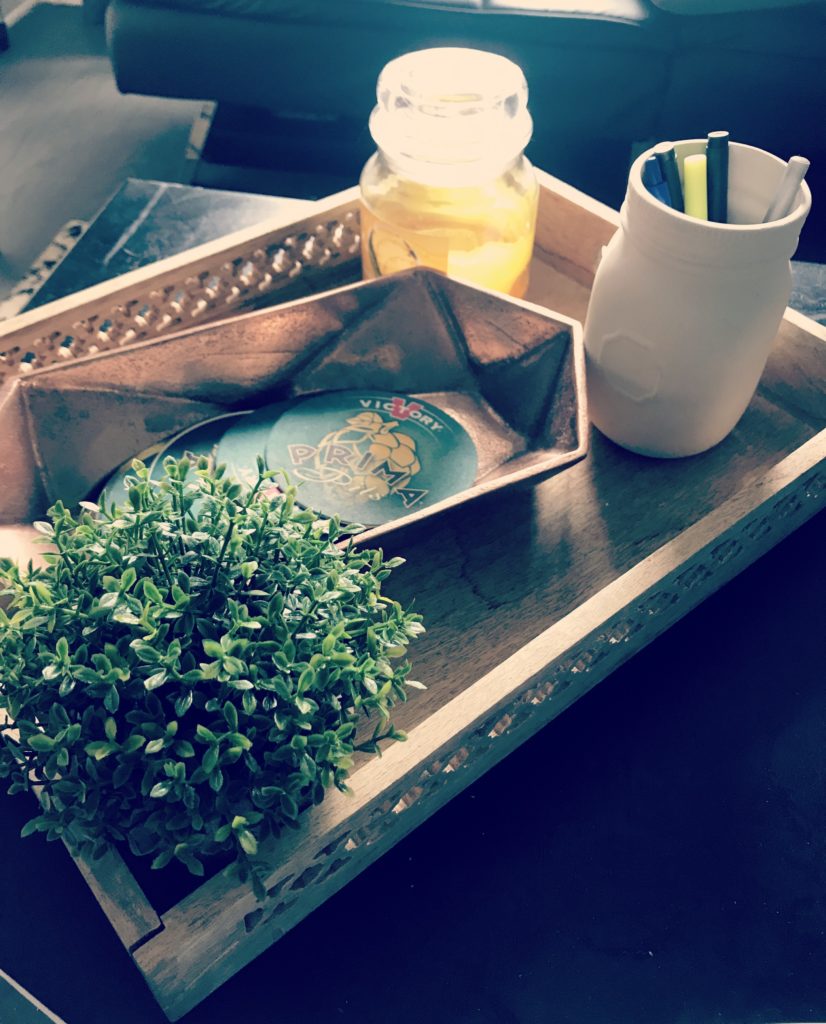 It's a fun way to keep your coasters and discussion starters all in one place. You can also use little accents like candles and greens for livening up your table-space, and giving the furniture you do have an extra special touch.
There you have it, 14 new ideas for small-apartment decorating. Let us know your own discoveries in the comments below!


---
Like what you see? Check out more of our related articles below!
50 Travel Stops For the Ultimate Couples Bucket List Around the World