For many millennials, Brianna Wiest is the writer you've grown up with (She's written thousands of articles for Thought Catalog, has worked as a reporter for Teen Vogue, and is the author of four books). She is the #LadyBoss queen of the listicle, a champion of mental health and now a poetry author. There seems to be no stopping her when she has a pen in her hand, but how did she come to be the amazing writer that she is today? I had the chance to ask Brianna 10 questions about her success and lessons learned along the way while pursuing her career as a writer. Here is what our Lady Boss of Month for December had to say:
---
1. When did you know you wanted to be a writer?
Probably not until after I was actually working as a writer. I had definitely thought about it before, but I guess I assumed I wasn't good enough to do it for real. I thought I wanted to be an editor, but I think writing is my greater strength…much to my dismay initially. It was scary at first! With practice, I came to like it a lot. And then once I started working for myself, I loved the freedom and all the financial possibilities that opened up. That happened maybe 2 years ago? Now, I can't imagine doing anything else.
---
2. As a writer, where do you pull your inspiration from?
Whatever I see or sense other people are going through, things that I can relate to, other writing that inspires me, life experiences… really anything. Though I guess it's worth saying that I think it is important to disassociate "being inspired" with being able to write. I write and publish anywhere from 3-7 articles a day, so there's no time to wait to feel inspired. I just wake up and start, and the inspiration finds me. My sister says: If you can do it when you feel like it, you can do it when you don't. Not "feeling like it" doesn't impact your ability.
---
3. What experience(s) from your adolescences stand out to you as a pivotal moment that shaped you into the writer you are today?
I do not think it is a secret that I have struggled a lot with mental health issues and personal life issues. I had a rough go for a while. I had anxiety and OCD, and it became depression after a while. There's a reason I write the way I do… I write what I really needed to read when I was struggling at my worst. The first time I ever read a Thought Catalog article, I was in the newspaper office where I worked in college and a friend showed it to me. I had never read anything like it before. It made me feel so much better, so understood, like a literal weight lifted off my shoulders. I followed them for years after that. I had no idea I would be the one writing those articles someday!
---
4. What do you consider to be your first big break as a writer?
Absolutely getting hired by Thought Catalog. If it weren't my job to write articles every day, I never would have. I learned everything through that job and I made professional connections that were invaluable. I learned how to write for an audience, how to be prolific and how to handle the backlash. I am so grateful to them and still work with them closely.
---
5. What is the hardest lesson you've had to learn as a young professional?
I can't think of the hardest, but I can think of a lot. Don't be an ass. Don't say anything in private you don't want other people to repeat in public. (Also, do say things in private you do want people to repeat in public). Writing is not that special, it is a job. There is nothing worse than people who ascribe a moral or artistic hierarchy to types of writing… people like what they like. You have to be able to sell yourself well, but at the same time, success should be a self-evident thing. Successful people don't have to say that they've made it. It's obvious.
---
6. Setbacks in one's career are unavoidable. What is one setback you've faced? How were you able to overcome it?
I think that at the beginning especially, I had to come to terms with not having a 25-year plan. I always assumed I'd start to work for a publication and then I'd stay there until I retired, but then I realized that is not how I wanted to live my life. People say that working for yourself is "risky," (mortgage lenders agree, I have learned). I think that's funny because the opposite is true. When I had one source of income, if I lost it, that was it. Now I have multiple. That's not so much a setback as it is just something I had to come to terms with. I guess a setback was having to stop publishing Soul Anatomy as often as I thought I would. I loved that site so much, and I have a whole folder of submissions in my inbox. But other things started taking off and eventually I had to prioritize. That was sad, and I hope I can do it more someday.
---
7. We're part of a generation that broadcasts our lives across social media. You recently had the opportunity to contribute to Thought Catalog's
What I Didn't Post on Instagram: A Collection of Essays on Real Lives and What We Filter Out
.

How has your use of social media changed in the recent years? What negative social media habits have you done away with and/or what positive ones have you picked up?
First of all, professionally speaking, I cleaned it up a lot. I got better photos, concise bios, a website that outlines what I do and gives people a way to contact me. So many opportunities have actually come to me through that website… it is important! As for habits, definitely keeping it positive. Not talking about the process of writing, rather just showing my work. Following people who inspire me and make me think. That book was all about how what we post only tells half the story of real life, and that's very true. So, always remembering that you're looking at a highlight reel.
---
8. Your first poetry book
Salt Water is available in stores and online now
.

How did the decision to write a poetry book come about? What was the best part about writing the book? The worst?
I honestly just started doing it for fun. I definitely did not think I could ever write poetry, but I didn't think I could do really anything that I do now, so why not try? I found out that I liked it, especially free verse. I started posting some of them online, and that generated a lot of response which got me thinking maybe I should try to make a book. I put together a manuscript this spring and sold it by the summer.
---
9. At the age of 25 you've
published 4 books
, written thousands of articles across multiple online and print publications, and have your first poetry book (
Salt Water
) on the horizon. It's pretty safe to say you're crushing it. When you stop and look at everything you've accomplished, are there things you wish you could have done differently?
Nothing and everything! Ha! I thought about this question a lot because it is such a good one. Everything that I have been through, and especially the mistakes I made, taught me and formed me. I wouldn't undo them for anything. Honestly, all I wish I had done differently was worried a little less, believed in myself a little more and made my primary goal in life to be at peace every single day a lot sooner. I think I would have gotten farther, and enjoyed it a bit more.
---
10. What advice can you offer to individuals just starting out in their careers?
The only way to fail is to stop trying.
---
Q&A Takeaway
Life happens pretty fast. The career you end up with might not be the one you planned for but it could be the one you were meant for. Life experiences can sometimes be our best teachers and sources for inspiration. Experiences like living with mental illness also don't have to tie us down. Use what you're given to fuel the flame of success and propel you forward in your field. Don't be afraid to take risks. There is no one way to accomplish what you want to do in life. If you're going to spend the rest of your life (hopefully just until you can retire) working, make the work something you are passionate about and are happy doing every day.
---
You can find out more about Brianna on her website: www.briannawiest.com. For more sage wisdom follow Brianna on Twitter: @briannawiest and If you're looking for an Inspirational AF Instagram aesthetic (serious goals here) find her here: @briannawiest
Brianna's first poetry book, Salt Water will be available in stores and online on December 6th, 2017.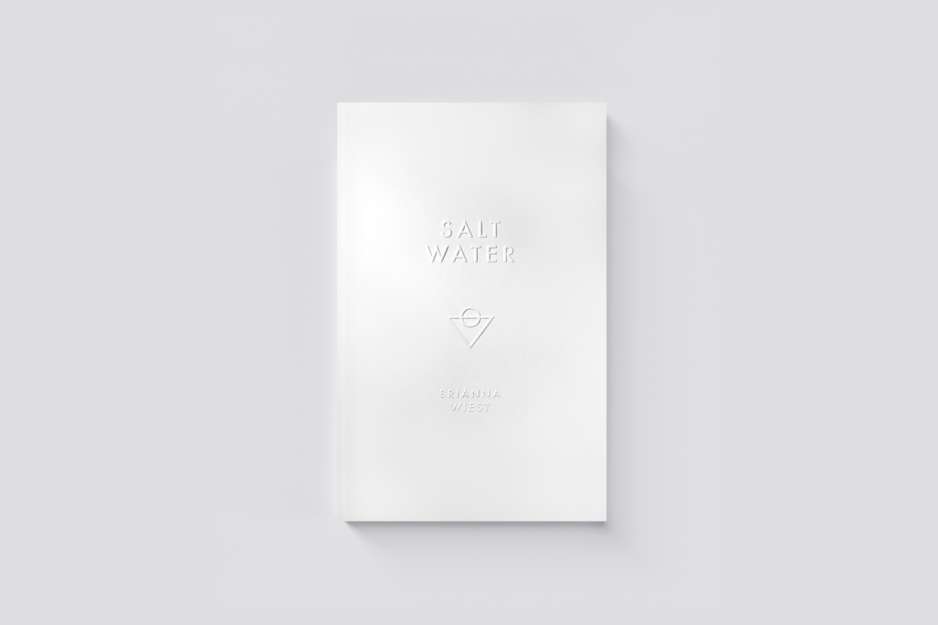 This article is a part of our Lady Boss of the Month series, highlighting and championing women who have overcome adversity and followed their dreams. They share their stories with us, and we are fortunate enough to then share them with you.

---
6 Ways We Can Actively Fight Female Stereotypes in the Workplace
11 Uncommon Pieces of Advice From a Women's Leadership Coach