When I first moved out on my own, one of my go-to meals was what I called "Poor Man's Pasta," or "Three Days from Payday and the Rent's Past Due." I would make a pot of pasta and throw in whatever I had left in the fridge and cupboards. I was working full-time and working hard, but the income wasn't what it needed to be to make ends meet, or reach the financial security I sought.
Looking back now, I know I could have benefitted from a second source of income, but at the time, I couldn't imagine fitting one into my schedule. Now that I'm a little older, I've learned the art of the side-hustle. Digital and app-based solutions are also on the rise. These make it easier than ever to choose when to make some extra cash in the time you have available.
If you're half as broke (or ambitious) as I was, read about the best side hustles for busy (incredible) women!
---
1. Become a tour guide.
One of the best gigs I ever had was giving tours at a living history farm. I loved the things I was talking about, so it hardly felt like work. And it's flexible, part-time and great for making extra cash, especially if you love your city, community or local history!
Even if you aren't interested in dressing like an 1895 farm wife, you can consider becoming a tour guide. A few options include:
–Museums or local attractions
–Historic locations
–Walking tours
–Bus tours
–Outdoor adventure tours
---
2. Write resumes, proofread and work on other writing projects.
Many of us can relate to getting inundated with resume and essay-writing tips in high school and college. Because it was such an annoyingly persistent part of my education, I'm often surprised to find how many people don't know how to write and format a resume, or struggle to proofread and edit essays.
This made me appreciate the importance of this skill when it comes to freelancing. By writing resumes, proofreading and working on other writing assignments online, you can help others and make a little extra money, too.
Many companies specifically hire writers to work remotely on their own time, including:
---
3. Become a rideshare driver.
Driving for a service like Uber or Lyft is a popular side gig, as you can choose your own schedule and make a lot of cash fast. But if you're anything like me—five feet tall and no fighting experience outside of a short stint in stage combat— the idea of letting a stranger into your car can seem like far from the best side-hustle for a busy woman.
But rideshare driving isn't just a man's world. Most rideshare customers are perfectly friendly, and for those who aren't, there are plenty of ways to keep yourself safe. Keeping a dashcam in the car, for instance, can deter bad passenger behavior. And you can always avoid driving on Friday and Saturday nights to avoid drunk passengers.
---
4. Become a part-time 'shopper' or delivery worker.
Another on-demand opportunity to make a little extra cash is working for one of the all-too-popular delivery and grocery apps. It's again on your terms, and you can choose how many deliveries or orders you want to take.
Services like Instacart allow you to be either just a shopper or choose to shop and deliver. You accept an order, shop at the store for the list, chat back and forth with the customer and fill your cart like you would for your own list.
You can also choose to deliver for services like DoorDash or Uber Eats to immediately start earning money. They also have a pretty clear-cut pay model so you're able to budget out how much you want to make ahead of time to meet your goals.
---
5. Freelance on Upwork.
If you haven't hear of Upwork, we highly recommend taking a look. It's the ~queen~ of freelancing opportunities.
Upwork is a freelancing network that connects companies looking for services with the professionals who provide those services. The services available are a WIDE range, so depending on your skills, you can do a lot on this site. They offer everything from data science, to development, to copywriting and social media to customer support and translation services.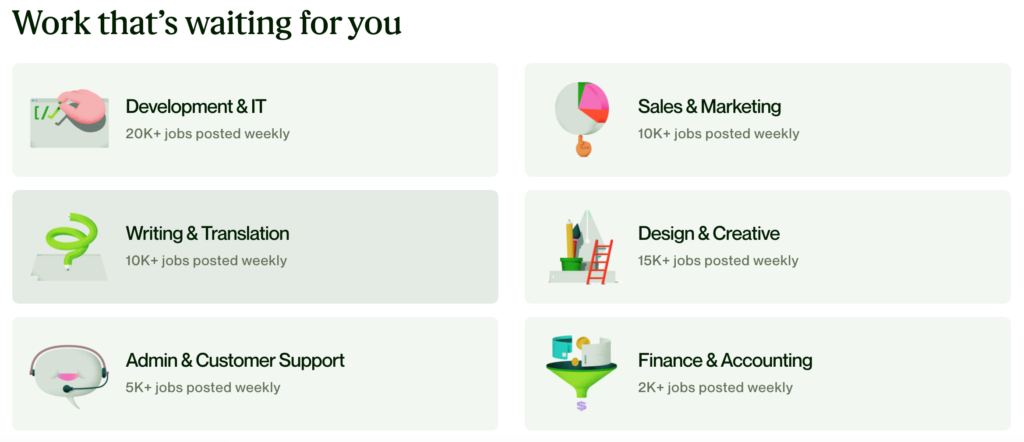 Upwork will allow to build up your profile, set your hourly rate and identify your skills. You can even take assessments to prove to companies that you know what you're doing. Then you submit applications for applicable work, get connected to the hiring managers and go from there to finalize contracts.
The more jobs you do, the easier it is to get new jobs. And like all of these options, it's all done on your own time. AND if you're looking to bolster up a new professional skill, for perhaps a career change, promotion or new role, Upwork is a way to earn that experience on the side.
---
Whether you're going through a tough season, trying to get on your feet after a transition or striving to meet a financial goal that feels just out of reach, there are side-hustle opportunities that can help you get to where you need to be. And they're yours for the taking.
You've got this.
For more ideas, check out this list: https://millennialmoneyman.com/side-hustle/