In the past year, many people, myself included, have spent a lot of time in their homes, working and relaxing in safety, so it is no surprise that most of us are ready for a change. I was tired of being stuck in this dull state of normalcy and was especially eager to give my house a complete makeover.
Sadly, a simple wish is not enough.
As much as I wanted to re-do EVERYTHING, things at work were crazy and I had to take care of some family problems. I only had the weekend and could afford to take the two first days of the week off, AND I didn't have much of a budget to work with.
How could I possibly manage to upgrade my space in just a few days, with little resources? I almost gave up. Fortunately, something in me pushed me forward despite being uncertain and hesitant about it, and after just a few days and a couple of fixes, my home felt fresh and new again.
I may have been a lone-ranger on this journey, but that doesn't mean that you have to be! Below you will find some ideas for home improvement that are quick, inexpensive and achievable. They worked for me, I'm sure you'll find them useful as well.
---
1. Work on the garden and landscaping.
I'm obsessed with flowers and truly enjoy working in the garden. The floral arrangements in and around my house are just as important as every other aspect. Mulching, hedge-trimming and weed-pulling go a long way when it comes to freshening up the outside of your home.
What I like most about it, is that the greenery can actually enhance your mood and oxygen flow. It physically makes you happier to have a healthy and flourishing garden and yard. I worked on changing up my flower beds, planting new flowers and even creating a window box. It's made my house look so charming and more inviting than it has in a while.
It's a simple, yet totally effective way to spruce up your home environment without full renovations.
Shop Gardening:
---
2. Add outdoor furniture.
Creating a peaceful oasis outdoors in the backyard or porch really made a difference for me. A comfy and cozy place to enjoy the yard, have a cup of coffee and make great conversation, can change everything. AND the furnishings typically don't break the bank either.
Shop Outdoor Furniture:
---
3. Upgrade your hardware.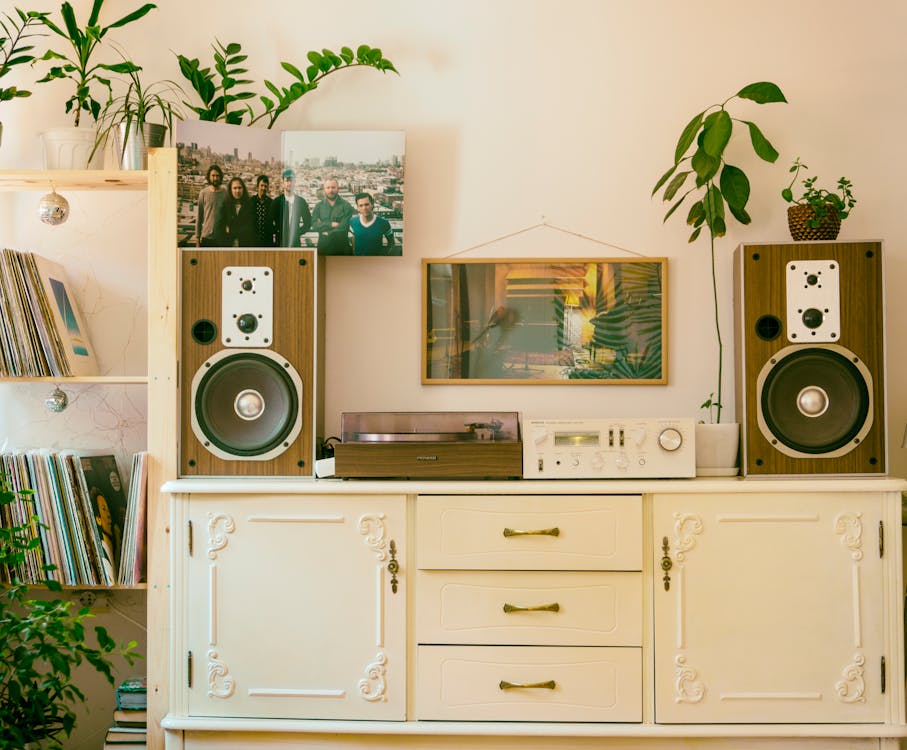 I decided not to overlook the little things. While fixtures like door handles and switches seem small, they can have a large impact on what your home looks like; especially if they're getting outdated.
Sometimes changing something small like swapping the handles on your doors, dressers, cabinets or cupboards can make a big difference on the feel of a room. Similarly, changing light fixtures and/or lampshades can increase or decrease the amount of light available in a room, and alter the whole vibe with LITTLE effort.
Shop Hardware:
---
4. Refresh the home exterior.
As I was making my list of upgrades, at the top of my list was the outdated and worn down siding on my house.
I knew that if I only had a little time and a smaller budget, this was most important to me. By doing this I was able to change the entire look of my home and make the outside of my house look a little fresher and newer. Changes might depend on the type of siding that you choose to use. You change the siding yourself, but that was the one change I determined I couldn't do myself, so I decided it is best to hire a general contractor.
If you fancy yourself an expert, you can find a ton of exterior upgrades from a quick trip to Home Depot or Lowes. You'd be surprised how much of a difference a fresh coat of paint on the porch, new light fixtures and fresh decor can make.
Overall, it helps to identify what "big ticket" change you really want, and put that at the top of your list. That way, you know you can get that done, and fill in the rest of the time with what fits your budget.
---
5. Add in some housepants.
In addition to bringing peace and tranquility with an outdoor garden, you can also do this inside of your home. There are umpteen advantages to growing plants; both in-house as well as in the garden. You will get plenty of oxygen and get a chance to be surrounded by vibrant colors and exotic fragrances. You can use multiple grow tents for different types of plants. They are easy to set up and many of them are EVEN easy to keep alive.
I could do it, and that's saying something!
---
6. Get a few fresh candles.
Nothing makes my home feel new and peaceful like a couple of good candles. These are perhaps the least expensive addition on this list, but a little zen goes a long way when you're trying to create an environment of newness.
Shop Candles:
---
7. Change up your color schemes by repainting walls.
So this one may be more time and labor extensive, but it's worth it if you need a change.
There are people who are happy to stick with the same color scheme for years and years, but I find that changing the color of the walls and furniture can completely transform your home. It can be done with a fresh lick of paint on both the walls and even some furniture if that's easier, like bookshelves and end tables.
Maybe you would be interested in creating a feature wall with patterned wallpaper, or simply use a darker color on one wall, to change the appearance of the room. Whatever you choose, you'll feel the difference immediately.
I know I did.
Once the paint has dried, it was easy to find odd bits and pieces to tie the room together with the new color, such as clocks, rugs, wall decor, throw pillows, and vases.
Shop Decor
---
Think about how you want to improve your home and choose which of these would be best for what you need. Or if you want to change multiple different things about the place you live and are simply looking for a few projects to get started with there are plenty of different things that can be accomplished over the course of a weekend to improve your home.
Good luck!