Your wedding day is a day like no other. It's a time when all eyes are on you, where love is celebrated, and vows are made. Essentially, it's the start of your forever, so it's important that you walk into this day with your best foot forward.
Exuding confidence on the day you say "I do" starts with feeling beautiful from the inside out. And luckily, we know just what to do to ensure you are absolutely glowing for your wedding with these five beauty secrets!
---
1. It's so important to establish a morning & nightly routine for months leading up to the big day.
Good skincare habits are vital long before you get married. They serve to support a fresh face on your wedding day, but also help to lay the foundation for your skin health moving forward. In other words, if you don't treat your skin properly, it'll be hard to achieve a flawless-looking complexion on the day of your wedding, even if you're planning to get your makeup done by a professional.
For this reason, it's critical that you take some time developing or adjusting your pre-wedding skincare routine. More often than not, the best results come from performing a morning routine and a nightly routine as these make it easier to target certain areas of your skin and support a healthier complexion overall.
In the morning, stick to a gentle cleanser, hydrating serum, moisturizer, and SPF. At nighttime, use a cleansing oil or balm, followed by a gentle cleanser, spot treatment, and night cream. The spot treatment you choose to utilize should be dependent on your specific skin type and primary concerns, but generally speaking, a retinoid product is a great place to start.
---
2. Retinoids can take your skin care regimen to the next level.
Retinoids, the umbrella term for the ingredient retinol, are a must-have ingredient to add to your pre-wedding beauty regimen. Retinol can be used to treat multiple different skin conditions and concerns, including acne and signs of aging. Desired results generally take some time for retinol products, and it usually requires around two to three months of consistent use before it actually begins to work. 
Depending on how far away your wedding is from now, be sure to start to incorporate retinol in your skincare regimen. Even if you have a mild concern, like the development of premature wrinkling, for instance, retinoids can still prove to be useful. Something as simple as a retinoid-formulated anti-aging face cream can be a practical, effective way to minimize the appearance of fine lines and wrinkles in no time, so your skin is absolutely glowing on your big day.
---
3. Scheduling trial runs for your wedding day makeup is 100% necessary.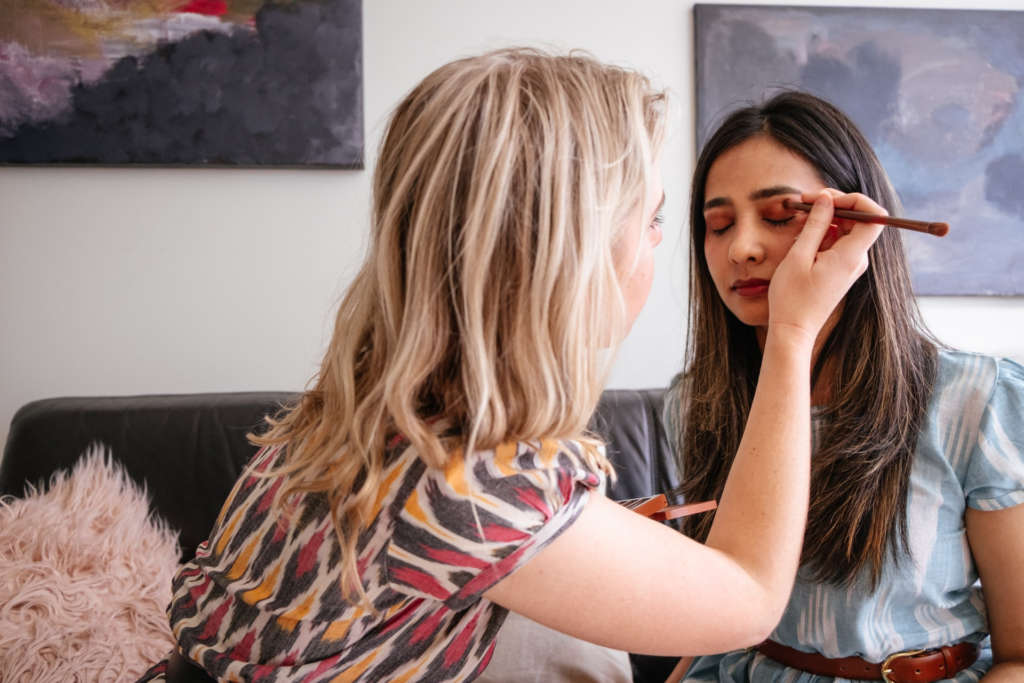 Regardless of how well you take care of your skin in the days and/or months leading up to your wedding, trial runs are still an imperative part of your pre-wedding beauty regimen. Whether it's for your hair, makeup, or both, trial runs can help you find your ideal look that's most flattering to you and your unique features. Trial runs give you a chance to test out a potential updo, or makeup style you might be interested in prior to your wedding day and allow you to figure out what you truly like.
If you are exploring different wedding makeup options and/or hairstyles, don't be afraid to experiment with different artists in the field. Some professionals are more familiar or better at doing makeup a certain way than others, and the same goes for hair! There's nothing wrong with weighing your options and seeing which professional is best suited for you and the look you are going for.
---
4. Never underestimate the power of brightening your teeth & experimenting with lip colors.
A survey conducted by DentistryiQ revealed that a person's smile is one of the most attractive physical features to other people as opposed to their hair or eyes. Needless to say, your smile deserves your utmost attention, especially since everyone's focus will be on you on your wedding day!
As you prepare to walk down the aisle, be sure to give your teeth some TLC by practicing good hygiene day in and day out. For an extra boost, consider brightening those pearly whites by using an affordable at-home treatment option or even booking an appointment with a licensed professional.
To bring some additional, well-deserved attention to your gorgeous smile, you should also try experimenting with bold lipstick shades as this will make your smile really pop! From a classic red to a burgundy lip stain, there's nothing like a bold lip to help bring out that smile that we all know and love on the day of your wedding.
---
5. Make sure you break in your wedding heels ahead of time.
Feeling uncomfortable as you head down the aisle or slow dance with your partner for the first time is going to be characterized by your facial expressions whether you realize it or not. This is why it's absolutely essential to spend some time breaking in your wedding heels prior to the day you actually get married. This doesn't mean you have to run all your errands in wedding heels or even leave the house with them for that matter. Spending just 20-30 minutes walking around the house with them should be enough to get them broken in and ready to be worn by the time your wedding rolls around.
Obviously, you'll want to try and avoid this issue as much as you can by purchasing comfy wedding footwear to begin with, but should they need to be broken in a little, don't worry. In addition to casually wearing them here and there around the house, you can also help to break them in by purchasing a pair of cushioned inserts for your wedding heels. These should mitigate any pain, discomfort, or irritation as you get used to wearing them come time to marry.
---
A memorable event in your life like your wedding day is an occasion in which you deserve to look and feel your very best. As you get ready to head down the aisle and celebrate the love you share with the person of your dreams, remember to refer back to these five beauty secrets.
These tips will surely serve to support both your wedding day look and the confidence you carry with you as you begin the next chapter of your life!