Oh Summer, how we've missed you.
Some are lucky enough to be spending their days at the shore and nights around the bonfire, while others find themselves going from the office to happy hour or just lounging around enjoying the nice weather. It's summer, it's hot and we don't all have the time to spend meticulously planning out our summer outfits.
We've done the legwork and have pulled together 7 casual summer outfits for soothing your inner lazy girl that can be created with essential wardrobe staples you probably already have in your closet.
On to the outfits:
1. Motivated Monday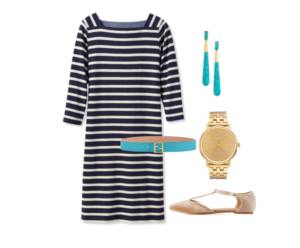 Brace yourself for the Monday hustle with this classy ensemble. The classy combination of the navy with teal accents is sure to get you in the mood to power through your workday. Get a break from the summer heat with a nice dress that's great for the office, but versatile enough for any outing.
2. Tuesday Takeover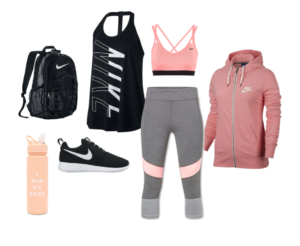 Whether you're hitting the gym or hitting the couch, having a go-to Athleisure outfit is key. Bask in those comfy vibes and sweat it out, or order that pizza and catch up on season 13 of Grey's Anatomy. No judgement here.
3. Wednesday Wine Down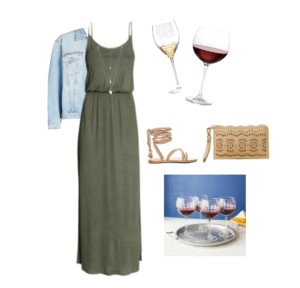 Our personal favorite day of the week. Wednesdays were made for drinking wine. Call up some friends and head out to your favorite wine bar rocking this solid green maxi dress. Bring along a light denim jacket for the stroll home in the cool summer evenings. This simple outfit is great when paired with classic gold jewelry and some comfy strappy sandals.
4. Thursday Happy Hour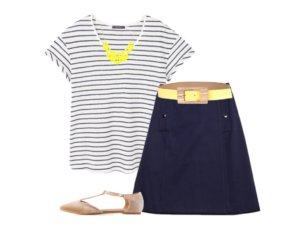 Beat the heat and head to Happy hour rocking this cute, casual look. Can't be at the beach right now? No problem. Rock that nautical summer vibe with a striped boatneck shirt paired with a navy high waisted skirt. Yellow accents are sure to give you that by-the-sea vibe.
5. Casual Friday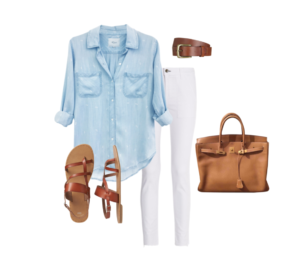 Nothing says summer Friday more than white pants. Get down with this light and airy summer look and rock those white jeans while you still can before Labor Day rolls around. Pairing this outfit with some brown accents gives you that sought after casual summer Friday feel.
6. Saturday Street Festival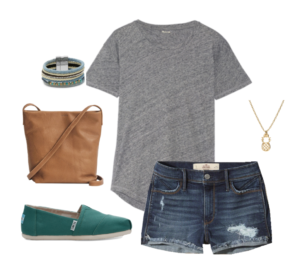 Summer is for sun and street festivals. Beat the heat (while still lookin comfy AF) with this simple, casual outfit. You've got the basics, now put them together for a day of fun. Make sure to bring along a sturdy bag that has room for any fun things you might purchase from street vendors!
7. Sunday Brunch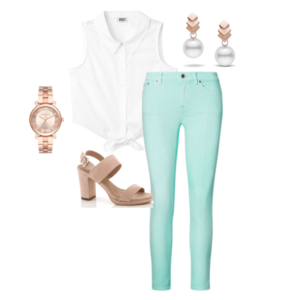 Sundays are for brunch. Everyone knows that. Rock some colored jeans with a light and airy top. Heels with a wide base are preferred when paired with bottomless mimosas! Top of this outfit with some rose gold jewelry and you're good to go!
Say goodbye to struggling to piece together a classic, casual outfit and hello to summer fun!
Can't get enough of our HerStyle articles? Check out these other awesome articles to get your fashion fix
What's your go-to classic, casual summer outfit? We always love to hear what our readers are wearing!