SO, it's the holidays and you're trying to spice up your little space but you don't have the money, time or closet capacity to stock up on oodles of Christmas decorations like your Mom does. Still, you're yearning for the holiday spirit and a little cheer to warm your hot cocoa this December.
HAVE NO FEAR.
We've all been there. When it comes to small apartment decorating, I'm like a self-proclaimed decor sage. And I'm also a cheap decor sage, so really you can't go wrong here.
This year I grabbed a couple of cute finds from the all-power and ever-convenient Amazon and added a little Christmas cheer to my apartment. Below you can find all of my ideas, where to find them and the cost.
Happy (Holiday) Decorating!
---
1. Festive pillowcases.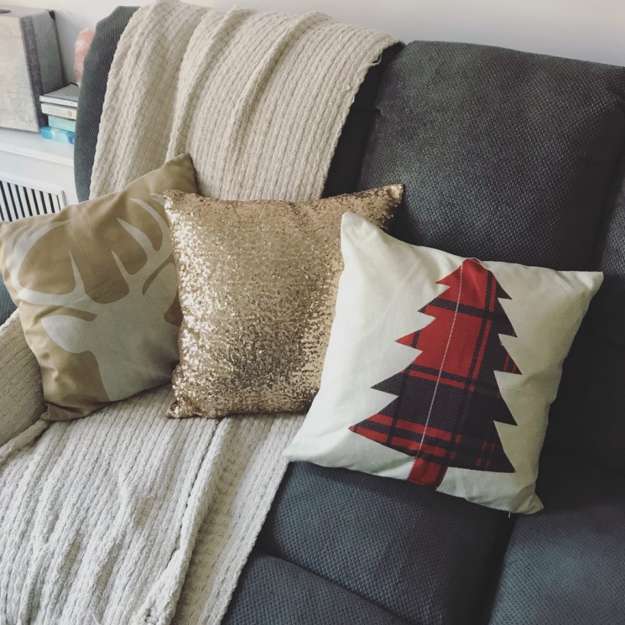 Who doesn't love a festive holiday pillowcase?! And, you can keep them somewhat subtly designed too to be more for the entire winter season if you'd like to keep them around for longer than one month of the year.
ALSO you don't need to actually buy holiday pillows, you really only need the cases. This seems like common knowledge but you would be surprised. I dropped this truth bomb on a friend of mine the other week and I am pretty sure her life is forever changed.
Where to buy: On Amazon — Printed Pillows + Sparkly Pillow
Cost: Printed: $10 Sparkly: $15
---
2. Lights & pine garland around the stairs.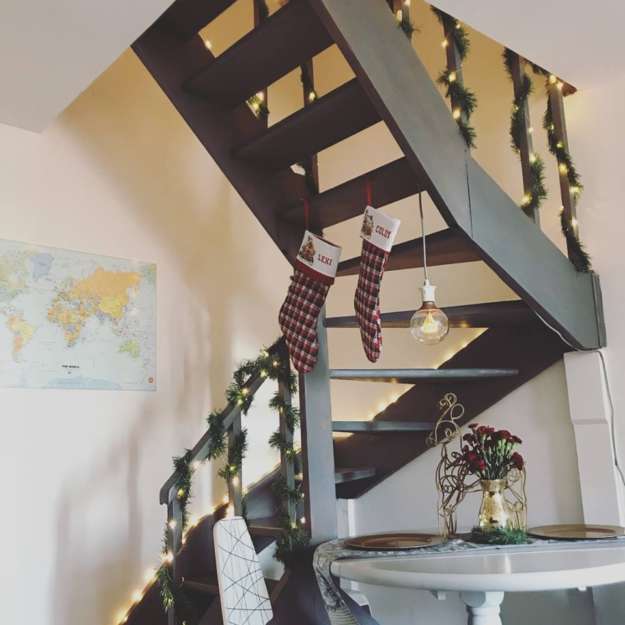 We have little to work with in our little one-bedroom duplex, so the stairs become a real focal point of the living room. You can wrap artificial pine garland and gentle string lights around pretty much anything in your home to add a soft and festive feel to the whole environment.
Where to buy: On Amazon — Pine Garland + LED String Lights
Cost: Garland: $8 String Lights: $11
---
3. Wall decor & signs because I couldn't resist.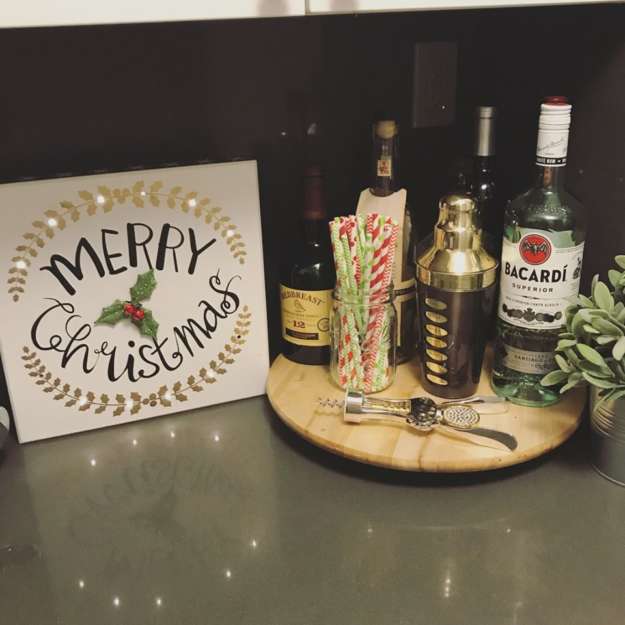 I just think that cute sayings light up a room OK?!?
If you've followed my decor articles in the past and/or walked into any of my places of residence it's pretty easy to spot a few of these signs. Christmas decorating was no exception. They add just the right amount of style to bring a room like your Kitchen right into your holiday theme without having to exert too much effort. This only is a little extra pricey because it's battery operated and lights up….but come on, I had to.
Where to buy: On Amazon — Merry Christmas Sign
Price: $18
---
4. Candles of your favorite holiday scents.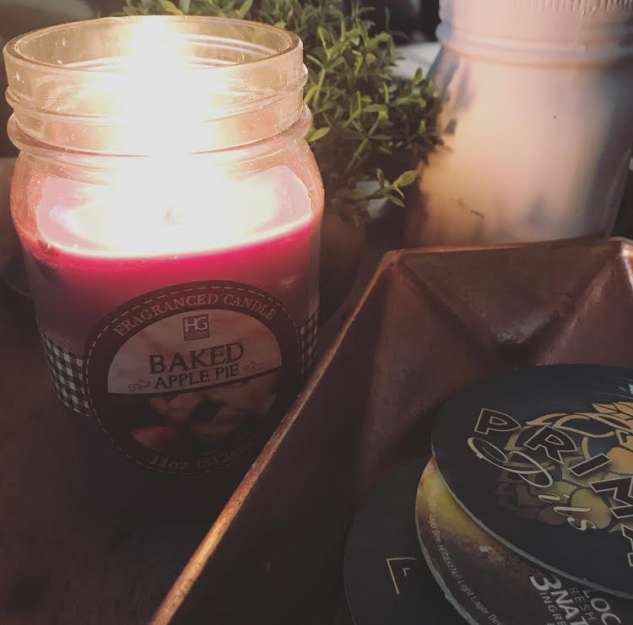 Candles are a no-brainer for easy Christmas decorations. They smell great. They look great. They're relaxing. AND they're everywhere. Choose your favorite holiday scents to brighten up any room. I chose pie because, well, it's pie.
Where to buy: Literally anywhere.
Price: PSA: Don't spend more than $10 on a candle it's literally going to disappear one day.
---
5. Creative centerpieces.

Centerpieces just scream Christmas. Dark red flowers are a really nice touch around the holiday season. I used a gold vase we received as a gift last year and wrapped a little of the garland around the bottom.
Fun Fact: I didn't buy anything in this photo, so I can't provide my usual Amazon links. Most of it is composed of little items I've snagged from my family over the years, including the reindeer from my mom's garage and the chargers from my Grandma's basement. Before you buy NEW items for your apartment, be sure to raid your family's superfluous supply if they'll allow it.
---
6. Kitchen accents.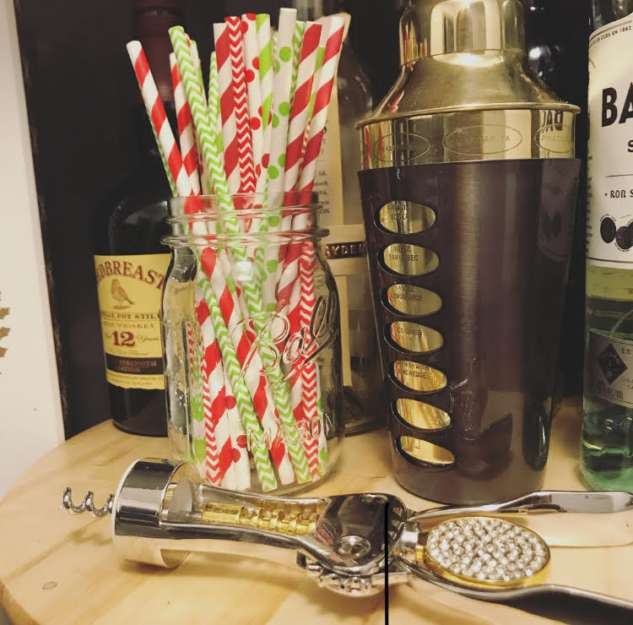 Adding a touch of red and green to your place ties everything together really nicely. I swapped out my usual straws with these red and green paper straws on our little liquor bar on the count. Paired with the glittery gold bottle open they both sit nicely together.
Where to buy: On Amazon — Merry Christmas Gift Straws
Price: $4
---
7. Pine garland on your TV stand or shelves.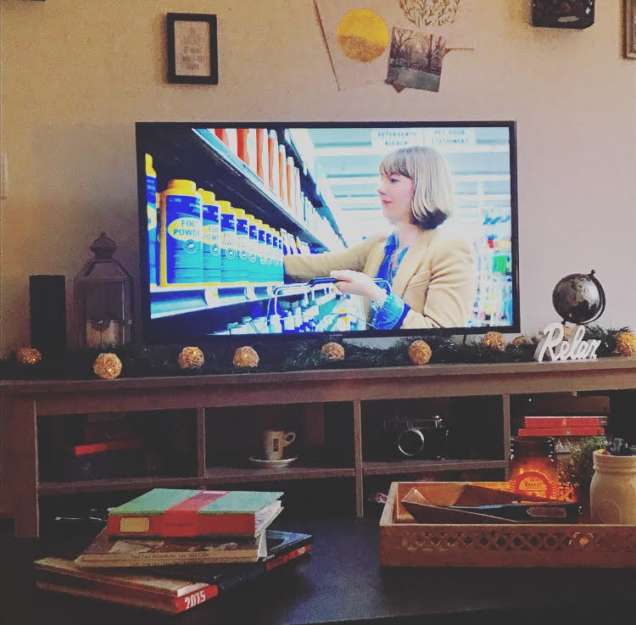 Laying a little bit of pine garland on your entertainment center, shelves or TV stands can provide the winter feel you're looking for with a minimum amount of effort and spend.
Where to buy: On Amazon — Pine Garland
Cost: Garland: $28
---
8. Stockings hung by – wherever the heck you want – with cheer.
Last but certainly not least, you don't have to have a chimney to hang stockings. Who even has a chimney amirite? Stockings are personal, nostalgic and adorable. They're a great finishing touch for making your apartment feel like home.
The custom stockings above were an amazing gift so I can't send you to a link to purchase these exact ones. BUT Etsy is always a good option.
Where to buy: Amazon custom stockings
Price: Ranges from $21-$30
---
Thanks for reading and Happy Holidays!
---