Ah, winter. The time of year when we are plagued with cold, wet weather that makes for dry skin, frizzy hair and lots of tissues. For a lot of women (myself included) winter isn't exactly a fashion favorite either…
Luckily, in the winter you can take a few simple necessities and pull together countless outfits to keep you cozy, warm and feeling confident. Below is my take on your "must-haves" for creating the Pinterest-worthy outfits below.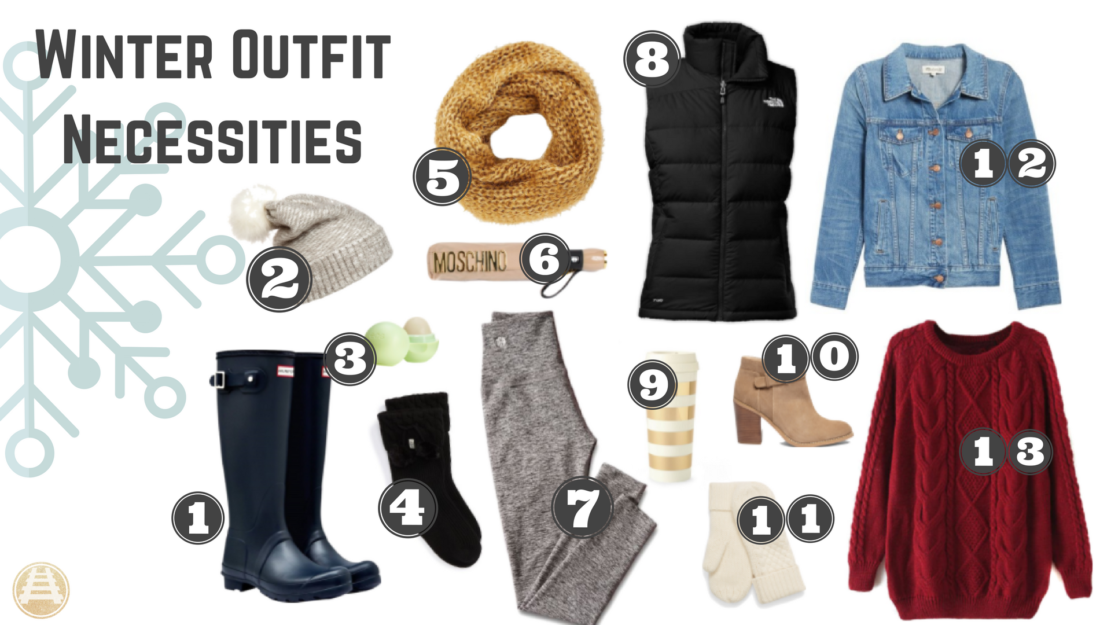 The Must-Have List For These Outfits:
1. Boots: These Hunter Boots are great for the rain, and can be matched with Boot Socks and Insoles for colder weather.
2. Winter Hat: Not a fan of the flu? Get a warm hat. These from Amazon are all super cute and affordable.
3. Chapstick: Ok this isn't exactly a fashion need, but it's a sanity need. My favs are Burt's Bees, Eos and Baby Lips.
4. Wool Socks: MUST have if you enjoy having toes with blood circulation in the winter. Smart Wool is a great choice.
5. Scarves: These scarves from Amazon are really high quality and cute. I bought a few for myself and even as gifts.
6. Umbrella: Keep a nice, compact yet durable umbrella on you at all times, just in case you need to brave the conditions. Target has great options.
7. Leggings: You can never have too many leggings. Victoria's Secret and Lululemon are crowd favorites.
8. Warm Vest: You'll notice a few of the outfits below are paired with these fashionable and warm lifesavers. The one above is from Northface.
9. To-Go Coffee Mug: I am OBSESSED with cheesy coffee mugs. This site, Ban.do, has amazing to-go mugs. They're on Amazon as well.
10. Booties: Another accessory you can never have too many of. Booties can dress up and mix up any cute winter outfit. DSW has a great selection.
11. Gloves: NEED. Northface, Dick's and Amazon have all kinds of styles, from fashionable to brave-a-snow-storm, you're covered.
12. A Multitude of Coats/Jackets: I have a jean jacket listed above here because a lot of the outfits below use jean jackets to layer, but understand that I mean several jackets of varying warmth should be on the list. A Classic Parka, Jean Jacket, and Peacoat are a good start.
13. Big Sweaters: A classic winter staple. You can get these pretty much everywhere, including thrift stores. Urban Outfitters and American Eagle have a wide selection of high-quality sweaters too.
---
Now that you have the necessities, on to the findings of my Pinterest scavenger hunt.
---
1. Cozy block shawl wrap and skinny jeans.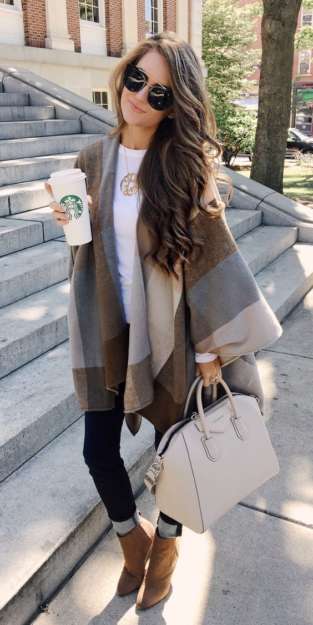 ---
2. Stripped long-sleeved tee and navy puffy vest.
---
3. Flannel and beanie.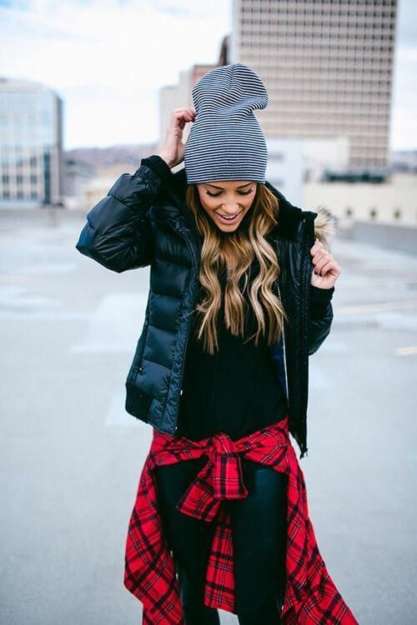 ---
4. Bundled up in gray wool with Hunter Boots.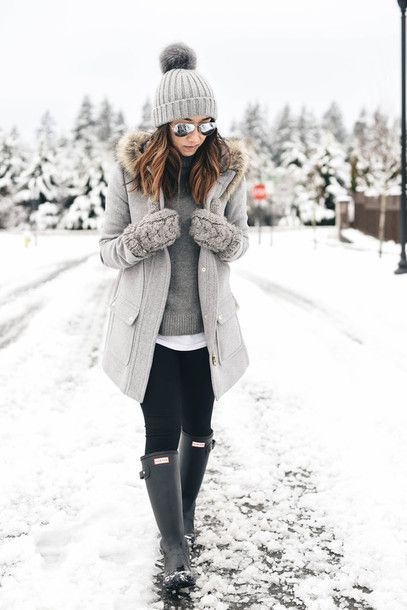 ---
5. Wide-knit sweater and booties.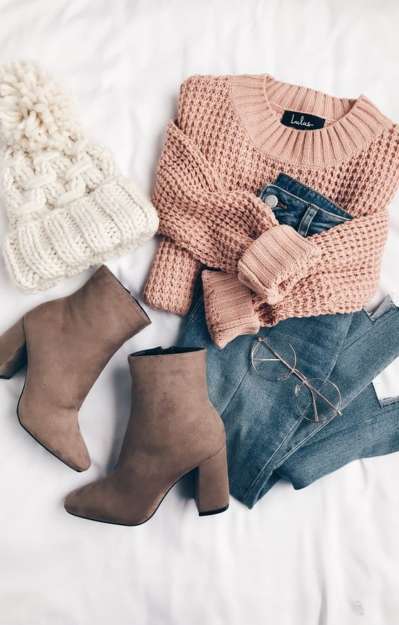 ---
6. Ripped jeans, plaid scarf, and sweater.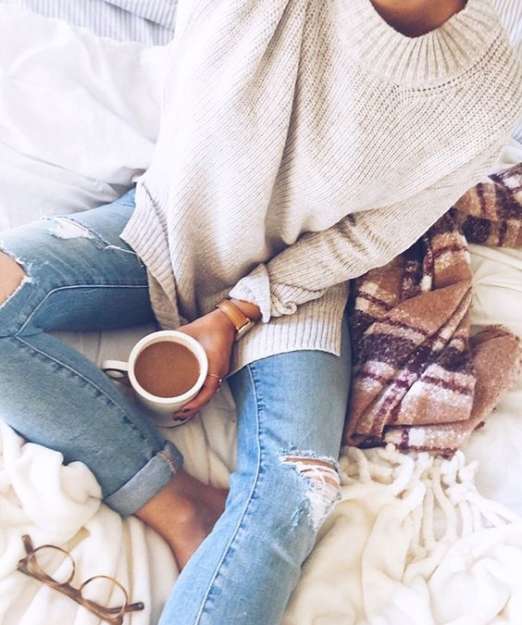 ---
7. Lace bralet and an over-sized sweater.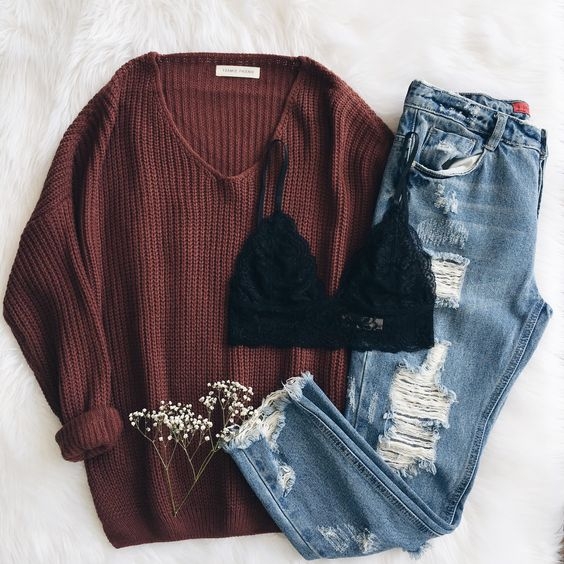 ---
8. Long sweater and white v neck tee shirt.
---
9. Jean Jacket, stripes and sneakers.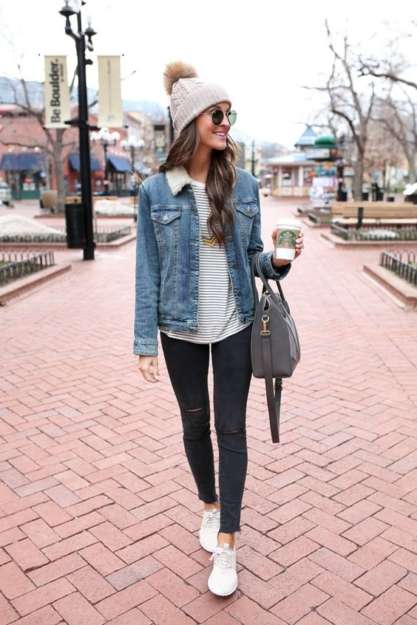 ---
10. Vans, ripped jeans and turtleneck sweater.

---
11. Yoga pants, puffy coat and puff-ball winter hat.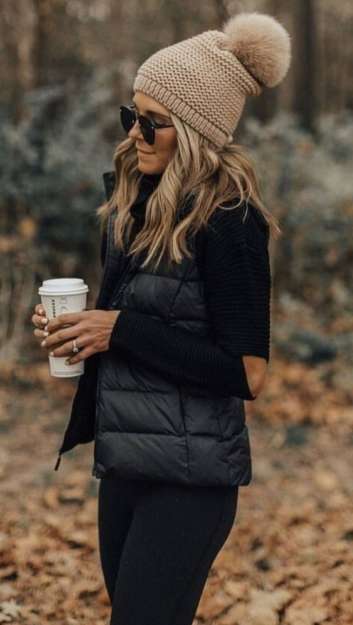 ---
12. Long-sleeve turtleneck sweater and suede skirt.

---
13. Winter hat, booties and off-the-shoulder cotton shirt.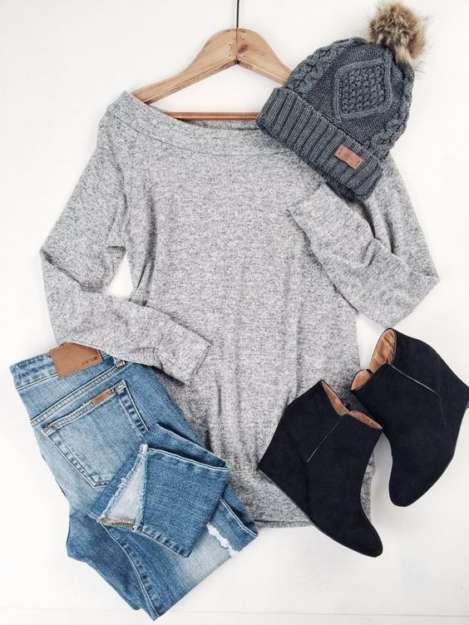 ---
14. Colorful Hunter Boots, long graphic tee and leggings.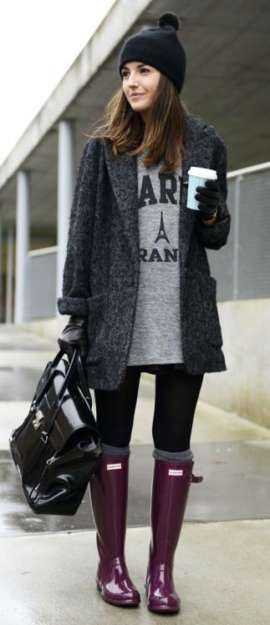 ---
15. White blouse, gray sweater and long necklace.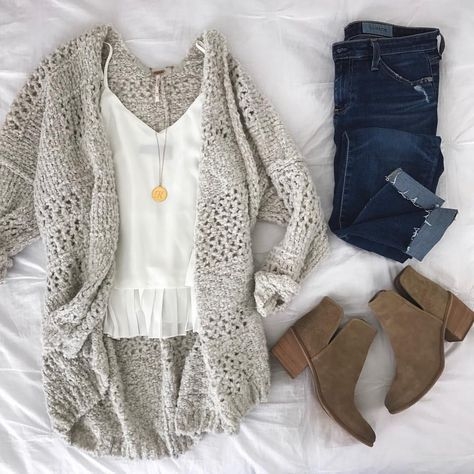 ---
Have any cute winter outfit ideas of your own? Let us know in the comments below! You can also follow us on Pinterest for more outfit ideas.
---
For more Her Track Style ideas, check out these articles.
15 Classy and Casual Work Outfits For Hitting the Office in Style