This story is a part of The First Impression Prose, a weekly column by Paul Centopani. Each Tuesday, he hilariously breaks down the latest episode of the addicting and outlandish guilty pleasure that is the Bachelor franchise. Stay tuned for weekly updates and more trending content in entertainment.
We enter week four with Matt lamenting over Sarah's exit.
He's now coming to terms with the possibility of contestants choosing themselves over him.
*The Sound of Silence plays faintly in the distance*
Back at the ranch, the women prattle about Sarah leaving on her own volition. Human wasteland Victoria chimes in with her usual unsavory nonsense and Katie, further cementing her place as the only reasonable one, sticks up for the dearly departed.
Everyone needs to start treating Queen Vic like a T-Rex — remain completely still and do not engage whenever she's around.
Otherwise, you're gonna get into an argument with someone who thinks being clever just means repeating what you said to them in a smarmy tone. Victoria ends their tête-à-tête with a warning: "If you're going to come at me again…I probably wouldn't."
Bone-chilling stuff.
While this went down, Matt and Chelsea spend a nice few minutes together and he drops the line, "every time you come in the room is a 'wow moment.'"
Thank you, Matt James, I'm definitely stealing that.
Chris Harrison, the harbinger of drama, emerges from the shadows. He pulls Matt from pre-rose ceremony chicanery TO INTRODUCE MORE CONTESTANTS.
What. A. Curveball.
I'm sure this will go over well.
It did not go over well.
Brittany, the first of the new crop, came in hot out of the limo, threw consent to the wind and went straight for a makeout. Unrest between the original contestants and the recent additions runs rampant.
The OG's worry their already thin time with Matt will be disseminated further and they utter the word "time" a combined 742 times in the span of three minutes. Bachelor universe dreamboat, Ben Higgins makes a cameo to bestow advice on our protagonist's newfound dilemma.
Unrelated commercial break: Every week I see the promos for Mixed-ish and all I think is how poorly Zack Morris aged.
Truly an American tragedy.
The rose ceremony hits us in the middle of the episode and we must say goodbye to Kaili (who I've exclusively referred to as Kimmy Gibbler from day one), Khaylah, and one of the new women whom the producers didn't even make a chyron for.
Anna gets a lot of face time in this week's episode. Unfortunately, her face perpetually looks like she's stuck in a fart-filled elevator. She also speaks with the entirety of her lower teeth and I've never seen anything like it.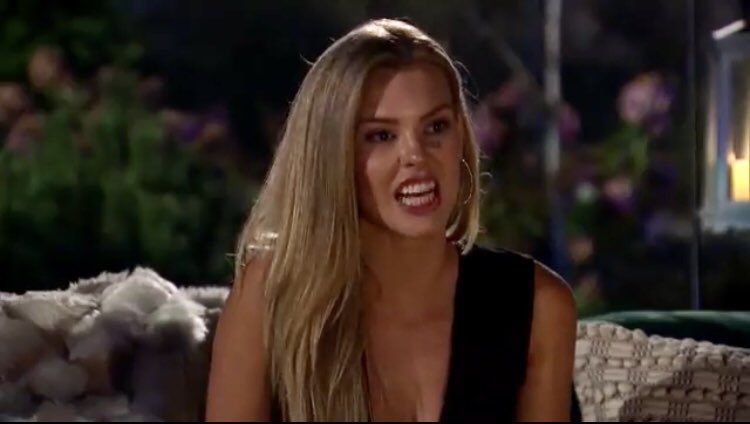 Anna also claims Brittany is a hooker, so we've got that added to the mix.
The group date gives us the break we need with a wonderful confluence of tomfoolery.
Giant pumpkin paddle boats? Squirrel onesies? Finding acorns in a leaf stack? Keeping it light.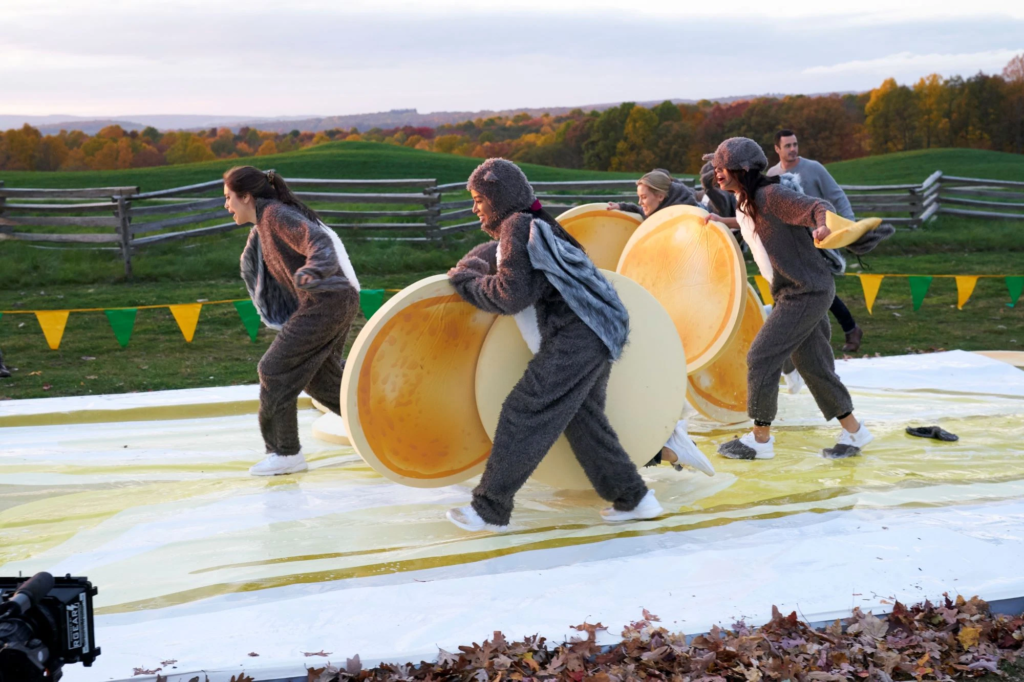 Mari wins and Magi, exhausted from paddling in circles, now lives inside her pumpkin on that tiny lake.
Michelle, the teacher from Minnesota, seems to have natural chemistry with Matty J. right from jump street. Just a couple minutes of her donchaknow midwestern sensibility was enough to lock down a one-on-one. 
They ride in a hot air balloon and kiss above autumn's rubicund deciduity. Back on land, they discuss the opportunity gap and quote Maya Angelou, giving us the most elevated moment in franchise history. Wouldn't be the least bit surprised if she wins the whole thing.
Meanwhile, MJ's back at the resort complaining on the couch and looking like Prison Mike.
The second group date brought everyone into the woods for some Rocky IV training before stepping into the boxing ring. It was all fun and games until Lauren threw a right cross and gave Serena P. a concussion and deviated septum.
Serena P. still holds first place among the Serenas, but barely.
Katie turns informant and tells Matt there's bullying in the house. We're left with seven days to wonder how he'll confront the group. And if Brittany's really an escort. Hopefully, we get to the bottom of both in episode five.
Until next week.
Follow Paul on Twitter: @PCentopani