Like many other mid-20 somethings, I find myself in a pickle, caught between the ease of dressing like a college student and the young working professional that I am.  I've been trying to embrace the fact that long gone are the days where track pants, a hoodie and a messy bun are considered acceptable attire and accept the fact that as I mature, so must my wardrobe. I've succumbed to the fact that I could use some help, so I let my girlfriend dress me for a week out of equal parts curiosity and desperation.
I've been with my girlfriend for a while now and It's safe to say that we know each other pretty well. She's seen me getting excited over the perfect pair of shoes and she's seen me crying on the floor because nothing looks right that day. She's seen the ups and downs of my process of getting dressed in the morning and she's still with me.
The idea came to me after reading a few similar articles: Hayli let her Grandma dress her for a week and Nina let her boyfriend dress her for a week. I thought it would be interesting to see this same idea applied to a same sex couple. Thus, my experiment came to life.  Christina and I discussed the idea of having her dress me for a week over take out. I honestly didn't think she would go for it and was pleasantly surprised at her excitement for this experiment.
Like many other women, I let my insecurities dress me. I make sure that the clothes I put on don't show anything unflattering (or at least what I deem to be unflattering that day). My style is often dictated by how I'm mentally feeling about myself in the mornings. I was nervous and excited to see myself through the eyes of someone who doesn't know my every inner thought and self criticisms.
And so It Began:
The Parameters: Christina would pick out my outfits for work for a whole week. She was in charge of decisions everything from shoes to accessories. I would have zero input (The caveat being that I could only chime in if I knew for a fact that the garment picked out physically did not fit). She would also decide how I should style my hair in the morning.
MONDAY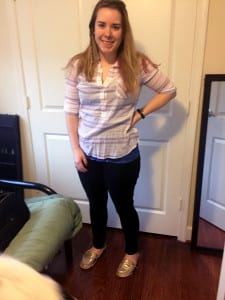 Christina was nice enough to ease me into the week of being dressed by her. This outfit is not far off from what I would usually wear to work. I'm lucky to work in a place that allows me to wear jeans to work (and to also have pink hair… if you look closely you can see it on my shoulder). She understood my need to be comfortable during the day. I move around a lot when I work, so an outfit with some wiggle room is always optimal. I didn't really get any reactions from my co-workers about the outfit itself, I got more comments on the fact that Christina opted for me to have straight hair with this outfit when my hair is naturally curly.
My take away:
This is pretty close to an outfit I would have assembled myself. I probably would have opted for a different shirt though. I really am not a fan of the color pink. And especially not a fan of wearing white, semi see-through material. But over all, not a bad look.
Would I wear this outfit again? Probably not (mostly because of the shirt)
TUESDAY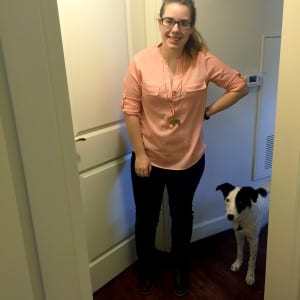 So for starters, I was beginning to catch on to a theme here. Christina really likes the color pink, which, as stated above, is not at all my go to (also, a guest appearance from my puppy Ryder here giving me some of her trademark side eye).  This outfit includes a pink silky shirt with dark wash skinny jeans, knee high brown boots. Accessories: gold elephant necklace. Hair: pulled back. According to Christina, The glasses and cool necklace go with my artsy career.
My Take Away:
I've actually never worn this shirt before. I bought it on impulse (Christina has actually worn it more times than I have so I now just classify it as her shirt). The fit is okay, but I felt like the buttons were going to pop open if i put my shoulders back. The fabric of this shirt also isn't too forgiving for messy eaters. lesson learned. I liked the necklace a lot. I had gotten it for christmas, but It's not ideal to wear for work. I spend all day on my computer and I ended up having to remove it because it kept getting in the way.
Would I wear this outfit again? Maybe. The shirt is definitely more professional than what I wear on a daily basis.
WEDNESDAY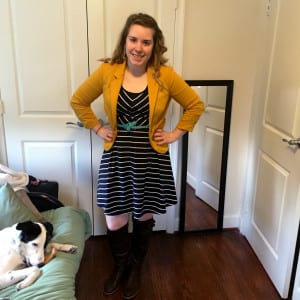 Another guest appearance from Ryder. This outfit was by far the furthest departure from my day to day style. Christina paired a navy and white striped dress that I had gotten through my first adventure with StitchFix with one of her yellow blazers and an aqua belt. She brought back the knee high brown boots from Tuesday's outfit to tie the whole outfit together. I got a lot of feedback from coworkers about this outfit. Everyone loved it. I think a lot of it has to do with the fact that I'm not a big dress person and in the four months that I have worked at this job I have yet to wear a dress. But I got a lot of positive feedback about the dress and the color combo.
My Take Away:
The dress looked amazing. I bought it because I loved it but hadn't been able to find an occasion to wear it. I kept telling myself that I couldn't wear it to work because that's just not my work style. I'm glad Christina picked this out.  I'm generally opposed to blazers, but this one is the exception. I love the shade of yellow and how good it looks with the Navy. Definitely plays to my creative side. I've had this belt since highschool and use it every now and again to add a pop of color to outfits. I think this belt does an awesome job of pulling the whole outfit together.
Would I wear this outfit again? Yes! I really loved this outfit.During the winter months I tend to favor black and gray clothes. These colors are really awesome and right in my wheelhouse.
THURSDAY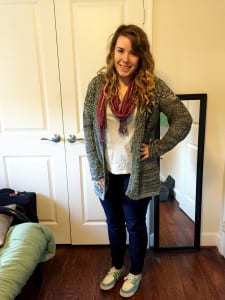 For Thursday, Christina had me in this over sized sweater cardigan that I had bought, but hadn't mustered up the courage to wear yet. She paired the sweater with a light blue shirt and pink scarf and green and blue Sperry's. I got a few comments on the sweater and how cozy it looked.
My Take Away:
Overall, the colors are a bit brighter than what I usually gravitate towards, but it's still a good outfit. I wouldn't have picked the blue and green Sperry's to go with it. I probably would have opted for my gray Toms. I'm always nervous about wearing longer sweaters because I have wider hips and personally I think it makes them even wider, but this sweater looked great and had the opposite effect.
Would I wear this outfit again? Yes! The outfit was comfy and fit pretty well with my style, but I would probably forgo the scarf in the future.
FRIDAY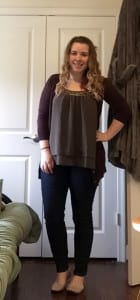 Friday is the day that I usually opt to wear a comfy sweatshirt to work. But not this Friday. Christina decided to pair this flowing sequined lined shirt with a deep purple cardigan that I pretty much forgot I owned seeing as she had to dig to the back of the closet for it. She tied the whole outfit together with some nude flats. Since I'm in the awkward stage of growing out my bangs she instructed me to braid them back and to the side.
My Take Away:
This outfit is actually something I would have put together but then decided not to wear. I generally reserve anything with sequins on it strictly for New Years or going out, but I definitely think I will be wearing this shirt on other occasions. It's comfy and cute. Double win. I really like the colors of this outfit. The dark purple went really well with greenish brown of the shirt. I usually reserve these flats for when I need to meet with a client, but I thought they took this outfit to the next level.
Would I wear this outfit again? Yes! This outfit definitely made me feel like a design professional. I really liked how the colors played with each other and the overall comfort level of the outfit was surprising.
Conclusion:
In my journey to discover my 20-somethings style, it is definitely helpful to see myself how others see me. Especially those who are closest to me. This experiment was great. Christina and I definitely share some similar tastes in clothing. Most of the outfits she chose were on point minus one or two things. A few of the outfits picked will be seeing the light of day again for sure! She definitely picked out some clothes for me that I usually gravitate away from. Will I let Christina pick out clothes for me on a daily basis? Probably not. But this has definitely helped me on the road to the evolution of my style.