Winter is a weird time of year. The days are short, the nights are long, and it can get incredibly lonely. On cold winter nights, I find myself craving a good book. And if fall is for mysteries and thrillers then winter is definitely for love stories!
I probably read more romances during these cold winter months than I do any other time of year (which is saying something). Grab one of these books and I promise each one will be sure to warm you from the inside out all through the winter. 
Get ready to add to your TBR list! 
---
1. The Flatshare by Beth O'Leary 
This adorable book uses the "only-one-bed" trope with a slight twist. Tiffy is strapped for cash and looking for a new place to live after a bad and final break up with her on-again-off-again boyfriend. Leon is a night nurse at a Hospice center who's looking for some extra cash. A solution to both their problems is "the arrangement." Tiffy gets the flat on nights and weekends when Leon is at work, Leon gets it during the day. Without actually meeting the two embark on an unusual living arrangement where their main form of communication is post-it notes left around their shared living space. Even separated they find comfort in each other's scribbled notes plastered all over the flat.
As time goes on they begin to confide deep secrets with one another and find nothing but overwhelming love and acceptance in return. With Tiffy's colorful over-the-top personality and Leon's quiet, shy reservedness this book is the perfect reminder of why opposites so often attract. Told from both their perspectives, The Flatshare is a great book to give you the feeling of love this winter. With two easily likable main characters and a slew of strong supporting characters, this British love story will make you feel like you're wrapped up in one of Tiffy's colorful Afghans. 
*Trigger Warning for emotional abuse and harassment* 
Check it out: https://www.amazon.com/Flatshare-Novel-Beth-OLeary/dp/1250295637
---
2. Josh & Hazel's Guide to Not Dating by Christina Lauren
Christina Lauren is IMHO the ultimate writing duo. I read this book back in 2019. It was the first book by them I've read and I've been hooked ever since!! The first draft of this list was much longer and most of them were CL books. But, this particular book will always have a special place in my heart.
Josh and Hazel first met in college and reconnect a few years later. But their slight animosity towards each other quickly grows into friendship and then…well you can probably guess. Hazel is colorful and vibrant; all sparkles, glitter and magic. Whereas Josh is much quieter and reserved, laid back.
The two of them complement each other in the greatest of ways and accept each other whole-heartedly without any complaints. They see the best in one another so much so they each work very hard to help the other find love. Between disastrous double dates and other failings in love Josh and Hazel find comfort, and acceptance in one another. This book will make you laugh out loud and squeal with joy and excitement. It will make you feel so warm, fuzzy, and full of love you won't know what to do with yourself once you finally put it down. 
Check it out: https://www.amazon.com/Josh-Hazels-Guide-Not-Dating/dp/1501165852
Other Recs by Christina Lauren – Roomies, The Unhoneymooners, My Favorite Half-Night Stand 
---
3. Beach Read by Emily Henry
Gus Walters and January Andrews were bitter college rivals. At least that's how January remembers it. Now they are both successful authors who are both having a bad bout of writer's block. Together they will try to walk a mile in one another's shoes in an attempt to actually write something. By looking at the world from one another's perspective they get a deeper understanding of each other while also learning to wrestle with their own personal demons. This is not your typical romance, this book dives deep. This book has angst, loss, grief, guilt but on top of all that there are insane amounts of love.
At some points, this book will be gut-wrenching but more often than not it will have you squealing. You will get caught up in the journey – of falling in love, of rediscovering your passion of feeling that indescribable spark that makes you want to jump out the bed and hit the ground running. As I was reading this book I felt so protective of Gus and January. All I wanted to do was wrap them up and protect them from the world. This book reminds you the world can be harsh…but it also reminds us that life is nothing without companionship, family and love. 
Check it out: https://www.amazon.com/Beach-Read-Emily-Henry/dp/1984806734
---
4. Kiss Quotient by Helen Hoang 
This gender-reversed Pretty Woman will be sure to keep you warm, toasty and blushing from cover to cover. Stella Lane's Aspergers has made romance difficult for her. After feeling pressure from her mom she decides to get a sex tutor to help educate her in all things love and physical connection. Michael Phan is the lucky escort who gets the call and is so drawn to Stella he decides to forgo his one-time-only rule and agrees to see Stella professionally of course. Quickly their relationship goes well past the physical as they learn more about one another.
This book had me smiling from ear to ear from the sweet and fluffy romance and had my cheeks on fire from all the smutty scenes. If erotic scenes are not your jam then I recommend skipping this one. But if you like them then I highly recommend this book. It is the perfect blend of sweet and steamy. Michael with his explicit consent and giving nature will have you hot all over and watching him and Stella learn to love one another will have you gushing in that way really good romance stories do. Diversity can be hard to find in books, especially romance, but Helen has written an amazing love story that highlights their differences without making it the sole focus. 
*Content warning for explicit sex scenes*
Check it out: https://www.amazon.com/Kiss-Quotient-Helen-Hoang/dp/0451490800
Other Recs by Helen Hoang – The Bride Test (Kiss Quotient #2), The Heart Principle (Kiss Quotient #3) 
---
5. Red White & Royal Blue by Casey Mcquiston 
This book is hands down my FAVORITE book of 2020. Might even be my favorite of the decade, possibly my life. There are no words to describe how much I love this book but I'm still going to give it a shot. Alex Clairmont-Diaz, the first son, and Prince Henry of England have never gotten along. As far as Alex is concerned they are mortal enemies.
But after a very public and very embarrassing mishap, the two have to do some serious damage control and convince the whole world they are in fact friends. In classic enemies to lovers fashion, fake friendship soon becomes real. Alex and Henry find themselves growing closer and closer and confiding in one another more and more. As the days pass feelings grow and soon they find themselves in a secret relationship that could upend two nations and quite possibly the world.
You can't help who you fall in love with and by the time you end this book, you will be completely in love with not only Alex and Henry but all the colorful characters that make up this story. Over the days it took me to read this book my face hurt from all the smiling. Filled with lovable, vulnerable, flawed, colorful characters. RWRB is the story of love, friendship, self-discovery, acceptance, found family, overcoming past trauma, and of course acceptance.
It will surely make you laugh, it will definitely make you cry both happy and sad tears. But most importantly it will make you feel an overwhelming sense of love that will bloom from the center of your very being and flow out through your fingertips. A friend once described this book as a warm hug, so next time you want some company, pick up a copy, snuggle up, and get lost.  
Check it out: https://www.amazon.com/Red-White-Royal-Blue-Novel/dp/1250316774
Other Books by Casey Mcquinston  – One Last Stop 
---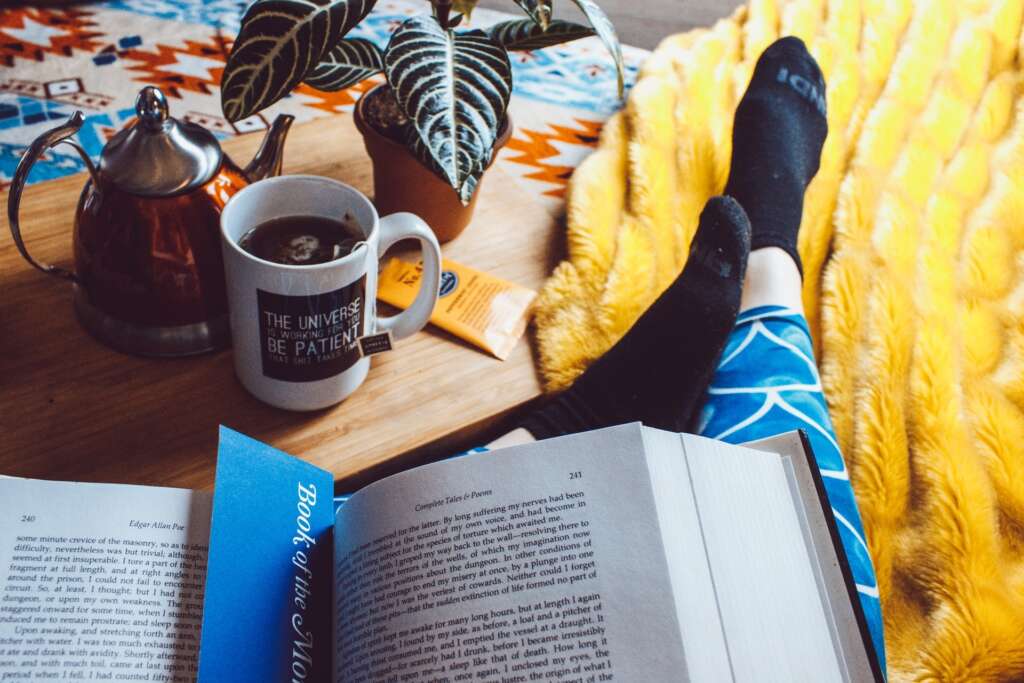 Each of these books is like a warm hug. Each and every one will be sure to wrap you up in its love and affection. Next time you're in the mood to go full-on, heart-eyes at a story, I highly recommend one (or all) of these.
It's cold outside (and there is still a pandemic) so why get dressed and venture out into the harsh hard world? Instead, grab a blanket, and some cocoa (or maybe some spiked eggnog) and lose yourself in a love story.