This story is a part of The First Impression Prose, a weekly column by Paul Centopani. Each Tuesday, he hilariously breaks down the latest episode of the addicting and outlandish guilty pleasure that is the Bachelor franchise. Stay tuned for weekly updates and more trending content in entertainment.
---
What a breath of fresh air.
After ABC's attempt to trudge ahead through the pandemic led to the disjointed Clayshia abomination, a new challenger enters the ring: Matt James.
Best known for being Tyler Cameron's BFF, playing college football at Wake Forest and general handsomeness, Matt actually appears to be introspective and has an IQ above 80. A rare combination in this universe. Furthermore, he and his mom both seemed to possess depth during her brief cameo, unlike the disingenuous fame grabbers of the past. I'm looking directly at you, Barb Weber.
Okay, since it was the introductory night one, I'm going full stream of consciousness:
Does anyone have a sweeter gig than Chris Harrison? He plays a minor role on a majorly popular franchise, gets to travel the world and reuses the same handful of lines while adding almost no actual value.
"They call it a leap of faith for a reason. You gotta jump." -Chris Harrison, last night, in earnest, giving a nervous Matt James his most profound advice. Harrison also hasn't aged since 2003. He's the best. Moving on.
---
The women start emerging from the limos to make their splash in this sea of man muscle.
Bri, wow. Just wow. Love that color. When the majority of the women wear bright red on night one to stand out, she went with what I'm going to describe as electric lime. If everyone's wearing red, then nobody is. Gotta zig when the others zag.
I feel like Casandra is a contestant from a past season? Is ABC recycling people now?
Pieper, sure your name's technically phonetic but reading it is like washing my eyes with vinegar. Even though I know it's wrong, I can't stop saying it as PIEEE-per.
In a Bachelor first, Katie came with a lightsaber-sized dildo and genuinely made Matt laugh. That took chutzpah, Katie. I commend this outstanding move, minus the shoulder boop on Mari. Actually, I take it back. She should spend the rest of her time dildo-booping everything in her path like a bizarro King Midas.
Speaking of royalty, Victoria listed "queen" as her job title, got carried in like Cleopatra, wore a crown and I hate everything about her. She was also the only one visibly drunk. Cock-eyed, slurring words, flop sweat on the brow. Classic. Naturally, she made it through because every season needs a villain even if the Bachelor has no interest. I'm excited to see the hijinx that follows in her wake.
Kit, how and why are you here? You're 21 and live in your parents' West Village apartment. You have no ostensible job or life experience.
You're not ready for marriage, you're ready to meet your friends from FIT orientation at Hair of the Dog on Thursday night. FOH.
I'll never understand the contestants who don't make the attempt to talk to the Bachelor on opening night. I get the fear of rejection can be crippling. It defined much of my dating life. But dog, you know what you signed up for. You've seen this show. The plan of attack has been clearly laid out for nearly two decades. Stop complaining about your lack of facetime and make a move. Sitting idle will only be a detriment to yourself.
I'd like to introduce America's new sweetheart, Abigail.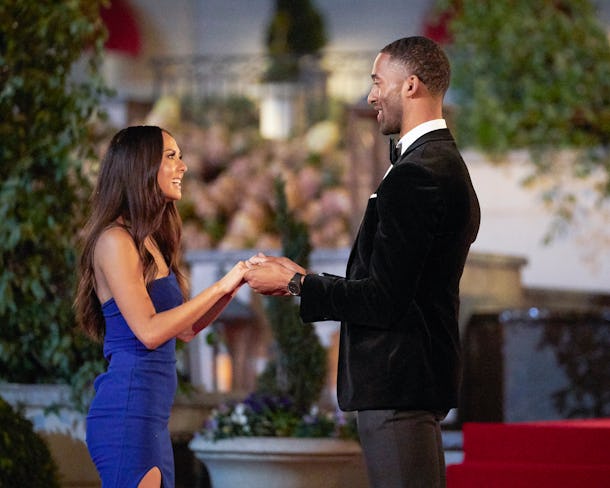 Her getting the first impression rose and makeout from Matty J thawed my cold heart and restored my faith in love again. She's gonna be great no matter where she ends up in all this.
Maybe it's because she's a 30-something journalist. Maybe it's the tattoo sleeve. Maybe it's because she looks like Charmaine Bucco. Regardless, I was all in on Carolyn and very confident she'd go far. Alas, Matt was not and she did not.
Every season, one contestant shows up wearing a goofy animal costume. There have been sharks, there have been penguins. It's always the kiss of death. Then Saneh strolls up in goat hoof slippers thinking it's clever? I knew immediately and shouted obscenities at the tv.
REALLY, SANEH? YOU'RE THE COSTUME PERSON?!?!
You're super hot, you didn't even need to be great to get past night one. You just had to be reasonably pleasant.
Instead, you chose buffoonery.
I mean, take Rachael for example. She said three non-substantive platitudes and Matt was ENTHRALLED.
Along with Carolyn and Saneh, Alicia, Amber, Casandra, Corrinne, Emani, and Kimberly met their ends. Hopefully, some of them will pop up in a few months on Bachelor in Paradise and make me say, "who the hell is that?" Can't wait.
Follow Paul on Twitter: @PCentopani