The exhausting weight we carry around on a daily basis to consistently excel in our personal and professional lives has gotten out of hand. Adriene Mishler is one of the rare reminders in this chaotic world to take a deep breath and meet yourself where you are.
Most commonly known for her thriving YouTube Channel, Yoga With Adriene, (and her four-legged sidekick, Benji) she has created a mission around honoring exactly where you are in the moment. Her charmingly quirky come-as-you-are presence welcomes beginner and advanced yogis to feel comfortable and challenged on the mat, just as much as it promotes carrying the principles of yoga in everyday life.
As an actress, yoga teacher and entrepreneur, Adriene knows a thing or two about creating success from passion. I got the chance to chat one-on-one with her and ask about her experiences and ever-evolving journey.
Digging beyond the asanas and into her story, the wisdom she shares creates the spark for positive change we could all benefit from.
Here's what our Lady Boss of The Month for April had to say:
---
1. Before your Zen intuition kicked in, you started your career in Theatre. Could you share a little about your background and how yoga came into the picture for you?
Yoga really started for me as a young person who was interested in using the breath and body as a tool for dance and performance. But at age 17 I decided I wanted to be a yoga teacher and dived into yoga philosophy, literature and the anatomy of the body. I was a serious young student at a time where yoga teacher training was not so easy to come across. I immediately began to dream of what sharing yoga with others could look like. The "why" is always changing but I believe I always show up on my mat because I know how valuable and sacred that time with myself is and how that impacts the way I move in the world.
---
2. In the beginning, before you had a thriving online community of 3.2 million subscribers on your YouTube channel, Yoga With Adriene (YWA), were you ever afraid of failing? If so, how'd you conquer that fear?
I have definitely experienced moments, phases and entire chapters where I was afraid of failing or doing something wrong. My advice is that if you have a real hunger to learn and a real desire to share – just be honest. Speak and move from an honest place. If you can get in the habit of sharing from an honest place then you can really to trust yourself and the fact that there is no wrong or right. A way to conquer fear is to stay committed to the quest for truth. You can focus and refocus this in every pattern, in every relationship and with every project. Be true. (Note, this is harder than you think and takes practice and daily exercising.)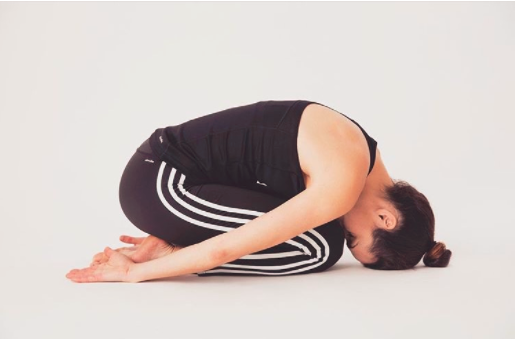 ---
3. Apart from your free online videos, you also have a member-only community, Find What Feels Good (FWFG) that hosts over 25 hours of exclusive videos. What is your favorite part of creating content for your FWFG audience?
I have a trio of favorite things when it comes to the Find What Feels Good subscription.
The first is that it allows the free content to stay, forever. This means that everyone who contributes $10 a month for their subscription is also contributing to helping others and making high-quality free yoga available for all. The entire subscription is less than the cost of a single yoga class too!
My second favorite thing is that I can respond to community requests more on the membership than I can on YouTube platform. This includes everything from more intermediate practices to extended relaxations or savasana. On the membership, you will also find curated 7-Day experiences, our members only vlogs. This year we are adding more in the kitchen episodes as well as guest artists/teachers.
The third thing I truly love about the membership is that I own that space to workshop and try whatever I want. I get to experiment and be creative in the rollout and in the invitation. It really is a place where I can continue to learn while I share. A place to teach and guide yoga and not just demonstrate yoga – which is something I am seeing a lot of these days. The community really holds the space there. There are no distractions. Just people on a mission to love more, dream big, serve others and Find What Feels Good.
---
4. Find What Feels Good has become a mantra for everyone who is on this yoga journey with you. Sure, it might seem obvious, but with your intentional nature I can't help but want to dig deeper. Can you explain what FWFG truly means to you?
Find What Feels Good was born out of the first-ever YWA video which you can still find in the backlogs of the channel. In the video, I say that I am always inviting people I meet to give yoga a try because ultimately I am interested in helping them Find What Feels Good.
The mantra can mean many things depending on who you are and where you are. Ultimately, it recognizes that everything is constantly changing. We are not the same person we were 4 years ago. You are not even the same person you were when you woke up this morning. We are in a constant state of flux. So the mantra reminds us to focus on the process, the search and the journey. What felt good a week ago may not feel good today. So with this mantra, we really give ourselves the power.
A lot of practices that seem good for you actually can rip away your power. The way I choose to share yoga and the mantra Find What Feels Good insists that you take the wheel. You own your power and have a practice that allows you to be present, empowered and ready to rock with whatever the waves bring in.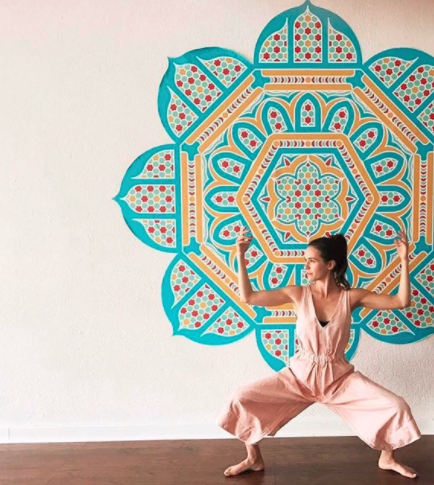 ---
5. A theme throughout your videos is listening to your mind and body to empower yourself and spread that love outwards. What is a great way for people to carry this advice off the mat?
When we don't feel like we have a grip on life or when we feel anxiety start to boil we tend to look outward for a solution or salve. This is normal in our society and a natural human reaction because we can often find our quick fix. But training ourselves to look inside or do spend some time with ourselves regularly can provide long-lasting benefits that will equip you for a happy and healthy life. When you are in a practice of listening to your mind and body you can handle the dips and falls with much more grace and ease.
Yoga provides us the tools to master that kind of "preventative care" mindset. It takes some time to get on board but once you do you realize that self-care and self-love do in fact have to come first. That relationship is the base for all other relationships. My advice: take more time for you.
---
6. Let's talk mentors. Tell us about a mentor you had that guided you and helped you develop.
The majority of my teaching style is influenced by a training that I learned outside of yoga school, believe it or not. A lot of my yoga was self-taught, though I got my certifications over a decade ago and continue to drop into advanced training and seasonal workshops.
My greatest mentor comes from the rehearsal room where I trained in two performance-based trainings called The Suzuki Method and The Viewpoints. The mentors I gained through this training have a lot to do with the woman I am today. I hear their voices, their cues and feel their work ethic – daily.
I also love to recognize and honor the yoga teachers who led by example and who gave me their trust and attention. I honor them and the lineages in the practice on a regular basis. All of my mentors continue to inspire me and it brings me no greater joy than to make them proud.
---
7. Gratitude is a huge part of yoga. What are your best tips to cultivate a gratitude practice?
Make it your mission to make gratitude the foundation and the through line for everything in your life. Whatever that means to you. Make your connection to gratitude the heartbeat of your practice and of your life. Set out to discover what that feels like and then don't decide where it ends. Gratitude will heal, it will lift, it will keep you feeling centered even when you don't know where you are going. I suggest waking up or going to bed giving thanks. List em off. Make a habit of it and don't turn back.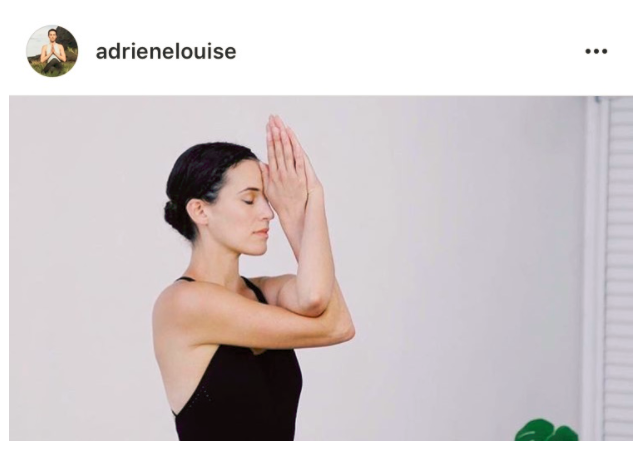 ---
8. People often feel invigorated when they start something, like your most recent 30-day yoga challenge, True. But no matter how great the content is, it's easy for people to lose steam, which means they might not complete the entire yoga series. Can you give us advice on how to follow through and stick with a consistent yoga practice?
There is a moment where the light bulb comes on and you realize that it really isn't about doing the yoga as much as it is about showing up for practice. I think that once you are ready to commit to regular practice and time with yourself, daily – then it becomes a lot easier. But when we, even subconsciously, have our eyes on the prize or the outcome it can be challenging to stick with it or keep up. I have never called the 30 Day series a challenge and I likely never will. For me, the word challenge sets you up for a challenge. We are committing to a journey, a process and an experience. Not a challenge. Will it be challenging? Sure. But the way we learn to use our language and thoughts is KEY to seeing things through.
---
9. You recently took your practice to a personal level with the Find What Feels Good roadshow. What was it like to lead classes with your community of yogis face to face?
Oh! It is a total joy and a true honor and pleasure! I am so thrilled and excited to be a part of such a diverse, kind, funny, thoughtful, caring and cool community. To have the pleasure of guiding everyone through a practice is pure joy for me and I am so blessed that I get to do it.
I love the people in our community like family and I have so much respect for them.
It takes a lot to show up for yourself in the way that we are encouraging each other to do so. Many "advanced" yogis or yoga teachers don't have the cultivated home practice that many people who are so bravely showing up for these events do. I respect the community so much and it's so fun to put faces to names and hug it out. I truly feel I am a better person because of this connection. More tolerant, compassionate, understanding and now, ever interested in creating more global conversation through yoga and FWFG. It's inspiring and I believe the events magnify that for all of us allow us to take that feeling home with us and into the daily practice.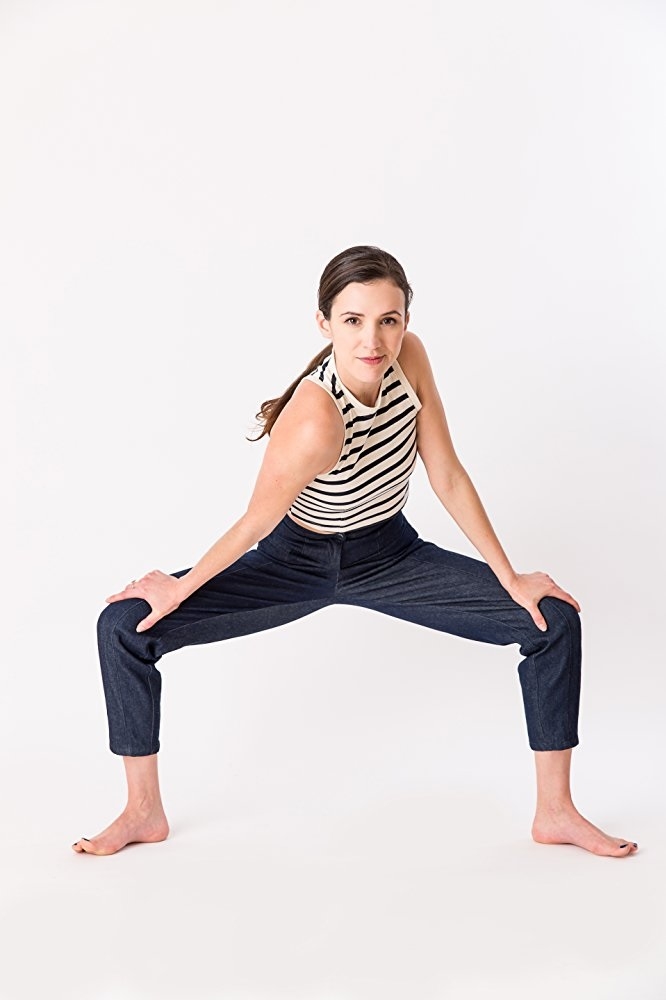 ---
10. As an entrepreneur who has lived two dream-jobs, you've already accomplished so much. We'd love to rattle your brain for the inside scoop on any big goals you have or anything exciting that's coming up in 2018.
My intentions for 2018 were to keep raising the bar and to invest in learning time. I've taken a small break from my regular studio classes to take Spanish classes and also to write. We are also using this year to cultivate positive habits within the operations team so that both my business partner and I can keep up with the rate in which things are growing with the integrity and love we started with. You can expect to see some new projects each month on the membership immediately. And stay tuned for the Find What Feels Good Podcast which is just about ready to drrrrrop!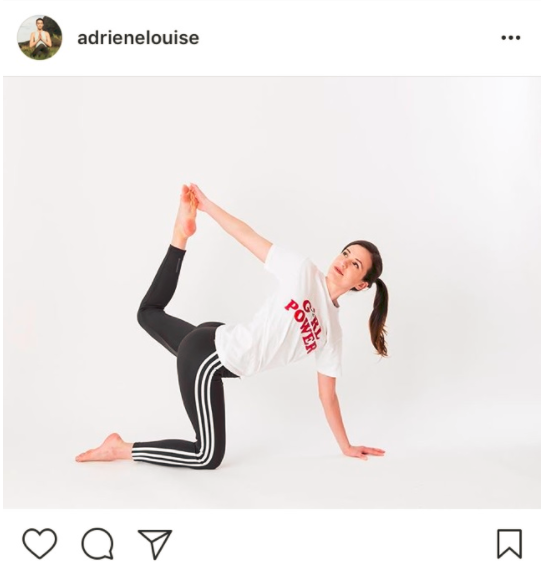 ---
11. What reminder would you like to share with people who are struggling with self-acceptance and inner-peace?
A little goes a long way. You don't have to have the answers to feel at peace. Create a habit of showing up for yourself and tending to whatever you discover. The way you move matters – so slow down and move like you love yourself. Even if you have to fake it at first.
Trust. You are worth it.
---
Q+A Takeaway:
Trust yourself. Sometimes those two words next to one another invite caution and uneasiness. That's because we've programmed ourselves to believe solutions to our biggest hurdles live outside of us – but that's not the case. Ignoring your inner-guidance invites disempowerment into your life creating more fuel to the fear you're eager to extinguish. Adriene reminds us to look within and presently explore ourselves in the direct moment.
Check in with your mind and remember or re-understand the 'why' of your goals and your dreams. Connecting everything to your core drives your personal and professional fulfillment. If whatever you're chasing feels out of reach, don't lose sight that you are capable. You are on a unique journey, not a 5-minute highlight reel. Be on your own side.

Take it moment-by-moment, cultivate self-love, and see what happens.
---
For more Lady Boss of the Month, content check out the articles below!
Lady Boss of the Month: Julia Bonner on Starting Her Own PR Firm
Lady Boss of the Month: Lauren McGoodwin on Founding Career Contessa
Lady Boss Of The Month: Brianna Wiest on Becoming a Professional Writer