With holiday cheer typically comes holiday stress and holiday fear. (Channeling Dr. Seuss?)
But seriously.
Between scheduling-juggling, gift-hunting and recipe-crushing, we all can get a little overwhelmed around this time of year. With these gifts, you can cut down on your own stress by crossing a few more names off your gift list AND give the gift of relaxation to the people you love. We all have a lot of STUFF. What we could use more of, is "stuff" that makes us calmer, happier and healthier humans.
So, behold a list of gifts that help you give the ultimate gift this year, the coveted gift of chill.
---
1. Stress Less Subscription Box.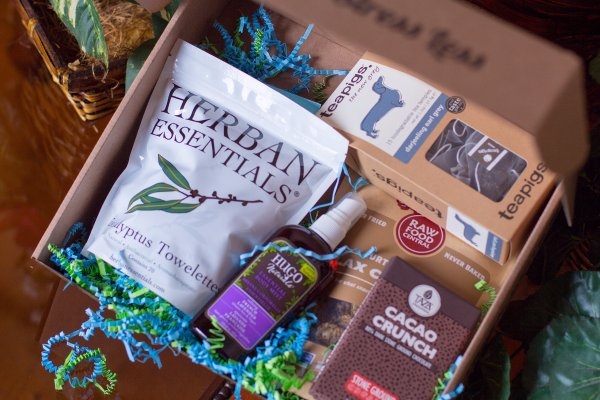 So this gift is AWESOME! It's the full relaxation-nation package, sending an assortment of natural and organic relaxation products to your gift recipient's door every month. It's a pricey gift if you want to send it on a monthly basis, but it's definitely worth it for your mom or sister who pretty much have everything already. You can also customize the box based upon a preference in snacks, scents or both. AND they call your gift receipient a sloth which just cracks me up too much not to mention/screenshot.

Price: $39.99 per month you send the box
Where to buy: Crate Joy
---
2. Custom "Slow Down" Leather Bracelet.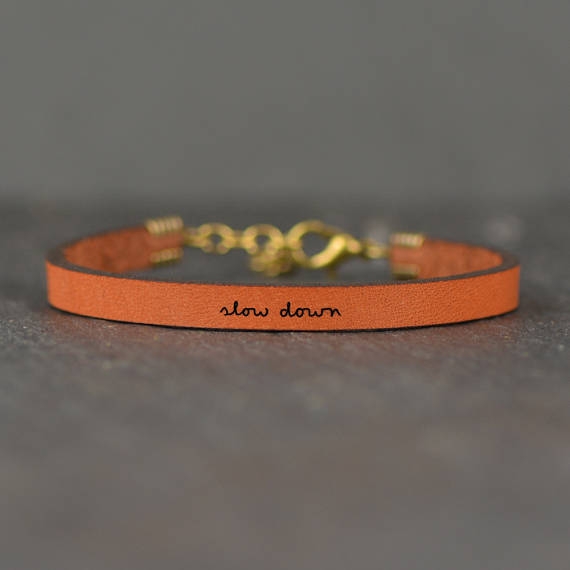 I absolutely love this. Who doesn't need a reminder to slow down sometimes? It's custom-made on Etsy, very minimalist and can go with any style preference.
Price: $22.00
Where to buy: Etsy 
---
3. Bathtub Tray For Wine, Devices, Book, and more.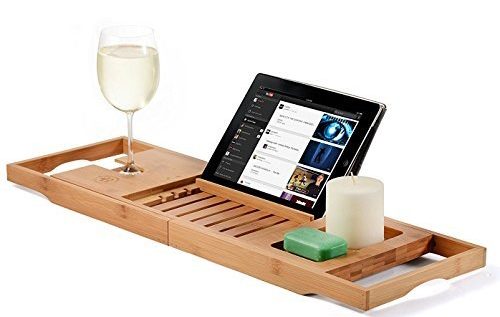 IS YOUR MIND BLOWN BECAUSE MY MIND IS BLOWN. This tray will take the recipient's bath game to the next level because this is honestly some expert machinery. Keep their candles, phone, book, and most importantly, glass of wine, safe from bubbly harm.
Price: $27.99
Where to buy: Amazon
---
4. Pamper Yourself Box of 52 Relaxation Ideas.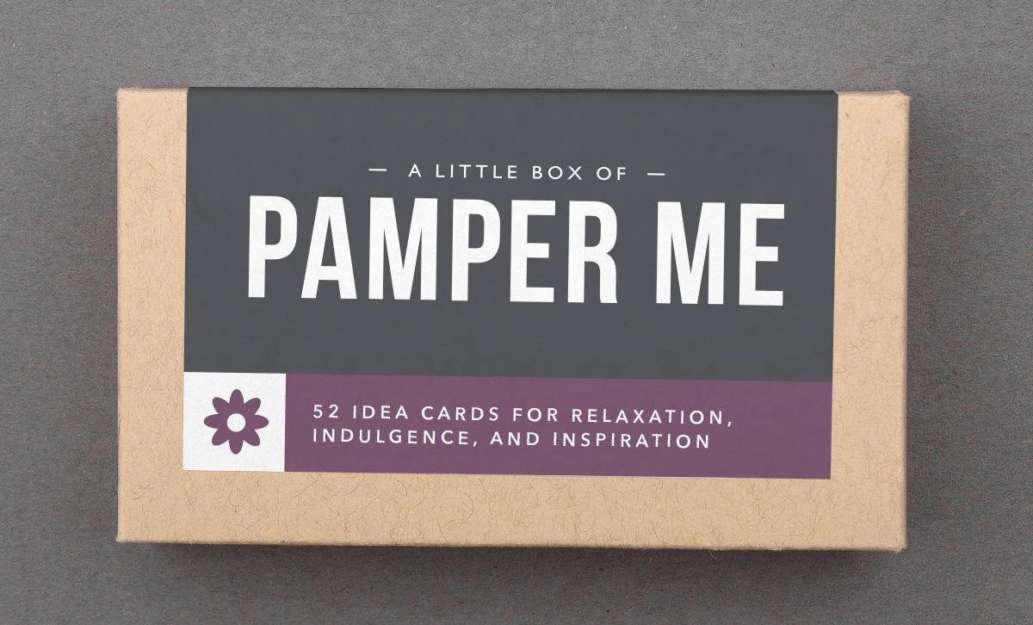 This idea box is so creative and really is the relaxation gift that keeps on giving. "Give her a box of 52 ideas for self care and stress relief. She'll relax, rejuvenate, and unwind with spa time and find some calm to help her refresh every time she grabs a card."
Price: $12.75
Where to buy: Etsy
---
5. Essential Oil Diffuser.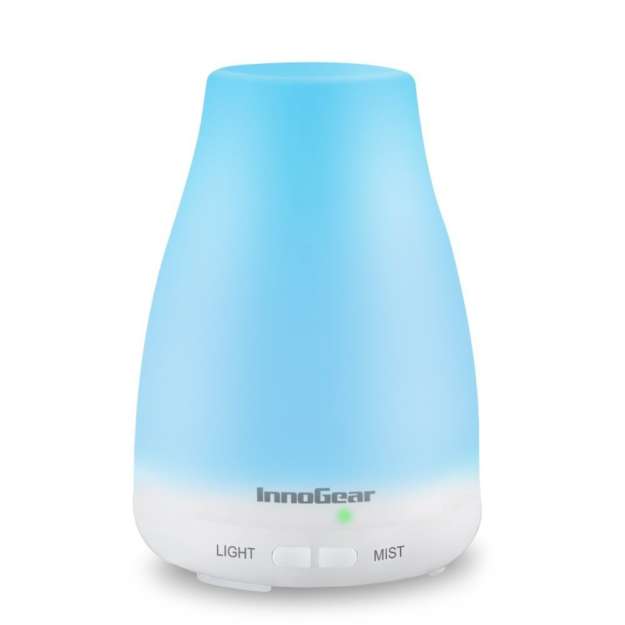 This diffuser is such a nice little gift, and it's so easy to use. You just add water and a few drops of essential oils and it starts creating magical mist instantly. It also has 7 different changing colors, and adds such a peaceful essence to any room within minutes. PLUS it's super cheap, so what's not to love?
Price: $17.95
Where to buy: Amazon
---
6. Essential Oil Multi-Pack.

Essential oils are all the rage these days, due to their overwhelming amount of healing and relaxing capabilities. They're the perfect gift to go along with any of these items. A multi-pack is always a good option because it gives your gift recipient the chance to figure out which essential oils give them the gift of chill, and which ones they find overwhelming or strange. Check out our Essential Oils articles below for more information on the specific oils you may want to get!
Articles: 10 Ways to Use Essential Oils in Your Everyday Life, 4 Amazing Essential Oils for Skin and Aromatherapy
Price: $14.95
Where to buy: Amazon
---
7. Bath Bombs- Like These Donuts Ones.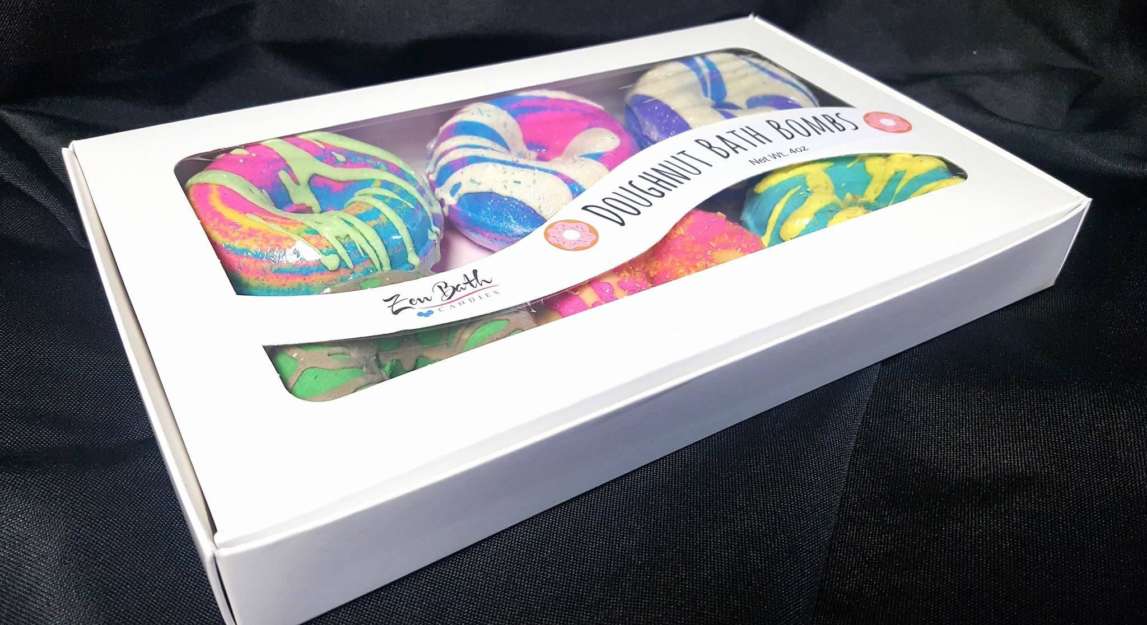 Bath bombs are incredible. They smell great, look awesome and make for excellent social media stories…You can get them customized and wrapped in the most personal ways if you go through Etsy and of course, LUSH Cosmetics is a great one-stop-bath-bomb-shop as well.
Price: $29.99
Where to buy: Etsy and LUSH Cosmetics
---
8. Cute and Calming Wall Decor.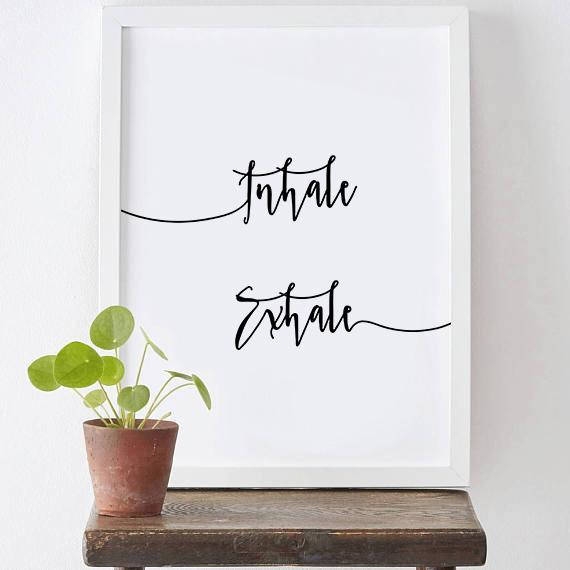 Nothing says relax like actually saying relax, amirite?
But seriously, wall decor can set the mood of any room and instantly make it feel more peaceful and homey. You can find adorable signs like this one anywhere from TJ Maxx to Target to Etsy.
Pro Tip: If you want to find out what style of home decor or wall art your friends and family like, check their Pinterest boards. Pinterest tells all, my friends.
Price: Varies, typically under $25.00
Where to buy: Etsy, TJ Maxx, Marshalls, Target
---
9. Hot & Cold Amazing Face Mask.
Alright guys, I get this looks like a kind of weird gift, but hear me out. I got one of these bad boys for migraine headaches, and it is honestly a complete LIFE SAVER in so many different ways. You just keep it in the freezer (or heat it up if you prefer) and strap it on for literally any ailment. It's perfect for headaches, stress, puffy eyes, hangovers and more. And it doesn't cover your eyes so you can wear it whilst Netflix binging or surfing the web. So yeah, looks weird, but a great little gift.
Price: $12.99
Where to buy: Amazon
---
10. Stress Relief Candles.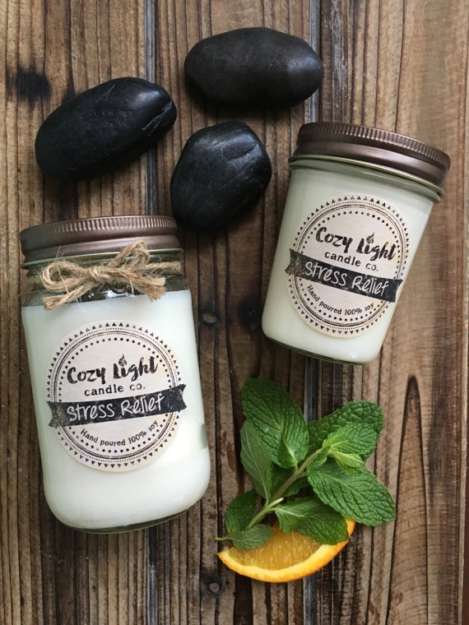 Relaxation Gift Motto: When it doubt, candle it out. Candles are always a great option, and again, go great with another smaller gift on this list. These stress-relief soy candles contain "Uplifting notes of mint, citrus, and bergamot mix with an herbal blend of spearmint and peppermint," in a very Etsy-like mason jar.
Price: $12.00
Where to buy: Etsy
---
Have any relaxation gifts that you recommend? Let us know in the comments below!
For more gift and stress-relief articles, check out the content below. 
10 Last-Minute Christmas Gifts Your Friends Will Actually Love